LVMH sales slow at end of record year for Dior owner
LVMH, the owner of brands including Dior and Louis Vuitton, posted slower sales growth in the fourth quarter as COVID-19 pandemic restrictions in China and the latter spread of the disease hurt spending in that crucial market.
However, this month started well, the luxury giant said.
The key fashion and leather goods division saw organic sales rise 10 percent in the final three months of last year, LVMH said on Thursday.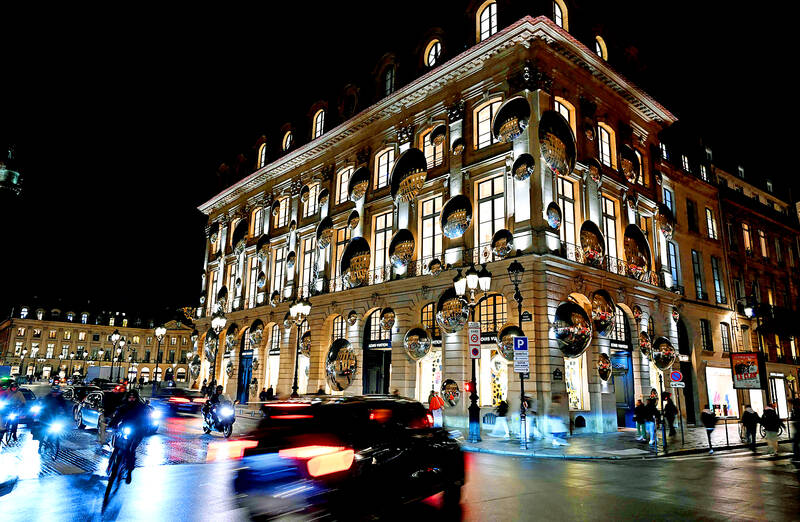 Traffic moves past a display of convex mirrors adorning the exterior of the Louis Vuitton flagship building off the Place Vendome in Paris on Thursday.
Photo: AFP
That is just above analysts' estimates and the slowest pace of the year.
The group's cash cow, Louis Vuitton, crossed 20 billion euros (US$21.78 billion) in sales last year, while the parent LVMH posted record revenue.
LVMH CEO Bernard Arnault, one of the world's richest people, said the company is confident for this year, but remains "vigilant to current uncertainties."
The somewhat softer quarterly results echo those of rivals Richemont, the owner of Cartier, and Burberry Group PLC. Both experienced a slump in Chinese demand at the end of last year, but said sales there had rebounded this month.
LVMH chief financial officer Jean-Jacques Guiony told reporters that results in China were "heavily down" last quarter, but that it is going much better there so far this year.
LVMH's results were described as a "mixed bag" by Citigroup analyst Thomas Chauvet, who highlighted a miss on operating profit. That was partly due to higher spending on advertising and promotions in the second half of the year.
"The reopening of China is a potential game-changer," Chauvet said, adding that there are legitimate concerns about a slowdown in US demand.
Still, LVMH has so far experienced solid growth despite soaring inflation and slowing growth, making it a darling of investors. The luxury group recently became the first European company to surpass 400 billion euros in market value, while Arnault's wealth now exceeds that of tech luminaries Elon Musk and Jeff Bezos.
While LVMH does not break down China results, sales in Asia excluding Japan sank 8 percent last quarter. That contrasts with growth of 22 percent in Europe, 29 percent in Japan and 7 percent in the US, Guiony said.
Arnault said he is confident that Chinese authorities aim to boost domestic economic growth.
"If that's the case, and it started in January, we have all the reasons to be confident" about LVMH's performance there, he said, adding that trends in Macau "were incredible" so far this year.
Sales of high-end goods to Chinese customers — traditionally the industry's top spenders — were constrained by pandemic-related restrictions for much of last year. Investors are now anticipating a V-shaped recovery.
Guiony said that while LVMH is seeing significant growth rates in China since the year began, he does not expect a return of Chinese tourists to Europe in large numbers until next year.
There is still limited airline capacity to the continent and flights are costly, meaning the return of package tours remains some way off, Guiony said.
Tourists from China are more likely to return first to Macau, Hong Kong and South Korea, he said.
Chinese customers at home and abroad represented one-third of the personal luxury goods market in 2019, but that shrank to about 18 percent last year, according to Bain & Co.
Comments will be moderated. Keep comments relevant to the article. Remarks containing abusive and obscene language, personal attacks of any kind or promotion will be removed and the user banned. Final decision will be at the discretion of the Taipei Times.