Adani Group stocks drop US$45bn on fraud claim
Shares in the business empire of Asia's richest man, Gautam Adani, nosedived yesterday, extending this week's losses to US$45 billion, days after a US investment firm claimed that Adani Group had committed "brazen" corporate fraud.
Adani, 60, began his week as the world's third-richest person, but has tumbled down the rankings to seventh on Forbes' billionaire tracker after losing US$24 billion in yesterday's trade.
His flagship Adani Enterprises plunged 15 percent in Mumbai, a fall of 508.45 rupees (US$6.24), triggering an automatic trading halt alongside five of its seven main listed subsidiaries.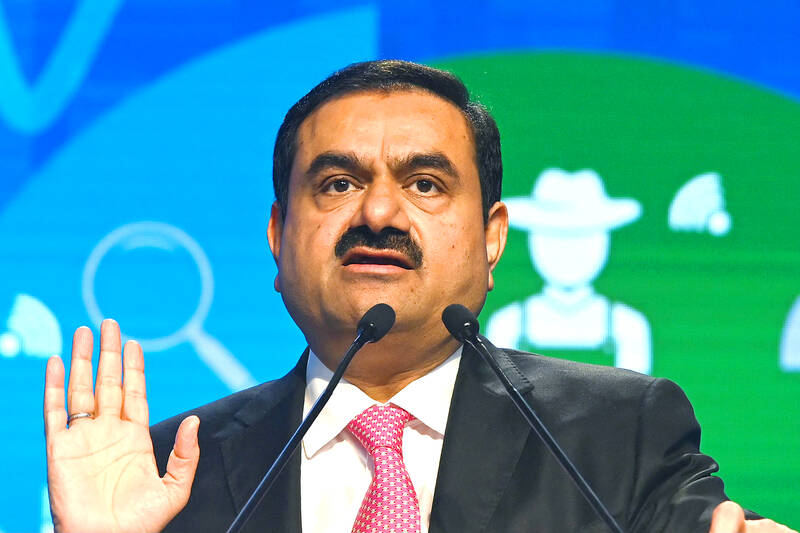 Adani Group chairmain Gautam Adani speaks at the World Congress of Accountants in Mumbai on Nov. 19 last year.
Photo: AFP
"Obviously, this is panic-selling," JM Financials equity research chief Ashish Chaturmohta said, adding that traders were creating fresh short-sell positions to protect previously made bullish bets on Adani stocks.
Hindenburg Research this week alleged in a report that Adani Group had used undisclosed related-party transactions and earnings manipulation to "maintain the appearance of financial health and solvency" of its listed business units.
The Indian conglomerate on Thursday said it was the victim of a "maliciously mischievous" reputational attack by Hindenburg just as it was preparing for a major fundraising round.
Hindenburg's short position in the firm, announced in the report's release, was proof that the company had a vested interest in driving down Adani stocks, Adani Group legal compliance officer Jatin Jalundhwala said in a statement.
Adani is exploring its punitive action against the research advisory in US and Indian courts, he added.
Hindenburg responded that Adani had ducked the issues its research had raised and instead resorted to "bluster and threats."
"If Adani is serious, it should also file suit in the US," the firm said in a statement. "We have a long list of documents we would demand in a legal discovery process."
Shares in Adani business units have soared as much as 2,000 percent in the past three years, adding more than US$100 billion to its founder's net worth and vaulting him up the ranks of the world's richest people.
Adani, who has an estimated fortune of US$95 billion, is considered a close supporter of Indian Prime Minister Narendra Modi.
The report said a pattern of "government leniency towards the group" stretching back decades had left investors, journalists, citizens and politicians unwilling to challenge the group's conduct "for fear of reprisal."
"The issues strike at the heart of the Indian corporate sector scene where a number of family-controlled conglomerates dominate," Global CIO Office CEO Gary Dugan said.
"By their very nature, they are opaque, and global investors have to take on trust the issues of corporate governance," he said.
Hindenburg's allegations come as an ambitious US$2.5 billion follow-on public offer — India's largest ever — opened for bids yesterday, aimed at bolstering the business empire's balance sheet.
Shares in Adani Enterprises fell to 2,720.90 rupees at their lowest point in the day, below the follow-on public offer price band of 3,112 to 3,276 rupees per share.
Comments will be moderated. Keep comments relevant to the article. Remarks containing abusive and obscene language, personal attacks of any kind or promotion will be removed and the user banned. Final decision will be at the discretion of the Taipei Times.