US targets Chinese firm in Russia sanctions push
SATELLITE IMAGERY: Violations by Chinese companies could be attempts to test the limits of US policy, or indicate that Beijing cannot police its industries, an analyst said
The US on Thursday unveiled new sanctions aimed at blunting Russia's ability to wage war in Ukraine, including targeting a Chinese company that allegedly provided satellite imagery to Wagner Group mercenaries.
The US Treasury Department singled out Spacety China and its Luxembourg subsidiary for providing "satellite imagery orders over locations in Ukraine" to a Russian technology company, enabling Wagner's combat operations.
Wagner, a pro-Kremlin paramilitary organization, has sent thousands of its own fighters along with former prisoners to Ukraine.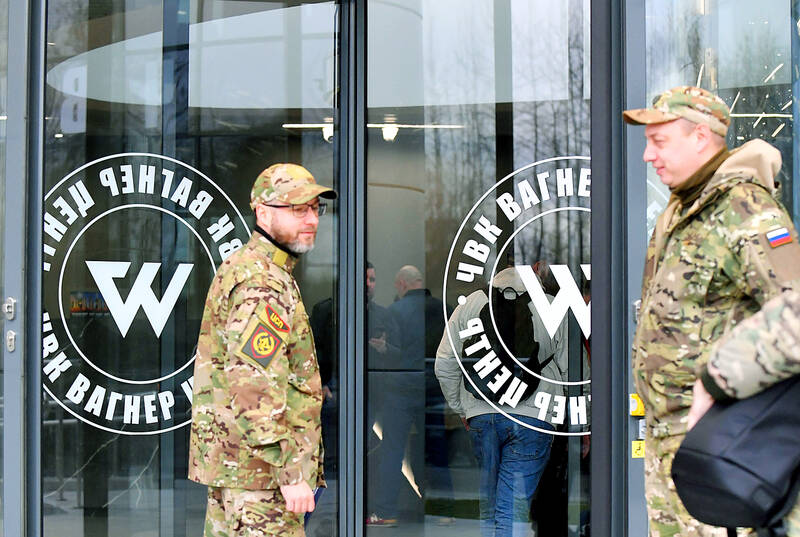 People wearing military camouflage stand at the entrance of an office operated by the Wagner private military group in St Petersburg, Russia, on Nov. 4 last year.
Photo: AFP
There was no indication that Beijing was aware of the role played by Spacety, also known as Changsha Tianyi Space Science and Technology Research Institute Co Ltd (中國長沙天儀空間科技研究院有限公司).
In its online literature, Spacety describes itself as a "fast-growing private new space company" that mass-manufactures "low-cost small satellites."
Washington has grown increasingly concerned about what it sees as Chinese companies' actions that could be supporting Russia over its invasion of Ukraine.
People familiar with the matter said that the US has confronted the Chinese government over the issue.
Officials are gauging how Beijing might respond to evidence of Chinese companies aiding the Russian war effort, said Jacob Stokes, a foreign policy adviser in the administration of former US president Barack Obama.
"Apparent violations by Chinese companies raise the question of whether China is intentionally trying to test the limits of America's policy, or whether Beijing simply lacks the capacity to police Chinese firms across a range of industries," said Stokes, a senior fellow focused on US-China relations at the Center for a New American Security.
The sanctions were part of a broader package announced on Thursday against Wagner, as well as on individuals and entities in Russia's defense sector. The administration of US President Joe Biden last week formally designated Wagner a transnational criminal organization as it looks to blunt the group's operations beyond Ukraine.
US lawmakers at a hearing on Thursday urged the administration to do more to help Ukraine. They also focused on China, with US Senator Robert Menendez citing what he said was evidence that Chinese companies have been exporting dual-use technologies "that Russia needs to continue its onslaught of Ukraine."
"We should not forsake the potential of sanctions against China if it is providing critical assistance, and it shouldn't be able to hide behind some companies," he told US Under Secretary of State for Political Affairs Victoria Nuland.
Nuland said that even before the invasion, the administration had intense conversations with China "with regard to their relationship with Russia."
"We've made clear that we will bring to their attention when we see sanctions violations by their companies," Nuland said. "We've been very clear with regard to the impact on our relationship and their standing in the world."
Comments will be moderated. Keep comments relevant to the article. Remarks containing abusive and obscene language, personal attacks of any kind or promotion will be removed and the user banned. Final decision will be at the discretion of the Taipei Times.