Price drop may boost property market: expert
Taiwan's land, housing and hotel prices might need to fall 10 percent this year to spur buying interest, as an economic slowdown, monetary tightening and unfavorable legislation bode ill for transactions, Cushman & Wakefield Taiwan said yesterday.
"The property market is heading for a downturn in both transactions and prices, although some developers seek to push prices higher with their own capital," Cushman & Wakefield Taiwan managing director Billy Yen (顏炳立) said.
The strategy would prove to be overreaching and impractical in light of a global economic slowdown and monetary tightening, Yen told a media briefing.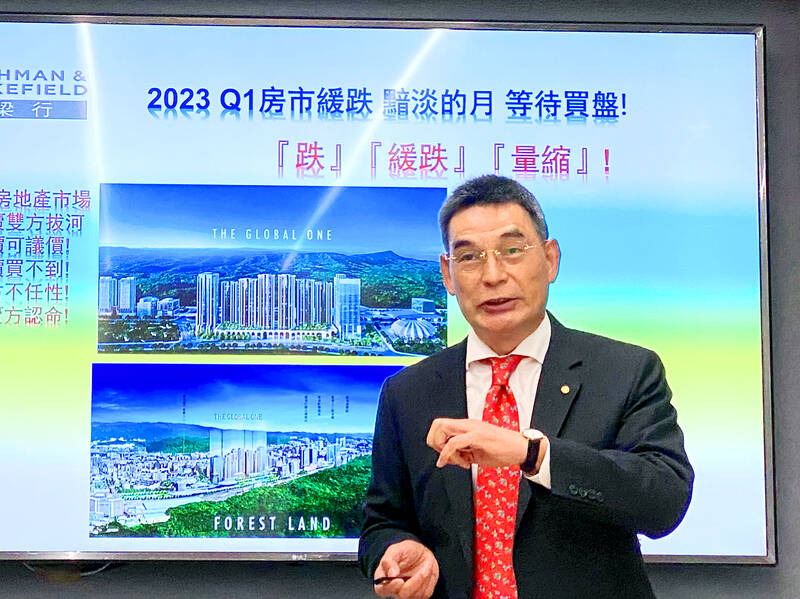 Cushman & Wakefield Taiwan managing director Billy Yen speaks at a news conference in Taipei yesterday.
Photo: CNA
A liquidity-driven property boom plateaued in the first quarter of last year and has since lost steam, in line with interest rate hikes at home and abroad, he said, adding that the market cannot stay dynamic in the absence of sizeable capital injection.
Commercial property transactions shrank 17.6 percent year-on-year to NT$125.8 billion (US$4.1 billion) last year, while land deals plunged more than 40 percent to NT$171.8 billion, the property consultancy said.
Investment purposes drove 55 percent of commercial property transfers, the highest ratio in the past five years and outranking self-occupancy needs, it said.
Monetary tightening is dampening investment interest and bills that would ban transfers of presale housing contracts and subject unlisted companies to obtain regulatory approval before buying real estate could trigger panic selloffs and price corrections, Yen said.
Profits from property transactions on the part of companies are subject to income taxes of 20 percent, while individuals might pay up to 40 percent, depending on their income level. The gap has driven investors to set up companies to reduce taxes when trading real estate.
Yen said prices for commercial and residential properties would need to drop 10 percent to motivate potential buyers.
Hotels in popular locations have sought to increase their value through urban renewal, but properties in second-tier locations did not benefit and should display more pricing flexibility, Yen said.
Prices for storefronts would need to fall 20 percent to attract buyers, as physical stores are facing sharp competition from e-commerce firms, and rising operation and personnel costs, he said.
Yen said a 10 percent price correction would also apply to luxury housing units to motivate owners of multiple units to invest in them to hedge against inflation and investment risks.
"Players who do not have deep pockets better play safe in bad times," Yen said.
Comments will be moderated. Keep comments relevant to the article. Remarks containing abusive and obscene language, personal attacks of any kind or promotion will be removed and the user banned. Final decision will be at the discretion of the Taipei Times.