Foreigners sold a record NT$1.23 trillion of shares last year
Foreign institutional investors last year sold a net NT$1.23 trillion (US$40.07 billion) of local shares, the highest amount on record, after selling a net NT$23.82 billion in the final week of the year, the Taiwan Stock Exchange said in a statement yesterday.
Foreign investors registered a net sale of local shares for three years in a row through last year, with last year's net sale exceeding the sum of the previous two years.
The exchange's data showed that they sold a net NT$454.09 billion in 2021 and a net NT$539.52 billion in 2020.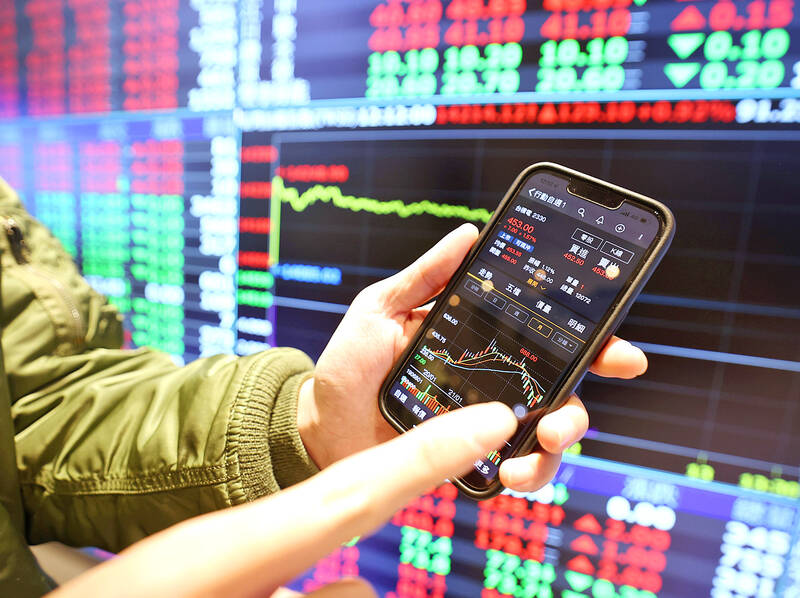 A person holds a smartphone showing Taiwan Semiconductor Manufacturing Co's (TSMC) stock price movements in front of an electronic stock board in Taipei on Friday.
Photo: CNA
Last year, the market capitalization of shares held by foreign investors was NT$17.49 trillion, accounting for 39.56 percent of total market capitalization, the exchange said.
The large outflows of foreign funds last year were mainly driven by the US Federal Reserve's rapid interest rate hikes to tame inflation, which pushed up the US dollar and prompted investors to chase US dollar-denominated assets, analysts have said.
Foreign funds are expected to remain parked in US dollar-based assets in the short term, but the pace of fund outflows is likely to slow this year as interest rates have hit relatively high levels, they have said.
The TAIEX fell 22.4 percent last year from a year earlier to close at 14,137.69 on Friday, reversing three consecutive years of advances.
The benchmark index yesterday closed up 0.61 percent at 14,224.12 on the first trading day of this year, despite foreign investors selling a net NT$101.25 million of shares on the main board, the exchange said.
The top 10 stocks sold by foreign investors last year were Shin Kong Financial Holding Co (新光金控), Taiwan Semiconductor Manufacturing Co (台積電), Yuanta Financial Holding Co (元大金控), Hon Hai Precision Industry Co (鴻海精密), United Microelectronics Corp (聯電), E.Sun Financial Holding Co (玉山金控), China Development Financial Holding Corp (中華開發金控), Fubon Financial Holding Co (富邦金控), Taiwan Cement Corp (台灣水泥) and Taishin Financial Holding Co (台新金控), with six of the 10 being financial holding firms, data compiled by the exchange showed.
Shares in financial holding firms faced huge selling pressure last year due to increased volatility in the global stock and bond markets amid central banks' monetary tightening.
Surging COVID-19 insurance claims in Taiwan were another negative factor for some financial holding firms, such as Shin Kong Financial, Fubon Financial and Cathay Financial Holding Co (國泰金控), that count insurance business as one of their major sources of earnings.
Last year, combined payouts for COVID-19 and vaccine insurance policies by local insurers totaled NT$211.65 billion, nearly 38 times the premiums of NT$5.57 billion obtained for those policies, the Financial Supervisory Commission reported yesterday.
In comparison, the top 10 stocks bought by foreign investors last year were Taiwan Business Bank (台灣企銀), EVA Airways Corp (長榮航空), AUO Corp (友達), Evergreen Marine Corp (長榮海運), First Financial Holding Co (第一金控), Chang Hwa Commercial Bank (彰化銀行), Far EasTone Telecommunications Co (遠傳電信), Chunghwa Telecom Co (中華電信), Compeq Manufacturing Co (華通電腦) and Walsin Lihwa Corp (華新麗華), exchange data showed.
Comments will be moderated. Keep comments relevant to the article. Remarks containing abusive and obscene language, personal attacks of any kind or promotion will be removed and the user banned. Final decision will be at the discretion of the Taipei Times.