TSMC to begin 3nm mass production
TAINAN FAB: The firm in an unusual move is to hold a ceremony to launch mass production, which analysts said seeks to affirm its continued presence in Taiwan
Taiwan Semiconductor Manufacturing Co (TSMC, 台積電) on Saturday said that it would hold a ceremony on Thursday to mark the beginning of mass production using its 3-nanometer process.
The company is to mark the placing of the final beam at its Fab 18 in the Southern Taiwan Science Park (南部科學園區) in Tainan.
It would also detail its plans for expanding 3-nanometer production at the facility in the coming years, TSMC said.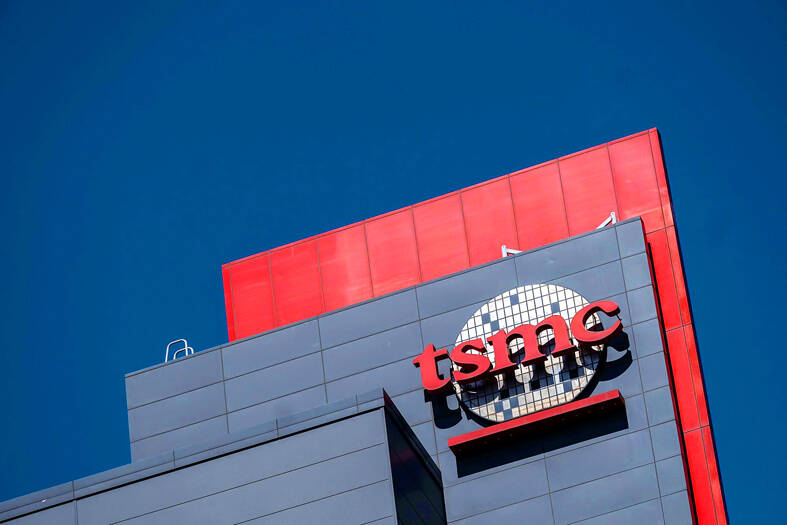 The Taiwan Semiconductor Manufacturing Co logo is pictured at the company's headquarters in Hsinchu on Oct. 12
Photo: Lam Yik Fei, Bloomberg
The fab currently mass produces chips using the 5-nanometer process.
It is unusual for TSMC to hold a ceremony to mark the beginning of commercial production of a new technology.
Analysts have said that the ceremony aims to announce TSMC's intention to continue using Taiwan as a hub for research and development (R&D) and production, despite its overseas investments.
Speculation has risen that the company could relocate its production and R&D centers to the US.
The rumors arose after TSMC on Dec. 6 said at a tool-in ceremony for its 12-inch wafer plant in Phoenix, Arizona, that it would increase its planned US$12 billion investment there to US$40 billion to build a 3-nanometer fab by 2026, in addition to its planned 4-nanometer plant due to be completed in 2024.
The concerns intensified after TSMC sent a large group of Taiwanese engineers to support the Arizona plant, raising investors' fears that the move could undermine the firm's base in Taiwan.
The planned Arizona plants are expected to produce more than 600,000 wafers a year, TSMC has said.
Last week, TSMC chief executive officer C.C. Wei (魏哲家) told a forum held by the Mount Jade Global Science and Technology Association in Taipei that there was "no chance" that a single wafer fab would give a location a technical advantage over other semiconductor manufacturing sites.
TSMC plans to start mass producing chips using the N3E process next year. The process is based on the 3-nanometer technology and produces more efficient chips with a better yield rate.
The company is also developing a more sophisticated 2-nanometer process and plans to build a 2-nanometer fab in Hsinchu, with mass production scheduled to begin in 2025.
The 3-nanometer process uses 16-nanometer fin field-effect transistor technology, which is a 3D transistor structure that allows a chip to run faster using the same amount of energy or to run at the same speed on reduced power.
Chips made using the technology are 10 to 15 percent faster and 25 to 30 percent more energy-efficient than those produced with the 5-nanometer process, whose mass production started last year.
Apple Inc and Intel Corp are expected to place orders for chips made with TSMC's 3-nanometer process, analysts have said.
The 2-nanometer process would be the first technology in which TSMC employs a gate-all-around structure, which reduces undesirable variability and mobility loss, making the technology the most competitive and efficient on the market, the company has said.
Early this month, Wayne Wang (王永壯), director general of the Hsinchu Science Park Bureau, said TSMC has plans to build a 1-nanometer process fab in the Longtan (龍潭) section of the Hsinchu Science Park (新竹科學園區).
TSMC has yet to confirm Wang's announcement.
Comments will be moderated. Keep comments relevant to the article. Remarks containing abusive and obscene language, personal attacks of any kind or promotion will be removed and the user banned. Final decision will be at the discretion of the Taipei Times.