DBS Foundation unveils Community Impact axis
DBS Bank Taiwan (星展台灣) is to allocate an additional S$100 million (US$73.67 million) this year to add Community Impact to the DBS Foundation's existing Business for Impact axis to expand the reach of its philanthropic endeavors and set the goals of "building future-ready skills" and "reducing food waste."
DBS Taiwan general manager Lim Him-chuan (林鑫川) yesterday said that Singapore-based DBS is committed to promoting sustainability, supporting social enterprises and addressing important social issues through the DBS Foundation.
To address some of Asia's pressing problems, DBS is focusing its resources on "building future-ready skills" and "reducing food waste." DBS Taiwan will invest about NT$15 million (US$488,838) over the next three years to collaborate with the Junyi Academy Foundation to promote digital financial education, the bank said.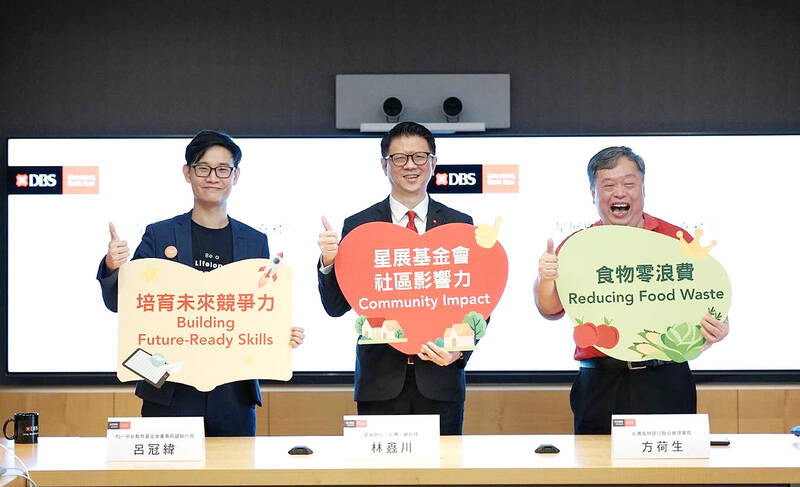 From left, Junyi Academy Foundation chairman and CEO Ray Lu, DBS Bank Taiwan general manager Lim Him-chuan and Alliance of Taiwan Foodbanks chairman Fang He-sheng in Taipei yesterday announce a joint initiative to promote digital financial management education, sustainability and the reduction of food waste.
Photo courtesy of DBS Bank Taiwan
It is also working with the Alliance of Taiwan Foodbanks to reduce food waste by redistributing food resources, it said.
The Junyi Academy Foundation, which is partnering with DBS Taiwan for the first time, is Taiwan's biggest free online education platform for junior-high and high-school students, with more than 38,000 educational videos and more than 4 million registered users.
Junyi chairman and CEO Ray Lu (呂冠緯) said that the academy provides free digital learning resources for students to learn at their own pace, and to make their learning experience more interesting and efficient.
In the next three years, DBS Taiwan would cooperate with Junyi to set up a "financial literacy zone," producing more than 30 videos and corresponding financial study topics.
The project is expected to benefit about 100,000 learners each year and eventually make Taiwan more competitive.
In the area of "reducing food waste," DBS Taiwan is deepening its existing partnership with the Alliance of Taiwan Foodbanks. After helping establish a flagship food bank in Taipei's Xinyi District (信義), DBS is helping build a large warehouse in Hualien City to serve food banks on the east coast.
Alliance of Taiwan Foodbanks chairman Fang He-sheng (方荷生) said that DBS' support would enable the alliance to build a 463m2 warehouse in Hualien City, which would be able to store more than 500 tonnes of food and other supplies, thus distributing resources more efficiently and serving at least 20 remote villages and schools.
Every 500 tonnes of soon-to-expire food that goes through the facility would not only meet the needs of 376,000 households, but also cut 110,675kg in carbon emissions from leftover food buried in landfills.
Comments will be moderated. Keep comments relevant to the article. Remarks containing abusive and obscene language, personal attacks of any kind or promotion will be removed and the user banned. Final decision will be at the discretion of the Taipei Times.