Apple to be TSMC US fab top customer
MORE ADVANCED CHIPS: The company is planning to build a second, 3-nanometer fab in Arizona, TSMC said ahead of a 'tool-in' ceremony at its first plant near Phoenix
Apple Inc is to be the biggest customer of Taiwan Semiconductor Manufacturing Co's (TSMC, 台積電) new Arizona factories, Apple CEO Tim Cook wrote on Twitter yesterday.
"Apple silicon unlocks a new level of performance for our users. And soon, many of these chips can be stamped 'Made in America.' The opening of TSMC's plant in Arizona marks a new era of advanced manufacturing in the US — and we are proud to become the site's largest customer," he wrote.
Cook's tweet came as TSMC held a "tool-in" ceremony for its US$12 billion wafer fab in Arizona on Tuesday, which marked the beginning of equipment installation at the facility near Phoenix. The fab is expected to start production in 2024, using the chipmaker's advanced 4-nanometer process.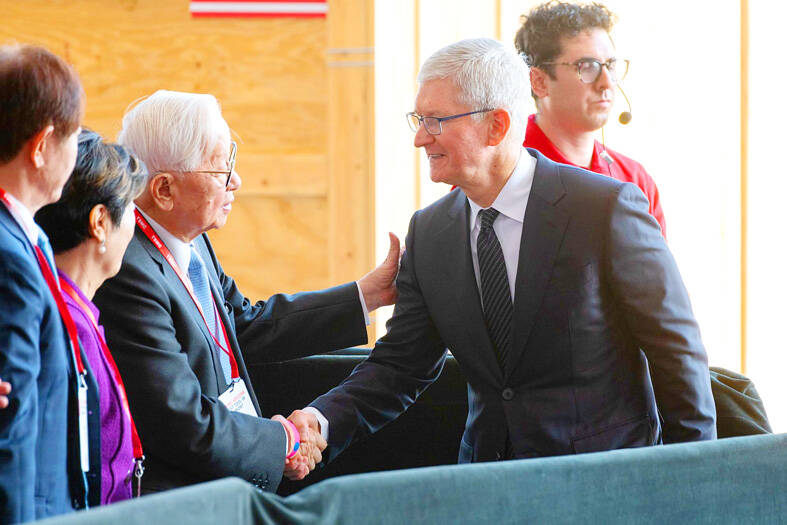 Taiwan Semiconductor Manufacturing Co founder Morris Chang, left, shakes hands with Apple Inc CEO Tim Cook at a ceremony at the chipmaker's new facility near Phoenix, Arizona, on Tuesday.
Photo: Bloomberg
Prior to the ceremony, TSMC announced it would increase its investment in Arizona to US$40 billion and build a second fab that would use the more advanced 3-nanometer process, with production scheduled to start in 2026.
Apple is the biggest customer of TSMC, accounting for about 26 percent of the chipmaker's revenue last year. TSMC is the sole supplier of chips used in iPhones.
Advanced Micro Devices Inc (AMD) and Qualcomm Inc are also to source chips from the new Arizona factories.
Advanced Micro Devices Inc CEO Lisa Su speaks at a ceremony at a new TSMC facility near Phoenix, Arizona, on Tuesday.
Photo: Bloomberg
AMD CEO Lisa Su (蘇姿丰) said TSMC's presence in Arizona is "extremely" critical to the global semiconductor industry, as well as AMD's expanded ecosystem of partners and clients.
"TSMC enables us to focus on what we do best: designing innovative chips that change the world," Su said at the ceremony. "AMD expects to be a significant user of the TSMC Arizona fabs and we look forward to building our highest performance chips in the United States."
Qualcomm said that TSMC bringing its advanced technologies to the country would benefit the US semiconductor industry and the overall economy.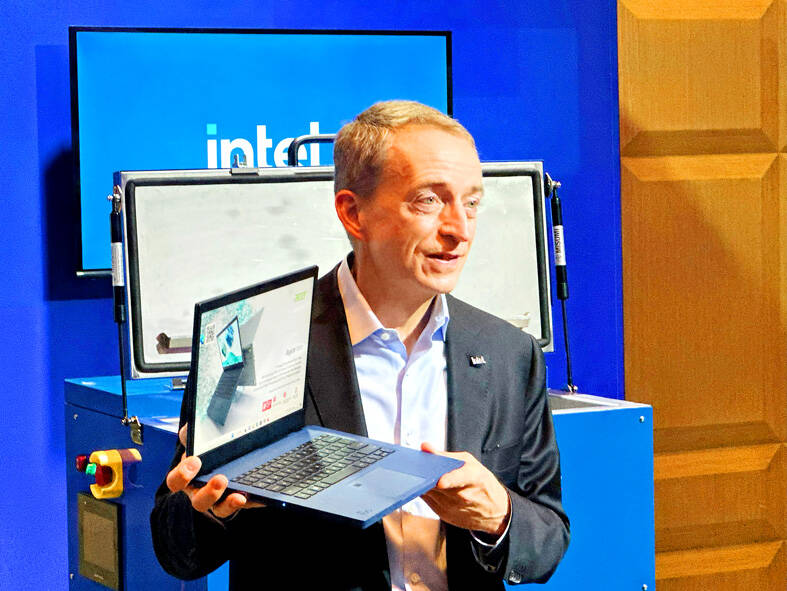 Intel Corp chief executive officer Pat Gelsinger holds an Acer Inc notebook computer at the company's Sustainability Taiwan Day in Taipei yesterday.
Photo: CNA
"As a longtime customer of TSMC, we are pleased to start leveraging the Arizona facility to manufacture our leading-edge products when production begins in 2024," Qualcomm senior vice president and chief supply chain and operations officer Roawen Chen (陳若文) said.
TSMC's most advanced processes are usually first adopted by suppliers of smartphone chips and high-performance computing chips.
Intel Corp CEO Pat Gelsinger, who visited Taiwan yesterday, wrote on Twitter that "Arizona is a great place to make semiconductors, with excellent engineering talent. Intel has led the building of the local ecosystem and talent base since we started manufacturing here in 1980."
"As Intel and TSMC and others continue to invest here, Arizonans are a critical part of the future of the industry," he wrote.
Gelsinger visited Taiwanese partners and attended Intel's first Sustainability Taiwan Day in Taipei, which featured speeches, discussions and other high-tech related activities.
Comments will be moderated. Keep comments relevant to the article. Remarks containing abusive and obscene language, personal attacks of any kind or promotion will be removed and the user banned. Final decision will be at the discretion of the Taipei Times.