CTBC ranked among top 10 Best Taiwan Global Brands for seventh time
The results of the Best Taiwan Global Brands survey co-organized by the Ministry of Economic Affairs' Industrial Development Bureau and global brand consultancy Interbrand were announced on Tuesday.
CTBC Financial Holding Co (中信金控) ranked among Taiwan's top 10 global brands for the seventh time, with its brand valued at US$533 million.
In recognition of CTBC Financial Holding's progress in growing its international presence and strengthening its brand's influence in the Taiwanese and international market, the organizers confirmed it as being among the most prestigious of Taiwan's leading financial brands.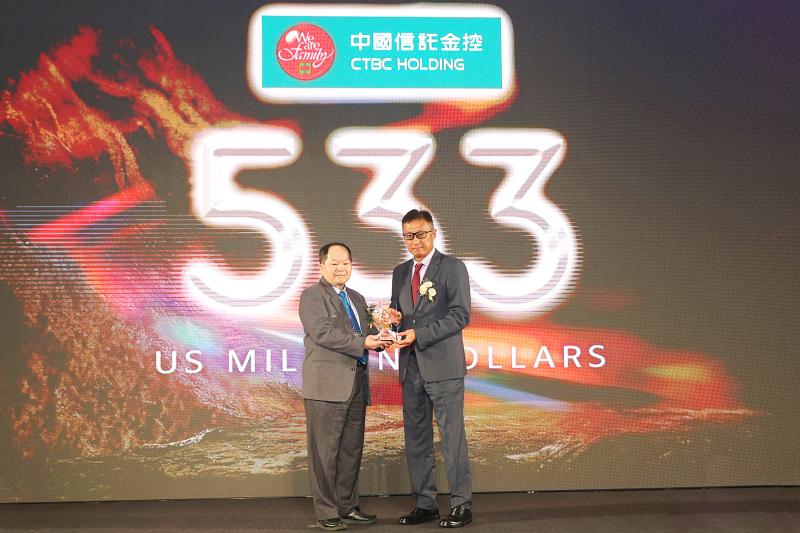 CTBC Holding chief administration officer Roger Kao, right, receives a Best Taiwan Global Brands award in Taipei on Tuesday.
Photo courtesy of CTBC Holding
CTBC Financial Holding chief administration officer Roger Kao (高人傑) accepted the award at Tuesday's ceremony.
The ranking uses the same brand valuation system as Interbrand's Best Global Brands survey, selecting from more than 1,000 listed Taiwanese companies based on their revenue indicators and calculating their brand value based on the aspects of overall demand, intangible revenue, brand role, brand revenue and brand strength.
The organizers said that CTBC Financial Holding is committed to expanding its overseas business, accelerating its digital transformation and innovation, focusing on the value it creates for society in the process of delivering financial services with its brand spirit of "We are family," and conveying its brand concept through human character stories and other means to create emotional ties.
It identified the main reasons for CTBC Financial Holding's high ranking as its good performance with regard to brand identification, trust and connectedness.
CTBC Financial Holding has been involved in social philanthropy for a long time through five core missions of charity, anti-drugs campaigning, sports, education and the arts.
For example, its Light Up a Life fundraising campaign has over the past 37 years raised more than NT$2.5 billion (US$80.57 million) to help more than 620,000 disadvantaged children.
CTBC Financial Holding's philanthropic projects include sponsorship of the CTBC Brothers professional baseball team, as well as the CTBC Youth Baseball Project, the Taiwan Dream Project and the CTBC Foundation for Arts and Culture's Love and Arts for Dreams Initiatives.
In terms of social return on investment, these projects generate from NT$4.18 to NT$17.59 of social value for every NT$1 invested.
In this way, the company has used the influence of its brand to launch a virtuous cycle that creates a positive impact for Taiwan.
CTBC Financial Holding has built a professional brand image through digital finance and innovative business. In terms of overseas business performance, its subsidiary CTBC Bank last year increased its shareholding in Thailand's LH Financial Group to 46.6 percent, becoming its largest shareholder and making it the Taiwanese-invested bank with the most branches in Thailand.
With this move, CTBC Financial Holding took another major step forward in its overseas presence in Southeast Asia.
Comments will be moderated. Keep comments relevant to the article. Remarks containing abusive and obscene language, personal attacks of any kind or promotion will be removed and the user banned. Final decision will be at the discretion of the Taipei Times.