Taiwan Business Bank posts record NT$7bn net profit
State-run Taiwan Business Bank (TBB, 台企銀) yesterday reported record net profit of NT$7.09 billion (US$227 million) for the first three quarters of this year, up 82 percent from the same period last year, on the back of growing interest and fee income amid monetary policy tightening at home and abroad.
The earnings momentum might sustain until the end of this year or early next year, as the US Federal Reserve is expected to continue to raise policy rates to curb inflation and Taiwan's central bank would likely follow suit with milder hikes to narrow the gap between the two nation's interest rates, TBB told an online investors' conference.
Cumulative net profits in the first three quarters were NT$8.3 billion, or earnings per share of NT$0.88, company data showed.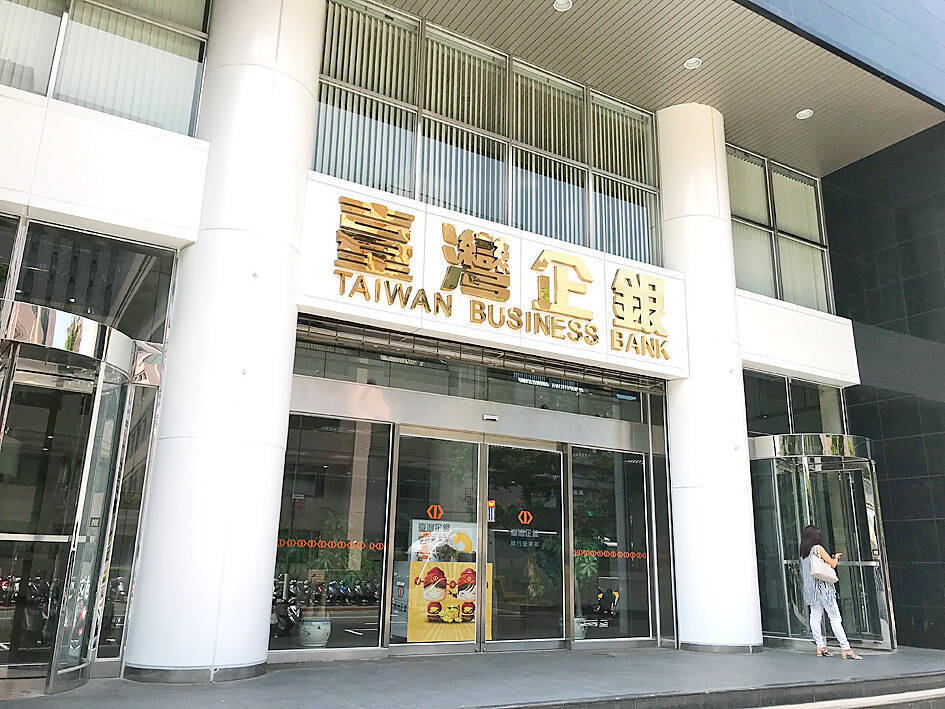 A woman stands outside Taiwan Business Bank's headquarters in Taipei's Datong District on June 10, 2021.
Photo: Chen Mei-ying, Taipei Times
Interest income grew 14.32 percent year-on-year to NT$15.14 billion for the first nine months, while fee income advanced 24.1 percent year-on-year to NT$3.06 billion, the lender said.
Growth in loan, wealth management and financial product transactions lent support to fee incomes, TBB officials said.
Outstanding loans expanded 8.4 percent annually to NT$13.33 trillion, compared with a 10.9 percent increase in deposits to NT$17.27 trillion, the bank said.
TBB would continue to build up deposits in overseas markets to take advantage of wider interest spread, the lender said.
The bank would also focus on providing loans to small and medium-sized enterprises (SMEs), after its loans to SMEs rose 9.4 percent to NT$674.2 billion for the first three quarters, it said.
The bank would focus on asset quality while adjusting its loan structure to improve profitability, officials said, adding that its bad-loan ratio fell to 0.2 percent and its coverage ratio rose to 619.5 percent at the end of September, the best showings in the past two years.
Interest spread was 1.38 percent and net interest income was 0.98 percent, significantly higher than last year, but loan demand is expected to slow in light of higher borrowing costs, the bank said.
Like its peers, TBB incurred losses of NT$7.1 billion in other comprehensive incomes because of bond value downturns, so it would avoid building bond positions and favor short-term debts instead, the bank said.
The strategy paid off as related losses had been mitigated last month, TBB officials said.
However, they were reluctant to give statements on the bank's dividend policy for next year, saying that the board would factor in full-year earnings and other considerations before reaching a decision next year.
TBB shares yesterday closed flat at NT$12.75, weaker than the TAIEX's 0.46 percent gain.
Comments will be moderated. Keep comments relevant to the article. Remarks containing abusive and obscene language, personal attacks of any kind or promotion will be removed and the user banned. Final decision will be at the discretion of the Taipei Times.