Lithuania opens Taiwan trade office as its China ties sour
Lithuania yesterday opened a trade office in Taiwan, potentially escalating tensions with China that have been simmering since the EU member state drew a stiff rebuke from Beijing.
The trade office's opening comes a year after the government in Taipei opened an office in Lithuania's capital, Vilnius. China responded by downgrading diplomatic relations with the Baltic state over the office's explicit use of the name Taiwan.
The new Lithuanian trade office carries the name Taipei, which might avoid a harsher reaction from Beijing.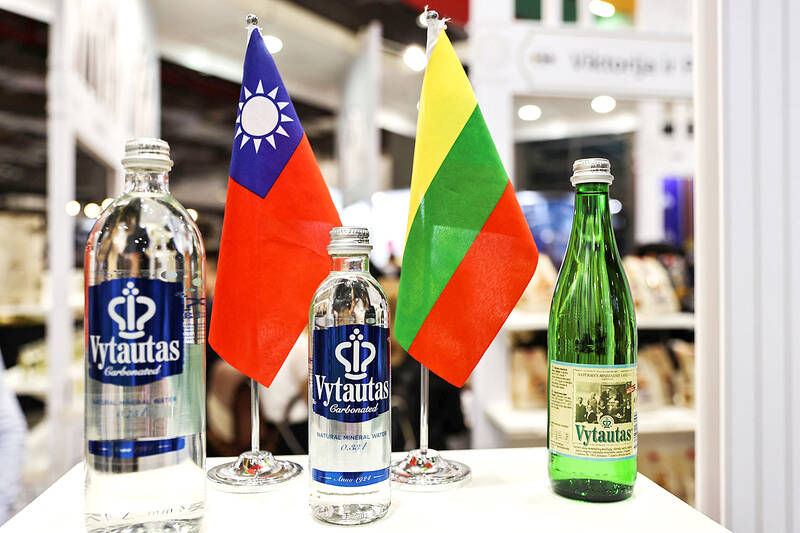 Taiwanese and Lithuanian flags stand behind Lithuanian products at the Taipei International Food Show in Taipei on June 22.
Photo: Ann Wang, Reuters
"Today we can rejoice over the first achievements of Lithuanian cooperation with Taiwan," Lithuanian Minister of the Economy and Innovation Ausrine Armonaite said in a statement. "I have no doubt that our work with this promising market will intensify further after the opening of the Lithuanian trade office in Taipei."
The dispute between China and Lithuania, a Baltic nation of 2.8 million, has helped roil relations between the world's most populous nation and the EU as a whole.
After Taiwan's trade office opened, China withdrew its ambassador and faced accusations of halting the clearance of Lithuanian goods in its ports. The standoff prompted the EU to raise the issue of trade hurdles with the WTO.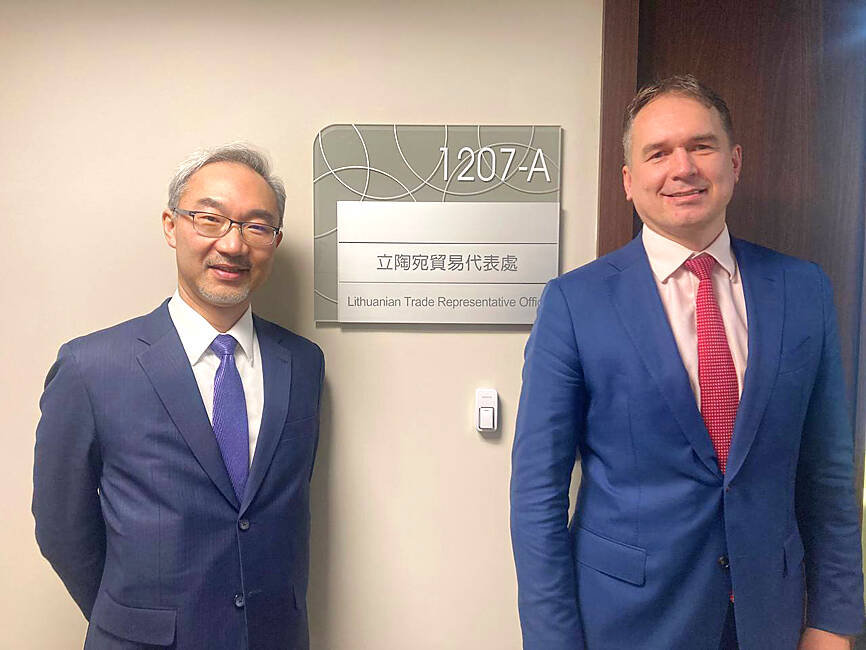 Ministry of Foreign Affairs Department of European Affairs Director Vincent Yao, left, and Paulius Lukauskas, head of the Lithuanian Trade Representative Office, pose for a photograph in Taipei yesterday as Lithuania formally launched its trade office in Taiwan. The office is located in Suite 1207-A on the 12th floor of the Taipei World Trade Center International Trade Building.
Photo courtesy of the Ministry of Foreign Affairs
Lithuanian President Gitanas Nauseda last month said China's punitive action and its backing of Russia's invasion of Ukraine showed that Beijing is the EU's "systemic rival."
Meanwhile, British Minister of State for Trade Policy Greg Hands held talks with Taiwanese officials in Taipei to "future-proof" Britain's economy in the coming decades, as British Prime Minister Rishi Sunak's administration looks to take a tougher stance on China.
After exports to China effectively stalled, Lithuania compensated for its losses by increasing its sales to 10 other markets in the Indo-Pacific region by 60 percent in the first eight months of the year, the Lithuanian Ministry of Economy said.
Taiwan yesterday also announced its first 3.5 million euro (US$3.49 million) investment in Lithuania's ultra-fast laser technology producer Litilit.
Two more investments in Lithuania are to be announced later this year or by early next year to bring the total to 10 million euros, officials in Taipei said.
The Litilit investment was the first made by Taiwan's US$200 million Central and Eastern Europe Investment fund, set up after Lithuania allowed Taiwan to open a de facto embassy on its soil in November last year.
The fund focuses on Lithuania, Slovakia and the Czech Republic.
Taiwan, the world's biggest supplier of semiconductors, will invest more than 10 million euros towards chip production in Lithuania, the head of the Taiwanese representative office in Vilnius said yesterday.
The Industrial Technology and Research Institute (工業技術研究院) will cooperate with Lithuania's electronics manufacturer Teltonika to build semiconductor technology capabilities in the Baltic country, Representative to Lithuania Eric Huang (黃鈞耀) said.
Over two dozen Taiwanese scholarships for Lithuanians will be offered for technical training, he added.
"This is not a transaction (in exchange of Lithuania allowing opening of the office)," Huang said. "It is because Taiwan would like to work with Lithuania together to strengthen the resilience of our democratic supply chain in the face of coercion by autocracies."
Earlier this year, Taiwan launched a 200-million-euro equity investment fund and a 1-billion-euro loan facility for Lithuania and other central and eastern European countries.
The first equity investments totaling 10 million euros in Lithuanian would be completed by early next year, said Huang, adding that first loans amounting to 9 million euros should be dispersed by the end of this month.
Taiwan also granted import permits for Lithuanian diary, fish and egg products, and could allow imports of its beef by the end of the year.
Additional reporting by Reuters
Comments will be moderated. Keep comments relevant to the article. Remarks containing abusive and obscene language, personal attacks of any kind or promotion will be removed and the user banned. Final decision will be at the discretion of the Taipei Times.