TSMC shares rally after report
ON THE HORIZON: The bottom of the current cyclical downturn for chipmakers is approaching, and TSMC is positioned to benefit as demand returns, analysts said
Taiwan Semiconductor Manufacturing Co (TSMC, 台積電) shares surged the most in almost three months after Morgan Stanley projected a return to growth for the semiconductor industry by the second half of next year, spurring a sector rally in Asia.
The investment bank crowned TSMC — Asia's most valuable listed corporation — a top pick, calling it "an enabler of future technology." TSMC gained 3.73 percent in Taipei yesterday, while memorychip maker SK Hynix Inc rose 4.18 percent.
Global chipmakers had been riding high early in the COVID-19 pandemic, when work-from-home fueled demand for computers and other consumer electronics.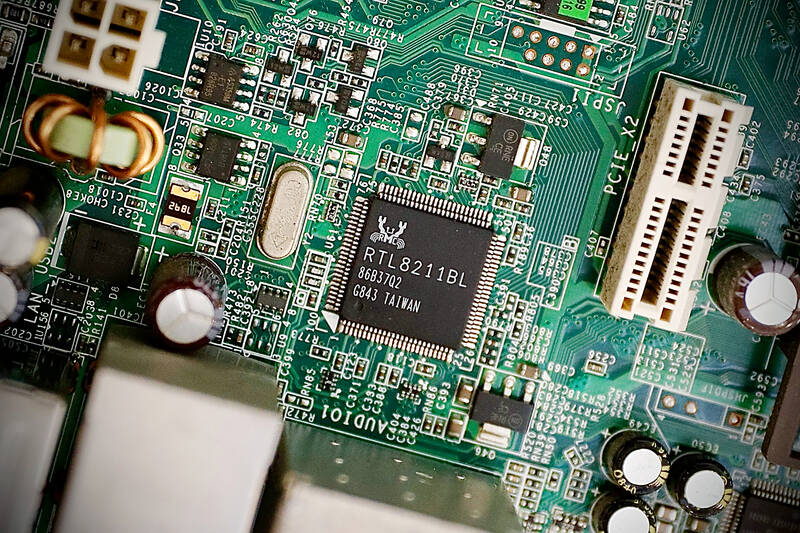 A Realtek Semiconductor Corp microchip is pictured on a printed circuit board in Hsinchu County on Sept. 16.
Ritchie B. Tongo, EPA-EFE
However, inflation and recession fears — plus a return to the office — have put a damper on purchases. In response, memorychip makers such as Micron Technology Inc and Kioxia Holdings Corp have slashed output to try to prop up prices.
TSMC is in a different position. As the world's most advanced logic chipmaker, it should benefit as industry demand begins to climb back next year, Morgan Stanley analysts wrote in a report on Tuesday.
The US investment bank also upgraded stocks including SK Hynix, Apple Inc, South Korean flat panel supplier LG Display Co and its Taiwanese rival, AUO Corp (友達光電).
"We are well advanced in the current cyclical downturn from where global semiconductor shipment units peaked around September last year," the analysts wrote in a research report. "We are not calling for the beginning of a new cycle, but acknowledge that an inflection [bottom] is closer."
In a separate report, Morgan Stanley also upgraded stocks in emerging markets and Asia excluding Japan to "overweight" from "equal weight," saying it is likely a bottom is near.
Morgan Stanley expects the MSCI Emerging Markets Index, which has slumped for five straight quarters and lost 26 percent this year, to rally about 12 percent from Tuesday's close until June.
"A lot of wood has been chopped" and "it's time to plant saplings for next cycle," Jonathan Garner and his colleagues wrote.
Investors should "rotate towards proven early-cycle beneficiaries," they added, also upgrading Taiwan and South Korea equities to "overweight."
Taiwan and South Korea are the "highest conviction opportunities into a new cycle" as both markets have substantially underperformed this year and a turning point in the semiconductor inventory cycle is near, Garner's team wrote.
The TAIEX closed up 224.91 points, or 1.66 percent, at 13,801.43 yesterday, extending strength from the previous session as investors took cues from another surge on Wall Street overnight.
TSMC, the most heavily weighted stock on the local market, rose 3.73 percent to close at NT$445 and its gains contributed about 130 points to the TAIEX's rise in the session.
Turnover on the main board totaled NT$232.515 billion (US$7.37 billion), with foreign institutional investors buying a net NT$4.99 billion of shares, Taiwan Stock Exchange data showed.
With the fall in the US dollar index, which traces the currencies of Washington's major trading partners, the greenback continued a downtrend against the New Taiwan dollar on the Taipei foreign exchange market yesterday, shedding NT$0.180 to close at NT$31.568.
Additional reporting by CNA
Comments will be moderated. Keep comments relevant to the article. Remarks containing abusive and obscene language, personal attacks of any kind or promotion will be removed and the user banned. Final decision will be at the discretion of the Taipei Times.