Taiwan ranks 11th in digital competitiveness
Taiwan ranked 11th out of 63 major economies in the latest World Digital Competitiveness Ranking released on Wednesday, falling three spots from last year.
The annual list was prepared by the Switzerland-based International Institute for Management Development (IMD). The rankings are based on 54 criteria under three major categories: knowledge, technology and future readiness.
Taiwan saw the biggest drop in the technology category, falling from second to sixth place, with investment in telecommunications, where the nation ranked 57th, identified as an "overall top weakness."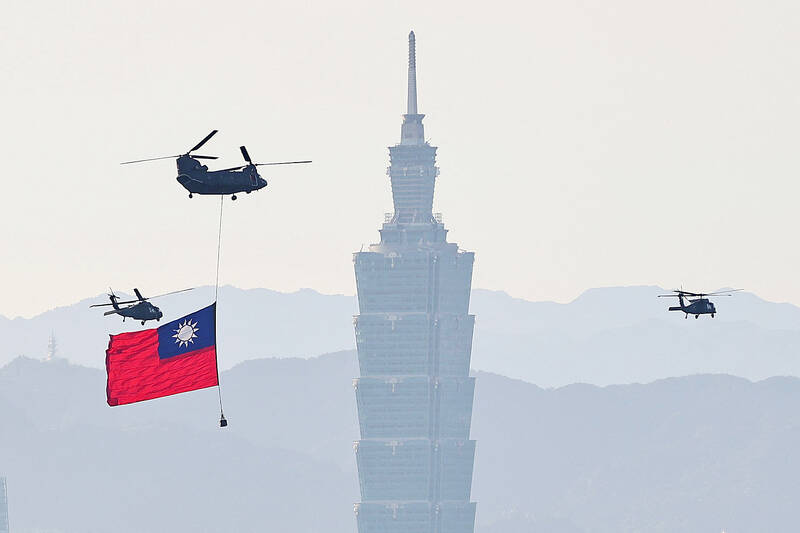 A CH-47 carries a Taiwan flag fly across the city as rehearsal ahead of Taiwan National Day celebrations yesterday in Taipei, Taiwan.
Photo: Reuters
However, he nation maintained its top ranking in the "IT & media stock market capitalization" and "mobile broadband subscribers" categories.
Taiwan ranked second in the "use of big data and analytics," classified under future readiness, up two places from last year and identified as an "overall top strength."
Under the future readiness category, Taiwan ranked third in terms of "agility of companies."
Overall, Taiwan placed eighth in the future readiness category, down one place from last year.
In terms of knowledge, the nation ranked first in "total R&D personnel per capita," and third in "higher education achievement" as well as "total expenditure on R&D" in relation to other areas of government spending.
However, the nation ranked 18th in knowledge, the lowest among the three major categories, with "total public expenditure on education" (52nd), "female researchers" (52nd), "pupil-teacher ratio in tertiary education" (50th), and "scientific and technical employment" (45th) identified as "overall top weaknesses."
The Ministry of Digital Development said in a statement that the strengths and weaknesses identified in the rankings would serve as a reference for its policymaking as it looks to help Taiwan achieve digital transformation and boost its digital capabilities.
Minister of Digital Development Audrey Tang (唐鳳) said during an interview at the Taiwan Internet Governance Forum in Taipei on Wednesday that the ranking provided valuable input for policymaking, especially in areas where private-public cooperation can be improved.
Comments will be moderated. Keep comments relevant to the article. Remarks containing abusive and obscene language, personal attacks of any kind or promotion will be removed and the user banned. Final decision will be at the discretion of the Taipei Times.