Recession not a reason to stop investing: Intel
An economic recession would not deter Intel Corp from continuously investing in new processor technologies and capacity expansion to support long-term growth, CEO Pat Gelsinger said on Tuesday.
The US chipmaker has adopted a more austere approach to investment in the near term amid an industry downcycle and macroeconomic uncertainty.
It has also become more "thoughtful" about operational investment, Gelsinger told reporters in a question-and-answer session following his keynote speech at this year's Intel Innovation in San Jose, California.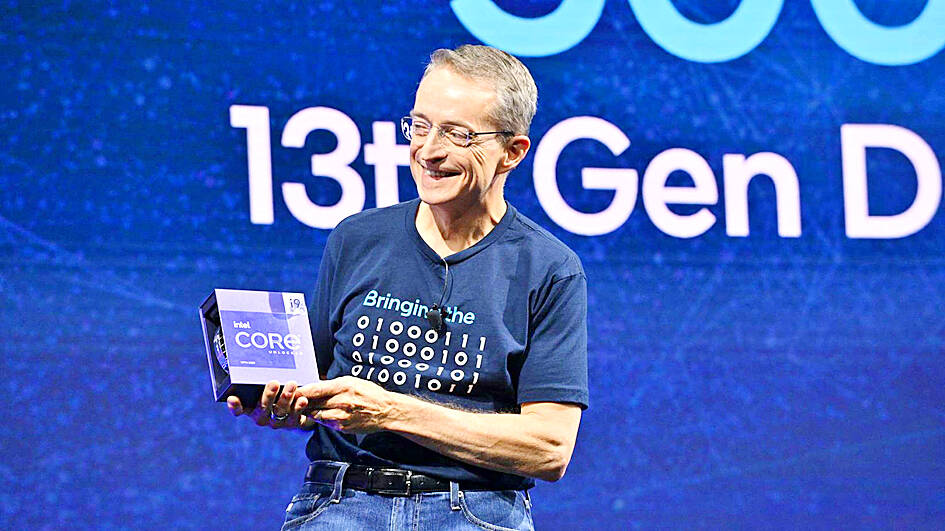 Intel Corp CEO Pat Gelsinger introduces the company's latest Core desktop processors at an event in San Jose, California on Tuesday.
Photo courtesy of Intel Corp via CNA
"When is the last time that a recession lasts for four or five years," he asked. "Its impact on the industry may last several quarters like two, three or four quarters."
However, it would take chipmakers 12 to 14 quarters to build a new fab, he said.
Developing a new processor architecture, or a core process technology requires multiple years of investments and efforts, he added.
"You cannot be driven by near-term financials," Gelsinger said. "We are investing for the long term. That's our strategy."
Intel is spending on building process technology to earn technology leadership in four or five years, he said.
The company is investing in building fabs to ramp up those technologies across diverse segments from networking, graphics, automotive to data center businesses, he said.
Intel is helping build more globally balanced and resilient semiconductor supply chains to help meet growing demand for advanced semiconductors worldwide through the company's IDM2.0 strategy, he said.
At the heart of its course is Moore's Law, he said.
Moore's Law is alive and well, he said, refuting Nvidia CEO Jensen Huang's (黃仁勳) claim last week that Moore's Law "is dead."
He attributed breakthroughs in lithography and core of semiconductor manufacturing with advanced packaging technologies to the assertion.
Intel is on schedule, or even ahead of its schedule in developing five nodes in four years, Gelsinger said.
Normally, it takes two years to develop a node based on the law, he added.
"We will not rest until the periodic table is exhausted. We will continue to be the stewards of Moore's Law into the future," he said.
Intel expects to deliver its first 18A test chip by the end of the year, he said.
Intel's 18A process technology is equivalent to the 2-nanometer technology developed by Taiwan Semiconductor Manufacturing Co (TSMC, 台積電). TSMC plans to start volume production of 2-nanometer chips in 2025.
As part of Intel's IDM2.0 strategy, it is building more new capacity, including factories in Arizona and Ohio.
The chipmaker is also working on new capacity expansion projects in Israel, Ireland and Malaysia, it said.
Asked whether US control over chip exports to China would affect Intel's chip design, or its IDM2.0 strategy, Gelsinger said there would be no change.
He said that oil reserves have defined geopolitics for the past five decades, but fabs and technology supply chains would be more important in the next five decades.
The chipmaker unveiled its latest-generation, 13th Gen Core i9-13900k processor for desktop computers, the world's fastest desktop processor. The 13th Gen Intel Core family includes six new unlocked desktop processors with up to 24 cores and 32 threads and clock speeds of up to 5.8GHz for the best gaming, streaming and recording experience, it said.
With the new desktop processor and upcoming notebook processor, Intel believes overall PC shipments would return to growth next year, after a forecast decline this year, Sam Gao (高嵩), Intel vice president of Intel's desktop processor business, told reporters in Taipei yesterday.
High-end gaming desktop and those designed for creators would be the major drivers, Gao said.
Comments will be moderated. Keep comments relevant to the article. Remarks containing abusive and obscene language, personal attacks of any kind or promotion will be removed and the user banned. Final decision will be at the discretion of the Taipei Times.