Leading indicators slow for 10th straight month
The nation's economy continued to show signs of a slowdown, with the index of leading indicators for last month falling 0.94 percent to 96.38 points from July, marking the 10th consecutive month of decline, the National Development Council said yesterday.
The index is used as a gauge for the economy's direction in the coming six months. Among the index's seven components, only the readings on imports of semiconductor equipment and net accession rate of employees made a positive contribution last month, the council said in a report.
Five other components — manufacturing sector, export orders, the TAIEX, floor area of building permits and real M1B money supply — weighed on the composite index, it said.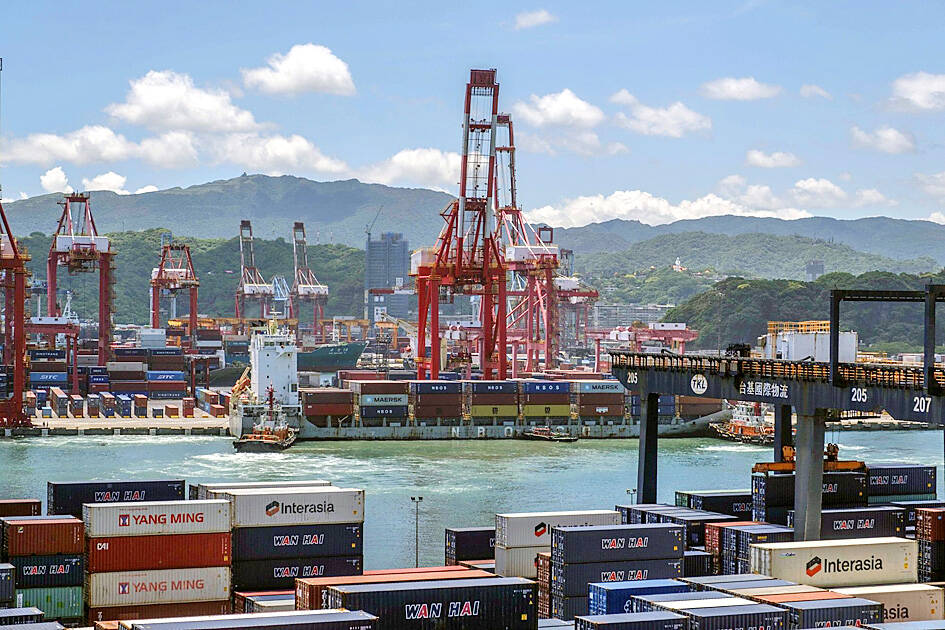 The Port of Keelung is pictured on Aug. 4.
Photo: Lam Yik Fei, Bloomberg
Last month's index of coincident indicators, which tracks the current pace of economic activity, decreased by 1.43 percent to 96.89, falling for a seventh consecutive month, the report showed.
All seven components of the index fell from the previous month, the council said.
Apart from slowing industrial production, exports and capital equipment imports, power consumption, retail sales and wholesale trade also weakened, it added.
The total score of monitoring indicators for last month was 23 points, down from 24 points in July, flashing a "green light" for a sixth consecutive month, implying steady growth, the report showed.
The council uses a five-color spectrum to gauge economic health, with "blue" signaling recession, "green" suggesting steady growth and "red" indicating overheating. Dual colors mean it is in transition.
The government will be closely monitoring the economic situation, the council said in the report.
Comments will be moderated. Keep comments relevant to the article. Remarks containing abusive and obscene language, personal attacks of any kind or promotion will be removed and the user banned. Final decision will be at the discretion of the Taipei Times.