Innolux deepens display partnership with Corning
COLD BENDING: Innolux plans to boost contribution from vehicle displays to 50 percent of overall revenue from 12 percent in the second quarter of this year
Innolux Corp (群創) is deepening its partnership with the US-based Corning Inc in the production of cockpit displays through a subsidiary, as it pushes ahead with transformation efforts to fuel growth.
Singapore-based CarUX Technology Pte Ltd (群豐駿科技), a vehicle display maker fully owned by Innolux, would incorporate Corning's cold-bending technology into its large curved vehicle displays, Innolux said in a statement yesterday.
CarUX and Corning are expanding their collaboration from automotive glass substrates to glass substrate protection solutions, as they seek to build supply chain ecosystems to generate greater industrial synergies, CarUX said in the statement.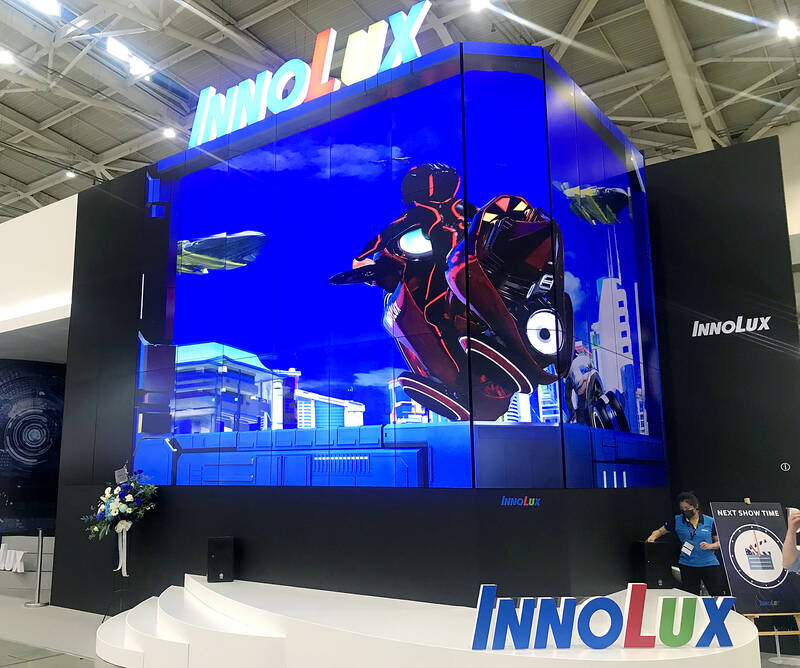 Innolux Corp's booth is pictured at the Touch Taiwan trade show at the Taipei Nangang Exhibition Center's Hall 1 on April 27.
Photo: Chen Mei-ying, Taipei Times
With Corning's ColdForm technology, a glass cover can be seamlessly fitted on a vehicle display, providing more innovative and diversified displays, the statement said.
The cover also creates a safer driving environment, it said.
CarUX counts General Motors Co among its major customers.
The automaker in March honored CarUX with the Override Award in recognition of its strategy for large information displays, Innolux said.
CarUX established local units in Tainan and Hsinchu in January.
Innolux last month said that it is branching out to displays with better profit margins and durability, and is seeking less volatile markets.
Innolux is targeting vehicle displays, especially those used in autonomous vehicles, head-up displays, cluster displays and center information displays (CIDs), it said.
With the size of vehicle displays increasing, CarUX focuses on supplying 20-inch or larger CIDs with higher price margins than TVs or computer displays, Innolux told investors last month.
Innolux said it aims to boost revenue contribution from vehicle displays to 50 percent of overall revenue, from about 12 percent in the second quarter.
Vehicle displays made up less than 7 percent of the company's overall revenue two years ago.
The segment caters to a niche sector that offers a buffer against slumps in the TV and PC display markets, it said.
Comments will be moderated. Keep comments relevant to the article. Remarks containing abusive and obscene language, personal attacks of any kind or promotion will be removed and the user banned. Final decision will be at the discretion of the Taipei Times.