UK touts biggest tax cuts since 1972
GROWTH AGENDA: The UK's top finance official said he targets 2.5% GDP growth, a level not achieved for a decade, while some economists saw potential for widening inequality
The administration of British Prime Minister Liz Truss set out the most radical package of tax cuts since 1972, reducing levies on worker pay and companies in an effort to boost the long term potential of the economy.
British Chancellor of the Exchequer Kwasi Kwarteng also cut stamp duty on property purchases and confirmed support for households and businesses from spiraling energy bills at a cost of £60 billion (US$66.6 billion) over the next six months.
"We promised to prioritize growth," Kwarteng told parliament in London yesterday. "We promised a new approach for a new era."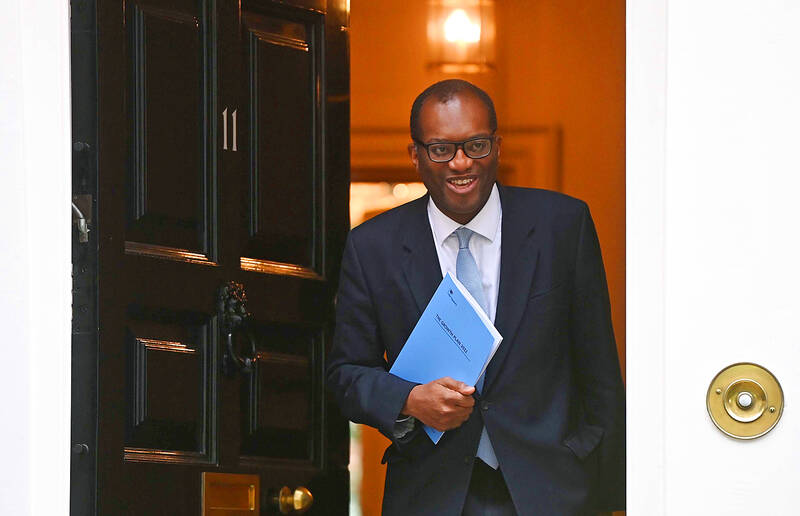 British Chancellor of the Exchequer Kwasi Kwarteng departs 11 Downing Street in London ahead of a statement in parliament yesterday.
Photo: EPA-EFE
The measures are aimed at preventing a recession that the Bank of England says has already started and to increase productivity, which has fallen behind other G7 nations.
Economists are concerned that the package is unaffordable and would trigger a currency crisis as investors realize the British Treasury's debt load would keep rising.
Kwarteng's moves mark the biggest tax cuts since then-British chancellor of the exchequer Nigel Lawson's budget in 1988. That lifted the economy and sent inflation soaring, prompting the Bank of England to raise interest rates to a peak of 15 percent in 1989.
Kwarteng also announced that the UK would cut the main income tax rate for workers a year earlier than planned, leaving the headline rate at 19 percent next year and scrapping the 45 percent top tax rate.
The UK would scrap a planned 1.25 percent increase in British National Insurance tax and end a planned increase in corporation tax, leaving the headline rate at 19 percent, he said.
Kwarteng said the UK would ease stamp duty on home purchases, a decision that lifted the shares of homebuilders, relieving the burden on 200,000 buyers a year.
Kwarteng said he targets economic growth of 2.5 percent a year, a level not achieved for more than a decade.
The UK is planning steps to reduce planning restrictions for land use, "getting out of the way to get Britain building," he said.
The UK would remove a cap on bonus payments to bankers and create new "investment zones" with lower regulations for those who build businesses, he said.
The UK would cancel a planned increase in duties on alcohol, he said.
Truss and her allies say the measures would not spur inflation, and that cutting taxes and bureaucracy would allow businesses to expand and draw more people into work, lifting tax revenue in the process.
"What we've seen today is a significant shift in economic policy in the UK, and I think it's the right one," said Gerard Lyons, chief economic strategist at Netwealth Investments Ltd and an adviser to Truss. "If the policy is right for economy, then also it should be right for the markets as well."
However, economists and former Bank of England officials attacked the plans even before Kwarteng appeared in the British House of Commons.
Martin Weale, who had served at the central bank from 2010 to 2016, said the plans would "end in tears," while Danny Blanchflower, a policymaker during the global financial crisis more than a decade ago, said investors should short the pound in response.
The Institute for Fiscal Studies (IFS) and others have warned that the package would put public finances on an unsustainable path, with borrowing about £60 billion a year higher than previously forecast.
"This is biggest tax cutting event since 1972," IFS director Paul Johnson wrote on Twitter. "That budget is now known as the worst of modern times. Genuinely, I hope this one works very much better."
Bloomberg economist Dan Hanson said that the government also looks set to pivot from fiscal conservatism toward efforts to stimulate long-run economic growth, and with tax cuts alone unlikely to deliver that goal, the package might keep inflation above 2 percent for longer and shift the public finances onto an unsustainable path.
Other critics include the Resolution Foundation, which said the measures would widen inequality, handing more benefits to the richest people in society and costing those on lower incomes more.
Comments will be moderated. Keep comments relevant to the article. Remarks containing abusive and obscene language, personal attacks of any kind or promotion will be removed and the user banned. Final decision will be at the discretion of the Taipei Times.