GSK transforms to improve pharmaceutical operations
GlaxoSmithKline (GSK) in July made its consumer health products division a separate entity as it transforms into a world-leading biopharmaceutical company. By uniting science, technology and talent, the company is aiming to prevent and treat diseases with innovative vaccines, specialty pharmaceuticals and general medicines.
GSK's headquarters annually invests NT$192 billion (US$6.07 billion) in research and development, focusing on immune science and advanced technologies in human genetics. GSK's drug and vaccine development focuses on infectious diseases, HIV, oncology and immunology.
Investing in clinical trial research each year, GSK also brings drug development to Taiwan. It cooperates with 17 medical institutes and research centers in Taiwan to help domestic medical research keep pace with international trends and enhance Taiwan's status as a center for clinical research in the Asia-Pacific region.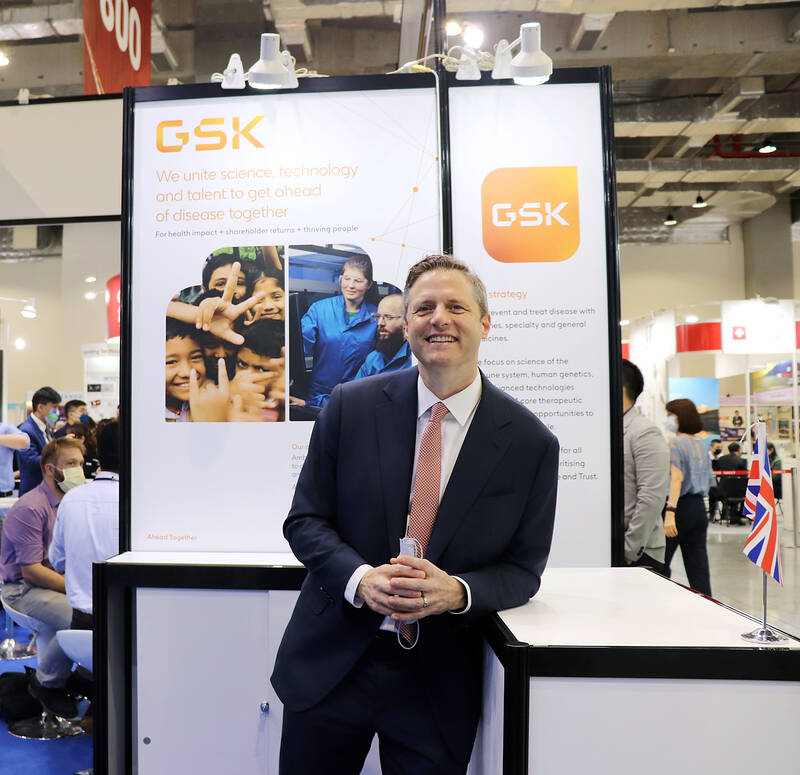 Mick Stanley, VP and General Manager of GSK Taiwan, says,"after transforming the organization our new ambitions and new purpose is to expand our impact here in Taiwan."
Photo courtesy of GSK Taiwan
GSK has launched a revamped brand identity system, which was modified from its former orange logo consisting of lowercase "gsk" and a beating heart. The new logo adopts gradient orange, capitalized "GSK," and digital and technological lines. Its design brings out a striking, eye-catching image, while conveying GSK's goals and ideas for the future.
The arrow in the new logo symbolizes GSK's combination of digital, social and environmental concerns as a "signal to move ahead together" in the biopharmaceutical industry. The curve in the logo symbolizes the ability of the immune system to adapt to and evolve along with the environment.
GSK's Taiwan branch was established 43 years ago, and has since protected the health of Taiwanese.
"After transforming the organization, our new ambitions and new purpose is to expand our impact here in Taiwan by protecting and treating more patients, to make GSK a place where people can thrive, where they can succeed, grow and be happy at work, all underpinned by doing everything with integrity and care," GSK Taiwan vice president and general manager Mick Stanley said.
The newly transformed GSK is focusing on protecting the health of Taiwanese with pharmaceuticals and vaccines, advocating and practicing the values of diversity and inclusion, and caring for employees and practicing sustainable development, all of which form the company's business philosophy.
Being "ambitious for patients" is part of the corporate culture, which GSK attaches great importance to.
"In addition to 'ambitious for patients,' GSK's culture also emphasizes 'accountable for impact.' We hope to expand our impacts on Taiwanese people," Stanley said. "We hope we can move ahead together to defeat disease with medicines and vaccines."
GSK provides as many as 50 kinds of prescription medicines and more than 15 kinds of vaccines, for children and adults, and endeavors to do its utmost for the health of Taiwanese.
Every day, 2 million doses of vaccines produced by GSK are administered around the world. In the past few years, GSK has advocated for adult vaccination. For example, GSK Taiwan has recently launched a new vaccine against the herpes zoster virus to protect against shingles.
To help Taiwanese become aware of the necessity of adult vaccination, GSK is working with entities in Taiwan to create and promote comprehensive information and an environment for adult vaccination.
GSK provides vaccines for infectious diseases that could occur at every stage of life. It helps provide proper immune protection against meningitis, quadrivalent influenza, polio, measles and other diseases. In Taiwan, an average of 40 percent of children receive vaccines provided by GSK.
GSK is also concerned about the healthcare challenges faced by Taiwan's rapidly aging population. Accordingly, GSK has been discussing important policy developments with the government through the American Chamber of Commerce in Taiwan, the European Chamber of Commerce Taiwan and the International Research-Based Pharmaceutical Manufacturers Association, with the aim of helping Taiwan lay a solid foundation for its medical environment in the decades to come.
Additionally, since the invention of the first-ever medicine for the treatment of HIV, GSK has continuously worked to improve the health and quality of life of people living with HIV, and has cooperated with government entities and patient groups.
In addition to vaccines, GSK also leads the industry in the treatment and prevention of diseases such as respiratory illnesses. For people with asthma, chronic obstructive pulmonary disease and other respiratory diseases who need drugs for treatment, GSK helps them with a variety of inhaled medicines.
The world's first inhaler was developed by GSK.
The company helps more than 2 million people with respiratory diseases every year in Taiwan, and allows them to breathe freely with improved quality of life.
Comments will be moderated. Keep comments relevant to the article. Remarks containing abusive and obscene language, personal attacks of any kind or promotion will be removed and the user banned. Final decision will be at the discretion of the Taipei Times.