DRAM prices could fall by 18%: report
SLUMPING DEMAND: Inventory has climbed by up to 12 weeks as suppliers are under mounting pressure to offload excessive reserves, a TrendForce report said
The price of DRAM chips is expected to fall at a steeper rate of 13 to 18 percent next quarter, as high inflation continues to weigh on demand for consumer electronics, causing chip inventories to soar, market researcher TrendForce Corp (集邦科技) said yesterday.
The downtrend in DRAM prices could extend from a quarterly decline of 10 to 15 percent in the third quarter, the Taipei-based researcher said.
"Demand for consumer electronics continued to stagnate during the third quarter, which used to be a high demand season," TrendForce said in a statement.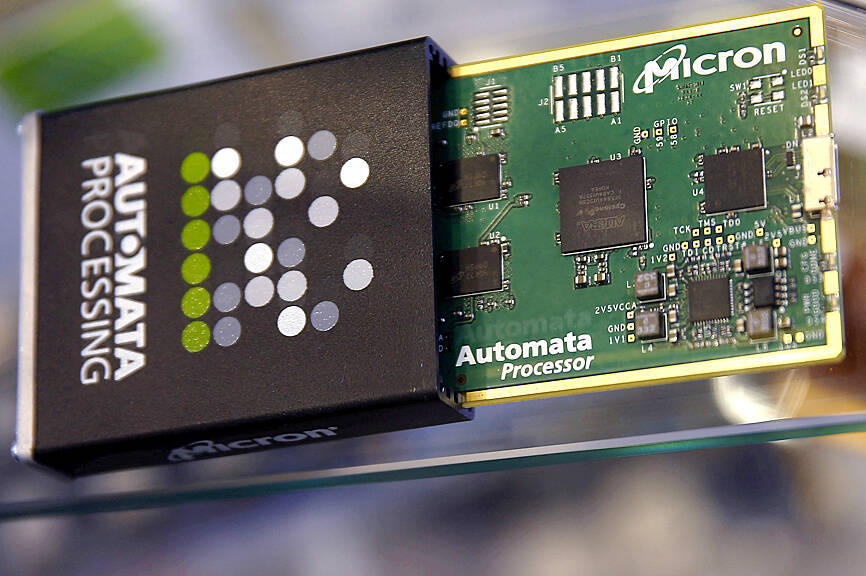 MicronTechnology memorychip parts are pictured at an industrial fair in Frankfurt, Germany, on July 14, 2015.
Photo: Reuters
"During the quarter, memorychip consumption and shipments both showed quarterly declines," it said.
"As demand for memory chips slumped significantly, consumer electronics suppliers have been hesitant to place new orders. As such, chip suppliers are under mounting pressure to offload excessive inventory," it said.
To sell more chips and to protect their market shares, some memorychip makers switched to a soft stance by consolidating price negotiations for the third and fourth quarters, or negotiating quantity before quoting prices, TrendForce said.
Chipmakers usually negotiate prices on a quarterly basis.
Prices of DRAM chips used in notebook computers are expected to drop 10 to 15 percent next quarter from the previous quarter as most suppliers refused to cut production, despite sluggish demand, the researcher said.
That is because DRAM chip makers still enjoy good profit margins, it said.
Prices of server DRAM chips are expected to tumble 13 to 18 percent next quarter, attributable to a delay in launches of new processors, TrendForce said.
Intel Corp is reportedly to postpone the launch of its new Intel 7-based server processors, dubbed Sapphire Rapids, to February or March next year.
Demand for server DRAM semiconductors has been sluggish as customers consume fewer chips, which has caused inventory to climb to nine to 12 weeks, surpassing normal levels of six to eight weeks, the researcher said.
Demand from server makers and cloud service providers in China and the US all stagnated, it said.
Mobile DRAM chip prices are expected to slide 13 to 18 percent next quarter, TrendForce said.
The decline could accelerate further, given that mobile phone vendors continued to cut sales forecasts amid a gloomy outlook, it said.
Excessive inventory at the level of seven to nine weeks also crimped chip demand, it added.
Facing similar issues of slowing demand and mounting inventory, memorychip makers are expected to experience quarterly price declines of 10 to 15 percent for graphics DRAM and consumer electronics DRAM chips, TrendForce said.
Comments will be moderated. Keep comments relevant to the article. Remarks containing abusive and obscene language, personal attacks of any kind or promotion will be removed and the user banned. Final decision will be at the discretion of the Taipei Times.