US dollar hits three-year high against NT
FAIT ACCOMPLI? Dealers said that the central bank appeared reluctant to shore up the NT dollar because it was unlikely it could reverse the tide amid fund outflows
The US dollar yesterday continued its upward momentum against the New Taiwan dollar, hitting a more than three-year high against the local currency on expectations that the US Federal Reserve would continue to aggressively raise interest rates.
The US dollar closed up NT$0.163 at NT$31.293, its highest since Sept. 4, 2019.
The greenback attracted strong buying soon after the local foreign exchange market opened as investors rushed to pick up the currency, betting that the Fed would act aggressively in a policymaking meeting scheduled for Tuesday and Wednesday next week, dealers said.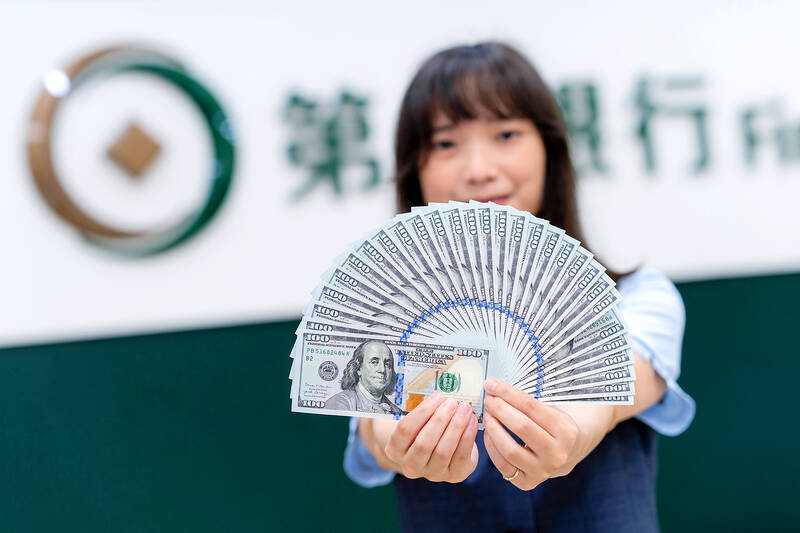 A woman holds US$100 banknotes at a First Commercial Bank branch in Taipei in an undated photograph.
Photo: Chen Mei-ying, Taipei Times
The weakness of other regional currencies, including the yen, which fell to a new 24-year low, and the yuan, which breached the psychologically important 7 yuan per US dollar level, added more downward pressure on the NT dollar, dealers said.
Investors have been scrambling to move their funds out of Asia and into US dollar-denominated assets to take advantage of their higher interest rate yields, leading to the depreciation of global currencies against the greenback.
Expectations that the Fed would raise interest rates even higher next week were fueled after a higher-than-expected inflation report released on Tuesday and a stronger-than-expected retail sales report for last month released on Thursday, dealers said.
Over the week, the US dollar rose NT$0.398, or 1.3 percent, against the NT dollar, the eighth consecutive week of appreciation against the local currency.
Taiwan's central bank appeared reluctant to intervene in the market to shore up the NT dollar because it was unlikely it could reverse the tide amid fund outflows, dealers said.
Some analysts believe that the US dollar trading above NT$31 would become a new normal and that the greenback could challenge NT$31.50 soon.
Taiwan Association of Machinery Industry chairman Larry Wei (魏燦文) said that if the US dollar were to rise further to above NT$32, it would help Taiwanese machinery exporters stay competitive against their Japanese competitors, who have benefited from a weakening yen.
Compared with a more than 11.6 percent drop in the NT dollar against the US dollar so far this year, the yen has tumbled about 25.8 percent, the association said, adding that the weakness of the Japanese currency has hurt the competitiveness of Taiwan's machinery suppliers.
Comments will be moderated. Keep comments relevant to the article. Remarks containing abusive and obscene language, personal attacks of any kind or promotion will be removed and the user banned. Final decision will be at the discretion of the Taipei Times.