Taiwan ranks 30th in house price growth
RELATIVELY STABLE: Housing prices rose 8.4% last quarter, but taking inflation into account, the real price hike was 5.8%, according to Frank Knight
Taiwan's house prices last quarter reported an annual growth of 8.4 percent — the 30th highest worldwide — running counter to expectations that the nation's monetary tightening and inflation would slow down prices, international real-estate consultancy Knight Frank said yesterday.
The nation's ranking moved up by two notches, from 32nd place a quarter earlier, among 56 countries and territories tracked by the UK-based company.
"Global housing markets have wrong-footed us," said Knight Frank, which earlier predicted a noticeable slowdown in the global house price index and the number of affected markets.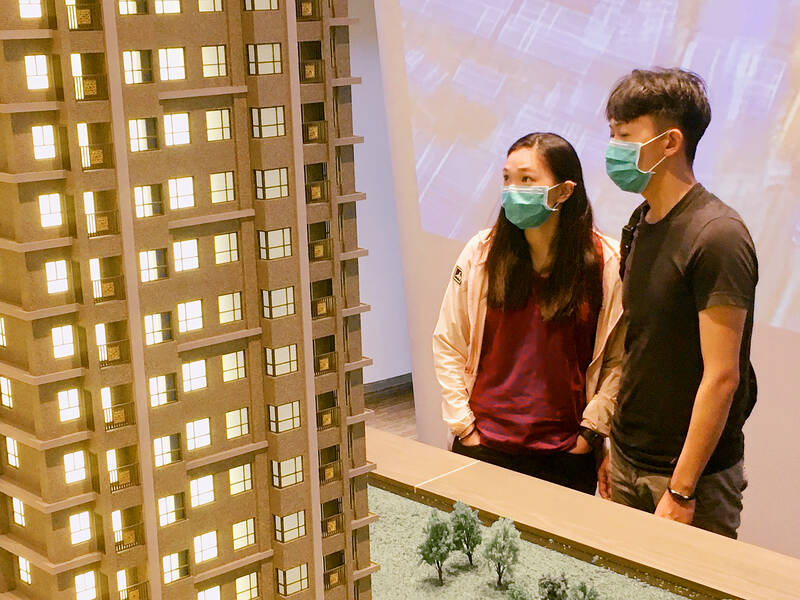 An undated photograph shows two people looking at an architectural model. Taiwan's house prices last quarter reported an annual rise of 8.4 percent, the 30th highest worldwide, according to data compiled by Knight Frank.
Photo: Hsu Yi-ping, Taipei Times
However, surveyed markets are feeling the pinch in real terms, Knight Frank said.
Taking inflation into account, global house prices increased 1.6 percent on average last quarter, compared with 6.2 percent a year earlier, it said.
The real price hike in Taiwan stood at 5.8 percent last quarter, a relatively stable level, the company said.
Knight Frank Taiwan researcher Andy Huang (黃舒衛) said that drastic inflation and monetary tightening would fuel house price corrections, overriding the belief that real estate is the best defense against inflation.
Turkey topped the list, with the nation's nominal house prices surging 160.6 percent.
The triple-digit growth was not surprising as inflation in Turkey spiked to a 24-year high of almost 80 percent and its central bank cut interest rates from 14 percent to 13 percent, it said, suggesting that house prices would rise further.
The US market ranked sixth, with house prices rising 21 percent, but a slowdown is on the cards, it said.
Higher mortgage rates led to another fall in July of existing home prices, which are now down 26 percent from their peak in January, it said.
The US Federal Reserve has indicated it would raise policy rates by another 0.75 percentage points next week and beyond to curb inflation, aware that such practices would hurt businesses, employment and economic growth.
The Asia-Pacific region is ahead of the curve when it comes to the slowdown, the consultancy said, adding that among seven markets that reported declining housing prices last quarter, six are in the Asia-Pacific region, namely Hong Kong, South Korea, China, Australia, Malaysia and New Zealand.
New Zealand has seen a 3 percent fall in house prices, as new lending rules and seven interest rate hikes since October last year affected buying sentiment, it said.
Comments will be moderated. Keep comments relevant to the article. Remarks containing abusive and obscene language, personal attacks of any kind or promotion will be removed and the user banned. Final decision will be at the discretion of the Taipei Times.