Court rules that CPT is bankrupt
The Taoyuan District Court on Monday declared flat panel maker Chunghwa Picture Tubes Ltd (CPT, 中華映管) bankrupt after a review of its bankruptcy application filed in September 2019.
In an announcement posted to the Taiwan Stock Exchange, home appliance supplier Tatung Co (大同), CPT's largest shareholder with a 39.67 percent stake, said the court determined that based on CPT's total assets, it was unlikely to repay all of its debt, and therefore ruled that the debt-ridden company was bankrupt.
CPT had total liabilities of NT$41.83 billion (US$1.37 billion) as of the end of last year, far exceeding its assets, consisting mostly of property and production equipment, Tatung said.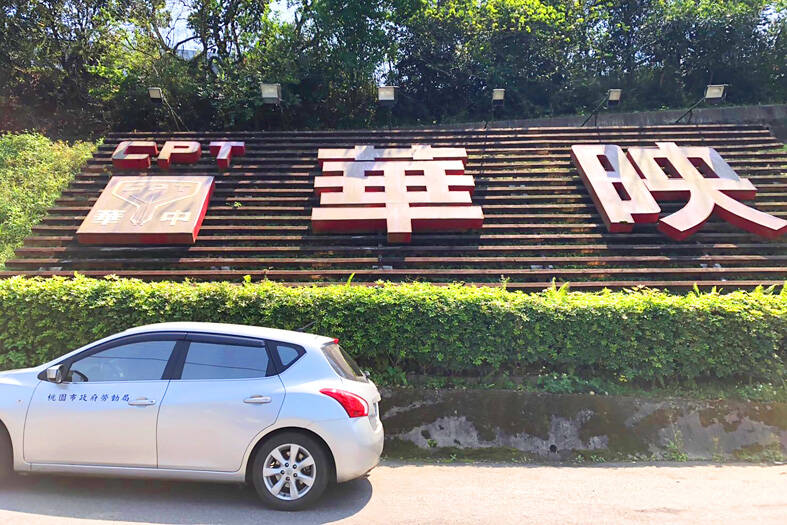 Chunghwa Picture Tubes Ltd signage is pictured at the company's plant in Taoyuan's Yangmei District on March 12, 2019.
Photo: CNA
The company did not provide an estimate of the value of those assets.
Local media reported that a court-initiated auction of CPT's plants and worker dormitories in Taoyuan's Yangmei District (楊梅), which had a floor price of NT$6.3 billion, failed to attract a buyer.
Tatung said many of its creditors had sought a court order to carry out a compulsory enforcement requiring CPT to repay its debt, which made it impossible for CPT to continue its operations and prompted it to file for bankruptcy under the Company Act (公司法).
Although Tatung did not specify when its creditors pushed the issue, it was presumably in 2019 or earlier because CPT filed for bankruptcy that year and announced on Aug. 29, 2019, that it was laying off all of its 2,100 employees within 60 days.
Following the bankruptcy ruling, the court appointed accountant Ma Kuo-chu (馬國柱) and two lawyers — Liu Hui-chun (劉慧君) and Yang Hsaio-pang (楊曉邦) — to manage CPT's bankruptcy process, Tatung said.
Tatung said a creditor meeting has been scheduled for Oct. 28 to deal with CPT's debt repayment issues, and its creditors have been asked to file for loan repayments from Monday next week through Oct. 21.
CPT, a supplier of small and medium-sized flat panels, fell on hard times because of plummeting prices amid a major supply glut, putting tremendous pressure on its bottom line.
The flat-panel maker also booked NT$7.26 billion in losses resulting from its investment in Fuzhou-based CPT Technology (Group) Co (華映科技), only adding to its financial distress.
It was delisted from the Taiwan Stock Exchange on May 13, 2019, after its net worth dipped to negative territory.
Founded in 1971, CPT was once one of the nation's leading flat-panel makers.
It launched an initial public offering on the Taiwan Stock Exchange on Sept. 17, 2001.
Comments will be moderated. Keep comments relevant to the article. Remarks containing abusive and obscene language, personal attacks of any kind or promotion will be removed and the user banned. Final decision will be at the discretion of the Taipei Times.