Industrial output rises for 14th month
WEALTH EFFECT: Retail sales last month and in the first quarter also rose higher than pre-pandemic levels, buoyed by the economic growth and a robust stock market
The industrial production index rose 16.78 percent annually to a record high of 136.16 last month, thanks to robust demand for technology products and vehicles, while retail sales rose to surpass pre-COVID-19 pandemic levels, the Ministry of Economic Affairs said yesterday.
The index, an indicator measuring real output in manufacturing, electricity, mining and water supply, rose for the 14th consecutive month, ministry data showed.
The main momentum came from the sub-index of electronic components production — which has a 43 percent weighting in the index — expanding 26.68 percent year-on-year to 169.79, marking the 16th month it expanded by a double-digit percentage rate, the data showed.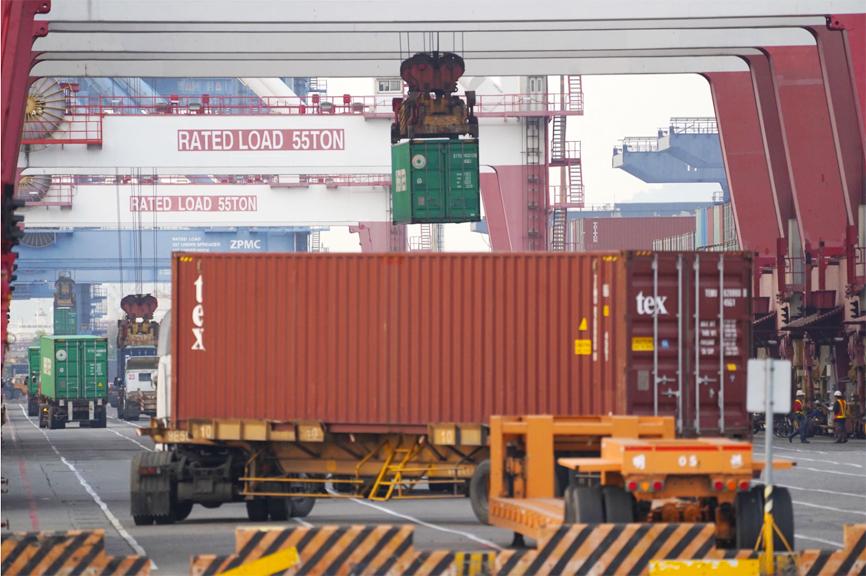 A container truck is pictured in Taipei on Nov. 23 last year. The industrial production index rose 16.78 percent annually to a record high of 136.16 last month, the Ministry of Economic Affairs said yesterday.
Photo: CNA
Despite a high comparison base last year, chip production advanced 35 percent year-on-year, backed by strong demand for 5G-related devices, high-performance computing, vehicles and consumer electronics.
"Some companies told us that their factory utilization rates have improved and that some have added new production lines. Both helped increase chip output past last year's levels," Department of Statistics Deputy Director-General Huang Wei-jie (黃偉傑) told a news conference in Taipei.
Production of LCD panels gained 26.14 annually to 132.75, the highest since 2013, as an auto industry recovery pushed up demand for vehicle panels, while the work-from-home and stay-at-home economy boosted demand for panels used in TVs and computers, the ministry said.
Recovering auto demand also led to an annual increase of 20 percent in vehicle production last month, it added.
Production of computers and optical products registered a milder gain of 8.46 percent, after camera lens supplier Largan Precision Co (大立光) saw production decline due to order cancelations from Huawei Technologies Co (華為), Huang said.
The ministry gave a rosy outlook for industrial production this month, despite some manufacturers in Taichung facing water restrictions due to a drought.
Water supply has from early this month been restricted to five days a week.
Affected by the water rationing, machinery maker Hiwin Technologies Co (上銀科技) has asked employees to work on weekends when water is available, while taking two weekdays off.
"The ministry has asked companies to reduce their water consumption targets... So far, no company has cut production due to the water supply issue," Huang said.
Separately, retail sales grew 12 percent annually to NT$325 billion (US$11.56 billion) last month, and 9.1 percent to NT$1.79 trillion for the first quarter, the ministry said.
Both were higher than pre-
pandemic levels of NT$300 billion in March in 2019 and NT$929 billion in the first quarter of 2019, the data showed.
Food and beverage sales totaled NT$65.2 billion last month, lower than NT$65.7 billion in March 2019, but cumulative sales totaled NT$207.2 billion last quarter, higher than the NT$206.4 billion in the same period in 2019, the data showed.
The growth could be attributed to the slow spread of COVID-19 in Taiwan, relatively strong economic growth and a booming equity market, which created a wealth effect, Huang said.
The ministry will have to monitor for one more quarter to determine whether private consumption has fully rebounded, he said.
"We have new cases of COVID-19 today and the pandemic has not be fully brought under control overseas, which could still affect local public confidence," he said.
Comments will be moderated. Keep comments relevant to the article. Remarks containing abusive and obscene language, personal attacks of any kind or promotion will be removed and the user banned. Final decision will be at the discretion of the Taipei Times.