CAL puts its last Boeing 747 jumbo jets on sale
FINAL FOUR: The planes once served on the flag carrier's long-hauls routes, but fell out of favor after the introduction of more efficient, smaller aircraft
China Airlines Ltd (CAL, 中華航空) has put its last four Boeing Co 747-400 passenger jets up for sale as part of a plan to retire the model from its fleet in the first quarter of next year.
The company told reporters that it has commissioned an asset management company to handle the sale of the aircraft, which were delivered to the company between December 2004 and April 2005.
They include B-18210, which was delivered in Boeing's Dreamliner livery in 2004, and B-18215, the last of the passenger models to be manufactured, CAL said.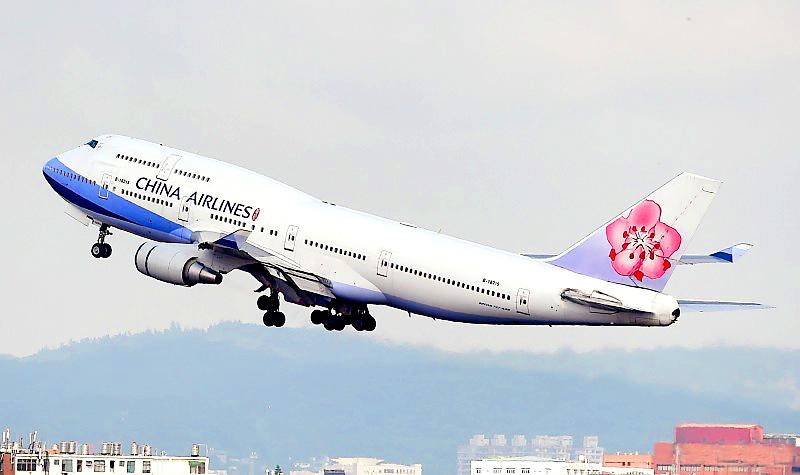 A Boeing Co 747-400 aircraft operated by China Airlines Ltd is pictured in an undated photograph.
Photo: Taipei Times
Once the workhorses of CAL's long-haul service, the four-engine jumbo jets were mainly used on regional routes, such as Okinawa, Shanghai and Guangzhou, following the introduction of the more efficient twin-engine Boeing and Airbus SE jets.
The outgoing model is not featured in the company's timetable published for its winter season from Oct. 25 to March 27 next year.
The COVID-19 pandemic, which has heavily affected the aviation industry, accelerated the company's decision to retire its jumbo jets, CAL said.
The company posted a net loss of NT$707 million (US$24.5 million) for the July-to-September quarter.
It operated a fleet of 18 Boeing 747-400F cargo planes as of September, according to monthly statistics published by the Civil Aeronautics Administration.
Main domestic rival EVA Airways Corp (長榮航空) retired its last Boeing 747-400 in August 2017, while legacy carriers that have celebrated their centennials since late last year — British Airways PLC, Australia's Qantas Airways Ltd and KLM Royal Dutch Airlines — all bid farewell to the model this year.
Separately yesterday, United Airlines Holdings Inc said it would increase its passenger flights between Taipei and San Francisco from three flights per week to five, starting on Dec. 5.
The US airline resumed its flight services between Taipei and San Francisco on Tuesday last week after suspending them on March 19 because of the pandemic.
Under the new schedule, the flights from Taipei are to depart on Tuesdays, Wednesdays, Fridays, Saturdays and Sundays, while the return flights are to depart San Francisco on Mondays, Wednesdays, Thursdays, Fridays and Sundays.
The carrier is using Boeing 777-300ER passenger jets on the route.
Comments will be moderated. Keep comments relevant to the article. Remarks containing abusive and obscene language, personal attacks of any kind or promotion will be removed and the user banned. Final decision will be at the discretion of the Taipei Times.