Tatung creates controversy with board election
ROW: A probe would determine if the rights of shareholders who were not allowed to vote yesterday had been violated, while the stock exchange also wants answers
The election of board directors yesterday at Tatung Co (大同) sparked controversy after the company blocked some institutional and individual shareholders from participating in the general shareholders' meeting, prompting the Financial Supervisory Commission (FSC) to announce that the vote would be investigated.
Lin Kuo Wen-yen (林郭文艷) was re-elected as chairwoman of the household-appliance maker's nine-member board, but prior to the vote she announced that several shareholders would not have voting rights.
They were being denied a vote because they had contravened the Business Mergers and Acquisitions Act (企業併購法), and the Act Governing Relations Between the People of the Taiwan Area and the Mainland Area (兩岸人民關係條例), Lin Kuo said.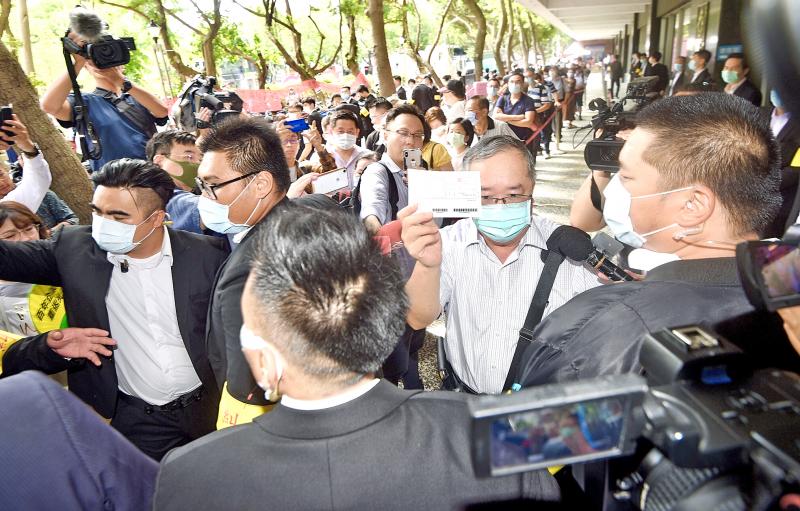 Shareholders of Tatung Co line up to enter the venue of the company's annual general meeting in Taipei yesterday, while dozens of shareholders barred from the meeting protest outside the venue.
Photo: Peter Lo, Taipei Times
The company had previously alleged that some investors have received financial backing from Chinese investors.
Tatung management won six director seats and three independent director seats, leaving minority shareholders led by Shanyuan Group (三圓建設) chairman Wang Kuang-hsiang (王光祥) empty-handed.
Tatung's move took many people by surprise. It was the first time a publicly listed company in Taiwan has blocked shareholders' voting rights.
Securities and Futures Bureau Deputy Director-General Tsai Li-ling (蔡麗玲) told a news conference in New Taipei City later in the day that the commission would have Taiwan Depository and Clearing Corp (TDCC, 台灣集中保管結算所) investigate whether Tatung had violated shareholders' rights.
"Only the government has the right to decide whether shareholders have contravened any regulations, not listed companies. Tatung cannot use this as an excuse to take away shareholders' voting rights," Tsai said.
If TDCC concludes that Tatung did contravene the Regulations Governing the Administration of Shareholder Services of Public Companies (公開發行股票公司股務處理準則), it would be barred from holding board elections on its own, among other shareholder services, and would have to have such elections run by a third-party, Tsai said.
The Taiwan Stock Exchange has also asked Tatung to explain its decision, Tsai said.
If its explanation is found wanting, the exchange could fine the firm up to NT$5 million (US$168,577) or delist it, she said.
Tatung's attorney Lai Chung-chiang (賴中強) told an evening news conference that the firm barred 27 shareholders from exercising their voting rights, including eight foreign investors and three firms belonging to Shanyuan Group and an investor surnamed Cheng (鄭), although they together owned a 53 percent stake in the company.
"We took away their rights, as some investors own more than a 10 percent stake, contravening the Business Mergers and Acquisitions Act, and as they aimed to acquire Tatung, but did not provide true information to the government," Lai said.
The company revoked Cheng's voting rights after prosecutors questioned whether he helped Chinese investors buy Tatung shares, which would contravene the Act Governing Relations Between the People of the Taiwan Area and the Mainland Area, Lai said.
Many of Tatung's units, including solar-power generation, construction and publications, are not allowed to accept investment from Chinese investors, so it was important that the firm blocked questionable investors, he said.
"Disputes regarding voting rights should be part of a firm's self-governance. If an investor cannot accept our move, they can file a lawsuit," Lai said.
Comments will be moderated. Keep comments relevant to the article. Remarks containing abusive and obscene language, personal attacks of any kind or promotion will be removed and the user banned. Final decision will be at the discretion of the Taipei Times.