Telecom firm launches home Kebbi robot
Asia Pacific Telecom Co (亞太電信), a subsidiary of Hon Hai Precision Industry Co (鴻海精密), yesterday launched a new companion robot aimed primarily for children, targeting a market beyond commercial robots like Pepper.
The new "Kebbi" robot is manufactured by Hon Hai and designed by artificial intelligence (AI) robotics start-up Nuwa Robotics (Hong Kong) Ltd (女媧).
Hon Hai joined Nuwa's second-round funding by investing US$35 million, giving it a 9 percent share of the start-up.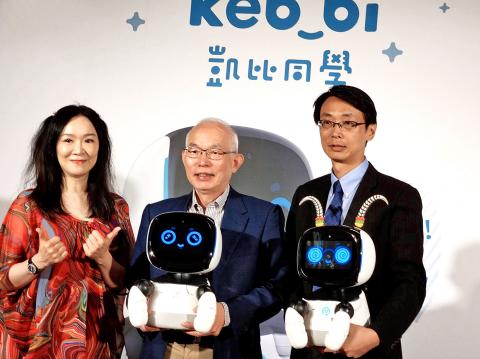 English teacher Ruby Hsu, Asia Pacific Telecom chief executive Huang Nan-ren and Nuwa Robotics chief executive Leo Guo present the Kebbi robot at a promotional event in Taipei yesterday.
Photo: Wang Yi-hung, Taipei Times
The care-giving robot is able to play and chat with children, Nuwa said.
With a facial recognition feature, Kebbi can identify about 400 objects, the company said.
It can also be programmed to work as a tutor, helping young students and preschoolers study and practice English, it said.
"Some kindergartens have shown a strong interest in Kebbi. Local libraries are also keen on the robot and have ordered six," Asia Pacific Telecom president Huang Nan-ren (黃南仁) told reporters at a media briefing in Taipei.
The company's ultimate aim is to have a Kebbi robot in all Taiwanese households, Huang said.
Taiwan has about 7 million to 8 million households.
Pepper, the humanoid robot designed by Softbank Group Corp, targets the commercial market, Huang said.
It is designed to entertain people at commercial venues, such as shopping malls, banks and railway stations, rather than for households, he said.
With a price tag of NT$12,900, Kebbi robots will be available from Oct. 16, Asia Pacific Telecom said.
Mobile users can get the robot for NT$990 through a 30-month data service contract with Asia Pacific Telecom at a minimum fee of NT$996 a month.
Kebbi was launched in the Chinese market in the middle of June on the Web site of Xiaomi Corp (小米) under a different name, Nuwa founder and chief executive officer Leo Guo (郭柳宗) said.
It is called "Danny" in China, he said, adding that the company sold 1,000 Danny robots within 24 hours of the launch.
Xiaomi is one of the first angel investors in Nuwa, injecting 15 million yuan (US$2.18 million) in the start-up, Guo said.
Nuwa plans to start a third-round funding after raising US$12 million in the first and second rounds, he said.
Comments will be moderated. Keep comments relevant to the article. Remarks containing abusive and obscene language, personal attacks of any kind or promotion will be removed and the user banned. Final decision will be at the discretion of the Taipei Times.