DAISO banned from importing goods to Taiwan
Japanese discount store chain Daiso Industries Co has been banned from importing any goods to Taiwan for two years as a penalty for altering transaction dates to obtain an import permit, the Ministry of Economic Affairs said yesterday.
The ministry has revoked the company's import permit and fined it NT$41.64 million (US$1.39 million) , Bureau of Foreign Trade Deputy Director-General Lee Guann-jyh (李冠志) told the Legislative Yuan in Taipei.
The ministry has also notified the Customs Administration of the ban, as some products imported by the company might have entered the market, he added.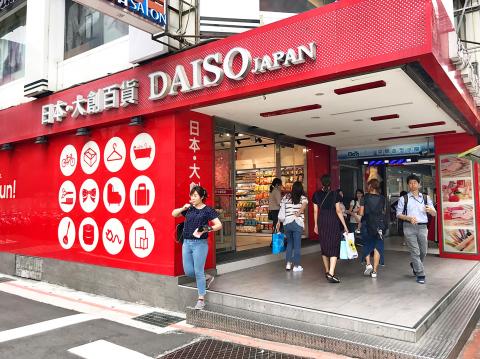 People walk past a Daiso outlet in Taipei yesterday. The Japanese discount chain has been banned from importing goods for two years for falsifying import dates.
Photo: CNA
Lee's remarks came after New Power Party Executive Chairman Huang Kuo-chang (黃國昌) last month accused the ministry of turning a blind eye to Daiso, which allegedly imported goods from Japan during a six-month import suspension period in 2015.
The government has tightened the regulations on imports of food and high-risk products from Japan after the Fukushima Dai-ichi nuclear power plant disaster in March 2011.
Daiso was in 2015 prohibited from importing any products into Taiwan after it was found to have illegally import food products from the five Japanese prefectures from which food imports were banned.
The Foreign Trade Act (貿易法) stipulates that companies may import or export goods during a suspension period if the transactions had been established before the punishment was issued, according to.
However, most of Daiso's goods imported to Taiwan during the suspension period were ordered after the punishment had been imposed, Huang said.
Daiso denied the accusations, but a statement on its Web site said that its management team had made a wrong decision to switch the dates in a bid to obtain approval from the government.
The Japanese budget store chain, which sells more than 20,000 items, operates about 60 stores in Taiwan, company data showed.
Comments will be moderated. Keep comments relevant to the article. Remarks containing abusive and obscene language, personal attacks of any kind or promotion will be removed and the user banned. Final decision will be at the discretion of the Taipei Times.