Beauty giants snap up tech start-ups
Shiseido Co, the Japanese firm that sells Laura Mercier cosmetics and Dolce & Gabbana fragrances, sold ¥1 trillion (US$9.3 billion) worth of beauty products last year, mostly in traditional stores, where customers can sample brands in person.
That is a problem for Shiseido chief executive officer Masahiko Uotani. People in their teens and 20s often prefer to shop online, beyond the reach of in-store salespeople.
Uotani's solution? To partner with — and even buy up — small start-ups in Silicon Valley and other tech hubs to gain expertise in artificial intelligence (AI), augmented reality and other technologies.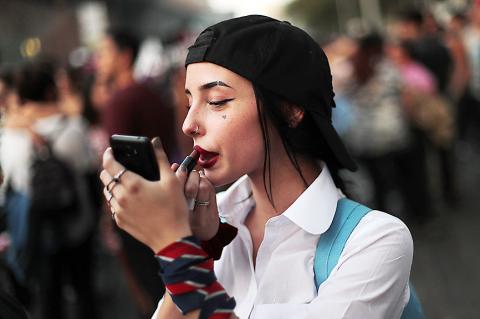 A woman applies makeup at the International Women's Day march in Santiago, Chile, on March 8.
Photo: EPA
His ambition is to help shoppers replicate online the experience of trying on cosmetics in a store and use data from smart devices to create personalized makeup for customers.
"Particularly with the younger generation, often they don't go into the stores," Uotani said in an interview. "The way they buy, the way they share their excitement with their friends, is completely different from older generations."
Technology is upending the US$440 billion global beauty industry. While only about 6.9 percent of sales were online in 2016, according to market research provider Euromonitor International, e-commerce is becoming more important as online sales soar in China and other markets.
China will likely cross US$1 trillion in online retail sales this year, according to Forrester Research. Such sharp changes in shopping habits in Asia's biggest economy and across the globe have big brands scrambling to keep up.
France's L'Oreal SA on March 16 said it would acquire for an undisclosed sum a Canadian tech company, ModiFace Inc, which has more than 70 employees. ModiFace develops software that allows people to use augmented reality to see how they would look with different types of blushes and eyeshadows.
L'Oreal has also partnered with French telecommunications entrepreneur Xavier Niel to create an accelerator for beauty-tech firms.
French luxury giant LVMH Moet Hennessy Louis Vuitton SE is working with Niel, too. The company on April 10 announced a program, La Maison des Startups, to support entrepreneurs at Niel's Paris-based campus for new companies developing technologies and services for perfumes and cosmetics as well as wine, fashion and other LVMH businesses.
In China, e-commerce accounts for 25 percent of Shiseido's business, Uotani said, and in three years would rise to almost 40 percent.
For Shiseido worldwide, 15 percent of sales will happen online by 2020, up from 8 percent last year, he said.
Shiseido on Jan. 11 disclosed the acquisition for an undisclosed sum of the research and development (R&D) team and other assets of Olivo Laboratories LLC, a start-up specializing in artificial skin technology that is based in Watertown, Massachusetts, close to Harvard and Massachusetts of Technology.
The artificial skin has not been commercialized as yet, although the company says it can be used in various ways, including as a base layer under makeup.
Other Shiseido acquisitions include MatchCo, a California start-up purchased for an undisclosed sum last year. MatchCo develops software customers can use with their smartphones to create customized foundation products that match their skin tones.
"The first generation of e-commerce was really about replicating the store experience, but with cosmetics there's an extra layer of uncertainty for the customer," MatchCo co-founder and general manager Dave Gross said. "So in that sense there's a big problem to solve related to helping the customer find the right products."
To help address that problem, Shiseido in November last year bought Giaran Inc, a start-up that develops AI technology, for an undisclosed sum.
With its simulation technology, Giaran wants to enable people on their smartphones or computers to remove and apply makeup virtually so they can see how they look before making purchases.
Analysts predict that more beauty companies will be on the prowl for technology.
"We will definitely see more," said Deborah Aitken, an analyst with Bloomberg Intelligence in London, who said companies need to respond to the shift of customers, especially in Asia, to shopping for cosmetics and other beauty products online.
L'Oreal added more than 1,700 staff to work on digital issues over four years, chief executive officer Jean-Paul Agon said last year.
In December last year, Estee Lauder Cos announced a partnership with beauty technology start-up Perfect Corp to introduce an augmented reality program for the cosmetics company's 17,000 beauty consultants.
Shiseido intends to boost its R&D staff to 1,500 by 2020, up from 1,000 in 2014. It expects to see a payoff on its investments from its technology investments soon, Shiseido Americas chief executive officer Marc Rey said. "It's not 10 years from now," Rey said. "It's really happening."
With assistance from Daniela Wei
Comments will be moderated. Keep comments relevant to the article. Remarks containing abusive and obscene language, personal attacks of any kind or promotion will be removed and the user banned. Final decision will be at the discretion of the Taipei Times.