TTY Biopharm ex-chairman sentenced to 10 years for embezzlement, will appeal
WHOSE PROPERTY? The accusations against Lin Rong-jin revolve around intellectual property he is accused of selling to a Swiss company in an apparent conflict of interest
Former TTY Biopharm Co (台灣東洋藥品) chairman Lin Rong-jin (林榮錦) yesterday was sentenced to 10 years in prison on charges of embezzlement — a verdict that he said he would appeal.
A year after Lin's departure in 2014, TTY Biopharm chairman Clark Hsiao (蕭英鈞) launched a lawsuit against his predecessor alleging that he had caused the company NT$3 billion (US$99.48 million at the current exchange rate) in losses.
The Taipei District Court yesterday found Lin guilty on four counts of violations of the Securities and Exchange Act (證交法), including breach of trust and conducting abnormal transactions.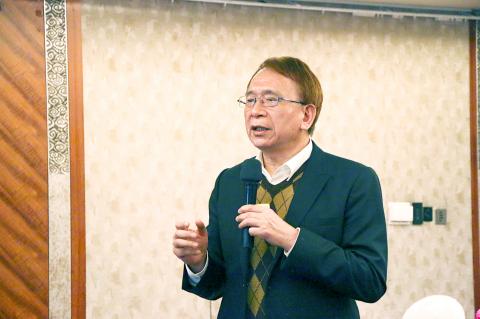 Former TTY Biopharm Co chairman Lin Rong-jin speaks at a press conference in Taipei in March.
Photo: Chen Yung-chi, Taipei Times
He also has to turn in 22.89 million euros (US$27.39 million) in unlawful gains, the verdict read.
Lin was accused of in 2013 transferring a number of patents held by TTY Biopharm to Switzerland-based Inopha AG — a company that Lin controls through Center Laboratories Inc (晟德大藥廠), of which he is the chairman — along with all the rights to further develop the intellectual property.
The patents include treatments for breast and ovarian cancers, as well as fungal infections and schizophrenia, which were transferred for Lin's personal gain at the expense of TTY BioPharm, the ruling said.
Lin said the investigation does not reflect the entirety of the case and that the accusations originated from a personal row with Hsiao, his longtime business partner.
He said that his reputation and track record in Taiwan's biotechnology sector speaks for itself and that he trusts that the court would uncover the truth.
Lin, a notable figure in the industry who has had a hand in the founding of several Taiwanese biotechnology firms, was enlisted to restructure then-ailing TTY Biopharm in 1994.
Lin helped bring the company back into the black.
He is credited with transitioning a company focused on manufacturing and selling generic drugs to developing and marketing branded and more advanced generic drugs.
Comments will be moderated. Keep comments relevant to the article. Remarks containing abusive and obscene language, personal attacks of any kind or promotion will be removed and the user banned. Final decision will be at the discretion of the Taipei Times.