US mall owners fighting online stores turn to carnivals, concerts
US malls are fighting for shoppers with one thing their Web rivals cannot offer: parking lots.
With customer traffic sagging, US retail landlords are using their sprawling concrete lots to host events such as carnivals, concerts and food-truck festivals. They are aiming to lure visitors with experiences that cannot be replicated online — and then get them inside the properties to spend some money.
"Events draw people to come to the shopping center," said Craig Herkimer, whose company, KevaWorks Inc, is working with big landlords, including GGP Inc and Simon Property Group Inc, to produce outdoor events. "They generate revenue for the owner and offer a chance for cross-promotion, so they can try and drive more customers into the stores."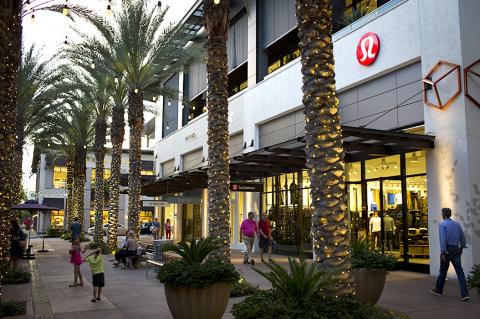 People walk past the Scottsdale Quarter shopping mall in Scottsdale, Arizona, on Tuesday last week.
Photo: Bloomberg
Mall owners across the US are grappling with record store closings and declining rents.
Retail property values are down 3 percent over the past six months, as all other types of commercial real estate showed gains, according to the Moody's/Real Capital Analytics indices.
A Bloomberg gauge of publicly traded mall landlords has tumbled 15 percent in the past year through Friday, the worst performance among US real-estate investment trusts.
Amazon.com Inc and other Internet retailers continue to grow, while department stores, including Sears Holdings Corp and Macy's Inc, have been closing hundreds of locations.
Payless Inc, the discount shoe seller, is among the latest to announce a massive shuttering — of 400 stores — as part of a bankruptcy plan.
"We expect to see a trend of more closings," Hilliard Lyons Inc analyst Carol Kemple said. "Most retailers, if they're still standing in September, will probably try to make it through the holiday season."
Retail landlords have already made a push toward experience-driven offerings by adding restaurants, movie theaters and activity centers for children.
Many malls are also adding rotating stores around for only a short time — known as pop-up shops — that are meant to attract young customers who see shopping as an event.
Now, events are reaching beyond the malls themselves. Herkimer's task is to bring crowds to parking lots with events that generate as much as US$60,000 per week for mall owners from the largest outdoor events.
The idea is gaining traction.
Next month, Simon Property is having the first carnival in its Round Rock Premium Outlets parking lot, about 32km north of Austin, Texas.
Similar events are being held for the first time at locations such as Central Mall in Port Arthur, Texas, managed by Jones Lang LaSalle Inc (JLL), and a Cheyenne, Wyoming, mall owned by CBL & Associates Properties Inc.
In July, Simon Property's Orland Square Mall, southwest of Chicago, would be holding its first parking-lot food-truck festival, with plans for live music performances, Herkimer said.
Lisa Harper, senior director of specialty leasing for Chattanooga, Tennessee-based CBL, said the company has expanded its carnival business at many of its 87 properties over the past couple years.
She and Herkimer have discussed the possibility of pumpkin patches in the fall months and adding movie nights to some properties.
CBL's Triangle Town Center in Raleigh, North Carolina, is about to start its second mini concert and food-truck series, called Creekside Wind Down, Harper said.
Retailers rent the outdoor space in a structure that resembles their indoor leases, Harper said.
While each deal varies, the agreements involve a base rent fee for the use of the space and a percentage payment after the event reaches a certain threshold.
Department stores, which sometimes own or control their parking lots, are seeing more value in renting the space after many years of restricting their use, she said.
"Events bring that additional traffic and also encourage people to stick around longer," Harper said.
There is no guarantee, of course, that people will go inside, JLL Retail specialty leasing director Tracey Hatley said.
However, the events offer opportunities for cross-promotion. Customers receive fliers advertising stores or restaurants inside the mall or coupon books to help draw them in.
That works well for properties like the Santa Rosa Mall in Mary Esther, Florida, Hatley said.
"They are a property that's struggling with occupancy, struggling with driving traffic to the center, so they love doing parking-lot events," she said. "You can see it from the road and it gets people on the property."
The US is home to about 1,100 shopping malls, said Laurel Durkay, vice president and associate portfolio manager of real-estate securities at Cohen & Steers Inc.
That number could be cut in half over the next decade, though it might not take that long to determine who the winners and losers are, she said.
Until malls can figure out how to bring in steady crowds, expect to see corn dogs and carousels in their parking lots, Herkimer said.
"If retail turned around and vacancy rates dropped again, and all the sudden these malls and shopping centers are full of tenants, I think there'd be a circle in the other direction," he said. "They'd say: 'We need the parking space for customers.'"
Comments will be moderated. Keep comments relevant to the article. Remarks containing abusive and obscene language, personal attacks of any kind or promotion will be removed and the user banned. Final decision will be at the discretion of the Taipei Times.