Asus, Acer aver ongoing ties with Intel
INTEL DITCHES MOBILE CHIPS: Asustek said it had a long-term relationship with Intel, and it is looking forward to working with the chipmaker in the IoT field, or on smart cars
Asustek Computer Inc (華碩) and Acer Inc (宏碁) yesterday said their relationships with Intel Corp would remain unaffected amid speculation about the computer chip giant's planned exit from the mobile chip market.
Intel is canceling its Atom chips — provisionally titled Broxton and SoFIA — for smartphones and tablets, so that the company can focus on cloud and smart connected computing devices, it said.
"We are committed to long-term leadership and improved profitability of our mobile business and the decision to cancel Broxton for phones and tablets and SoFIA 3Gx/LTE/LTE2 enables us to move resources to products that deliver higher returns and advance our strategy," Intel said in a statement, quoted by the AnandTech Web site on Friday last week.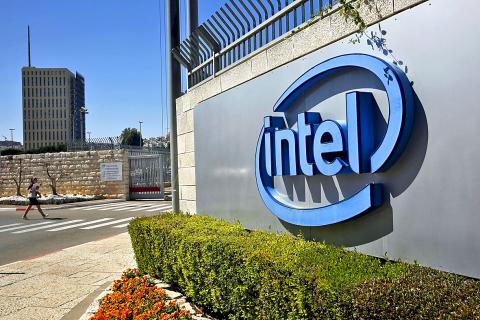 The Intel logo is pictured at their Jerusalem offices on April 20.
Photo: Reuters
Part of Asustek's ZenFone smartphone series uses Intel mobile chips and Acer uses Intel mobile chips for its tablets, but both Asustek and Acer declined to comment on Intel's decision to scale back its mobile system-on-chip (SoC) business.
An Asustek official who declined to be named said Intel's move is expected to only have a limited impact on Asustek's smartphone segment, as the company has been reducing its use of Intel chips since the second half of last year.
Asustek's smartphone business saw rapid growth in 2014 and last year, partly due to Intel's subsidized sales of SoCs to Asustek ,which enabled the Taiwanese company to offer low retail prices for its smartphones while maintaining a healthy level of profitability, people familiar with the matter said.
Since Intel withdrew its subsidy plan in the first half of last year, Asustek has gradually lowered its use of Intel chips in its smartphones and shifted focus to Qualcomm Inc and MediaTek Inc's (聯發科) SoCs, the people said.
By the end of last year, Qualcomm chips were used in between 50 percent and 60 percent of Asustek's smartphone models, while Intel chips were used in less than 20 percent, the Asustek official said.
The official said Asustek's upcoming flagship smartphone ZenFone 3 series would mainly use Qualcomm chips, and the percentage of Intel chips used in the firm's handsets would continue to fall.
The relationship between Asustek and Intel would not be affected by the firm's reduced use of Intel chips in its smartphones, the official said.
"Asustek and Intel are long-time partners. We look forward to cooperating in the Internet-of-Things [IoT] field or even in smart cars in the near future," the official said.
Acer said the company and Intel have been collaborating on a wide range of products for a long time, and its existing projects with Intel would remain unchanged.
However, Acer said it would watch closely to see whether Intel's planned decision would affect the Taiwanese firm's product strategy, adding that products would be adjusted if necessary.
Comments will be moderated. Keep comments relevant to the article. Remarks containing abusive and obscene language, personal attacks of any kind or promotion will be removed and the user banned. Final decision will be at the discretion of the Taipei Times.