China to dismiss securities regulator
'CIRCUIT Breaker': Since the early closure of the Shanghai and Shenzhen exchanges twice last month by Xiao Gang, there have been calls for his removal from the CSRC
China is to replace the head of its securities regulator, state media said yesterday, as the nation struggles to reassure international investors that it can effectively manage stock markets that have experienced massive turmoil.
Xiao Gang (肖鋼), who was in charge during last year's crash, will be "dismissed" from his post at the China Securities Regulatory Commission (CSRC) and replaced by Agricultural Bank of China (AgBank, 中國農業銀行) chairman Liu Shiyu (劉士餘), Xinhua news agency said.
As growth slows and stocks deflate, capital has flooded out of the nation, leaving Beijing desperate to win back waning confidence in the once vaunted economic oversight that has made China the world's second-largest economy.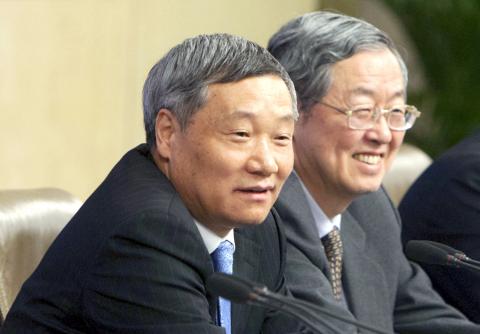 China Securities Regulatory Commission Chairman Xiao Gang, left, and People's Bank of China Governor Zhou Xiaochuan attend a news conference in Beijing on March 11, 2014.
Photo: AP
Chinese stocks slumped 23 percent last month, their poorest month since the depths of the global financial crisis in 2008, a performance that made the Shanghai exchange the world's worst-performing major market.
A series of moves intended to smooth dramatic swings in stock prices that began in June last year instead created panic, raising questions about Beijing's ability to manage a critical period of economic transition.
Xiao, 57, took over as chairman of the CSRC in March 2013.
He spent most of his career in China's banking system, including the central bank and the state-owned Bank of China (中國銀行), one of the nation's "Big Four," which he headed for 10 years before moving to the commission.
He was in charge of overseeing the market in the middle of last year when the benchmark Shanghai index plummeted by almost a third, wiping off trillions of US dollars and jolting international markets.
The plunge was triggered when regulators changed the rules on traders' use of borrowed money, bursting a debt-fueled bubble that had seen Shanghai's benchmark index surge 150 percent in the year to mid-June.
Calls for Xiao's departure, heard regularly since the debacle, heated up early last month after the commission's deployment of a "circuit breaker" closed the Shanghai and Shenzhen exchanges early twice in four days before it was scrapped.
"Somebody needed to bear responsibility after the suspension of the circuit breaker system," Capital Securities Corp (群益證券) Shanghai-based analyst Zheng Chunming (鄭春明) said.
At the time, many angry investors took to Sina Weibo to condemn Xiao's abilities as head of the regulator.
One user wrote: "[I] strongly urge Xiao Gang to step down. The stock market's management is a mess and market disasters keep happening... Xiao Gang's ability is poor and he is incompetent."
Another wrote: "I have never heard that the index could fall to a stop in 5 minutes. Why does China always let the fools make decisions?"
Some financial analysts took a kinder view of Xiao's accomplishments.
He did "a lot of work in market monitoring, increased market transparency and cracked down on market irregularities," Yingda Securities Co (英大證券) chief analyst Li Daxiao (李大霄) said.
Nevertheless, he welcomed the news of the replacement, saying "the market has new hope now."
Xiao's successor, Liu, has spent most of his career in banking. He served as the People's Bank of China vice-governor before being tapped as AgBank chairman, the nation's third-largest lender.
With his entrance, "people may feel there will be some new ideas or a favorable turn for the market now. The market could rise for a short time after this," Shenwan Hong Yuan Group (申萬宏源集團) broker Qian Qimin (錢啟敏) said.
However, on Weibo yesterday, commentators, using a play on the new appointee's name, wondered if Liu's tenure would bring a "bull market" or leave behind a "dead fish."
In recent years, AgBank has experienced its own share of troubles.
In December last year, the bank's president resigned for "personal reasons" amid reports that he had been questioned in connection with a corruption investigation.
Last month, Chinese media reported that two junior employees at a Beijing branch of the bank stole bills worth 3.9 billion yuan (US$598 million), sold them, then used the proceeds to invest in the stock market — sustaining huge losses during last year's crash.
Comments will be moderated. Keep comments relevant to the article. Remarks containing abusive and obscene language, personal attacks of any kind or promotion will be removed and the user banned. Final decision will be at the discretion of the Taipei Times.