Catcher revises sales guidance
CONFIDENCE: The firm's chairman said that Catcher's ability to outpace rivals over the next half-decade was not in doubt due to its advanced technologies and techniques
Catcher Technologies Co (可成科技), which supplies metal casings for Apple Inc's iPhones, yesterday revised upward its sales guidance for next quarter, citing increasing demand for smartphone and notebook products.
"Thanks to the smoother production and strong orders for metal casings for new projects, we now forecast the next quarter will be better than this quarter," Catcher chairman Allen Hung (洪水樹) told a media briefing after the firm's shareholders' meeting in Tainan.
In an investors' conference on April 29, Horng said the company's revenue next quarter would be flat from this quarter due to the dissipating product cycle for existing projects.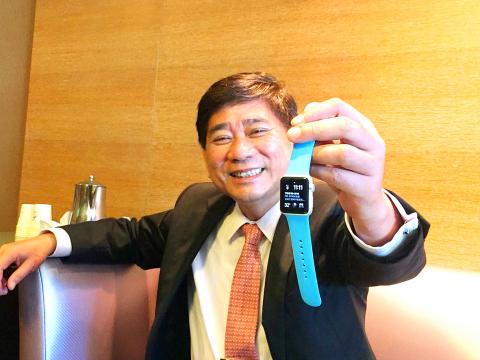 Catcher Technologies chairman Allen Hung yesterday holds up an Apple Watch in Taipei after wearing it for a month. Horng says Catcher has an opportunity to manufacture the metal casing for the smartwatch.
Photo: CNA
In the first five months of this year, Catcher made NT$31.33 billion (US$1 billion) in sales, up 64.05 percent from a year earlier.
Hung said the strong sales performance bodes well for the company throughout this year.
Hung said sales this month would drop slightly from last month's NT$6.85 billion due to a traditional slow season, but they would pick up significantly from next quarter.
"Sales in the fourth quarter of this year will expand further from the third quarter," Catcher spokesman James Wu (巫俊毅) said.
Hung said the predicted momentum is based on larger order allocations from its major smartphone clients this year.
Commenting on one of its clients' new smartphone projects, Hung said a surface treatment on a harder metallic material is more difficult than traditional metal-casing processes and would lower the yield rate at the beginning of the production cycle.
"However, it will not be a major issue for Catcher, as we keep improving our techniques," Hung said.
Despite soft demand for PCs and weaker-than-expected smartphone sales, Hung said the firm does not worry about its business outlook, because Catcher's main clients are doing well in the notebook computer and smartphone segments.
"Overall, our main clients are on the winning team," he said.
In a bid to meet rising demand from clients, Catcher raised its capital expenditure by 35 percent from a year earlier to NT$6.76 billion in the first half of this year, Hung said, adding that the funds will be mainly be used to build new factories.
He said that capital expenditure for the second half of this year would be flat from the first half, mainly because of equipment purchases.
"Overall, capital expenditure for this year is to be lower than last year's NT$23.2 billion," he said.
Hung said he is upbeat about Catcher's ability to outpace rivals for at least five years, adding that the firm's advanced technologies and techniques in metal casing treatments for various products put it in a strong position.
Despite market concerns about rising competition from Casetek Holdings Ltd (鎧勝) and FIH Mobile Ltd (富智康) regarding orders of Apple MacBook and tablet products, Catcher remains confident about its technological edge.
"Tell me, which company should Catcher be worried about?" Hung asked shareholders.
Metal casing treatments are more delicate and complicated than people imagine, he said, adding that the work requires more than just advanced equipment.
Comments will be moderated. Keep comments relevant to the article. Remarks containing abusive and obscene language, personal attacks of any kind or promotion will be removed and the user banned. Final decision will be at the discretion of the Taipei Times.