Hyun appointed as South Korean finance minister
South Korean President Park Geun-hye is appointing Hyun Oh-seok as finance minister, paving the way for stimulus measures to boost growth in Asia's fourth-biggest economy.
Hyun, 62, was to be appointed yesterday afternoon, Park's spokeswoman Kim Haeng said at a briefing televised on YTN network.
Pressing on with Hyun's appointment in the face of objections from opposition lawmakers may bring forward measures that Park hopes will spur the economy after growth last year was the weakest since the global financial crisis.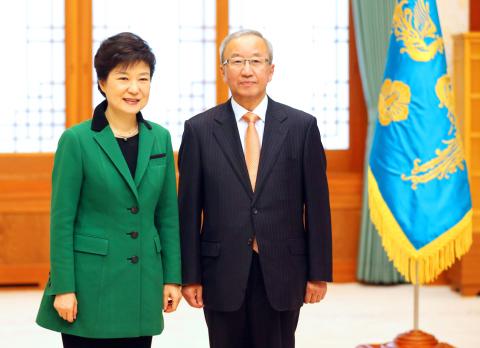 South Korean President Park Geun-hye (L) poses with Finance Minister Hyun Oh-seok (R) during a ceremony to give him a letter of appointment at the presidential office Cheong Wa Dae in Seoul, South Korea, on Friday.
Photo: EPA
After his nomination, Hyun said short-term policy support is needed.
"Hyun becoming finance chief is likely to speed up preparation for a stimulus package, given that Hyun shares the view that a policy boost is needed," said Kim Hyeon-wook, an economist at SK Research Institute who has worked under Hyun.
Hyun was president of the state research center Korea Development Institute, which was founded by Park's father, former dictator Park Chung-hee.
He has a PhD in economics from the University of Pennsylvania and previously worked at the World Bank, as well as South Korea's finance ministry.
The government may announce a supplementary budget of 10 trillion won (US$8.9 billion) on Tuesday, Yonhap News reported this week, without saying where it got the information.
South Korean Ministry of Strategy and Finance Director-General Choi Sang-mok said no decision had been made.
Delays in filling the finance minister slot have been costly because consumers and companies are delaying spending until they see the new government's stance, said Kong Dong-rak, a fixed-income analyst at Hanwha Investment & Securities Co in Seoul.
"It's a great loss to our economy to have the economic-policy control tower empty for nearly a month," Kong said.
South Korean officials aim to get the nation closer to a potential growth rate estimated by central bank Governor Kim Choong-soo at 3.8 percent, after last year's 2 percent expansion was the weakest since 2009.
Challenges include a stagnant property market, an aging population and weakness in the yen that aids export competitors in Japan.
"Hyun will need to announce at least 20 trillion won of supplementary spending to achieve growth of about 3 percent this year," Lee Chul-hee, chief economist at Tongyang Securities Inc, said by telephone in Seoul.
Comments will be moderated. Keep comments relevant to the article. Remarks containing abusive and obscene language, personal attacks of any kind or promotion will be removed and the user banned. Final decision will be at the discretion of the Taipei Times.