Powerchip submits application for funding
DRAM DREAMS The company said it would be able to produce chips using technologies that it had developed, meeting one of the government's conditions
Powerchip Semiconductor Corp (力晶半導體), the nation's No. 2 computer memory chipmaker, submitted a proposal to the Industrial Development Bureau (IDB) yesterday for state funding, following in the footsteps of Taiwan Memory Co (TMC, 台灣創新記憶體公司).
The IDB set a three-month period, starting in July, for local companies to submit proposals about joining the central government's efforts to rejuvenate the nation's PC memory, or dynamic random access (DRAM), sector, in exchange for a capital injection from the state.
Powerchip filed its proposal right before yesterday's deadline on its own, since its technological partner Elpida Memory Inc has formed an alliance with TMC.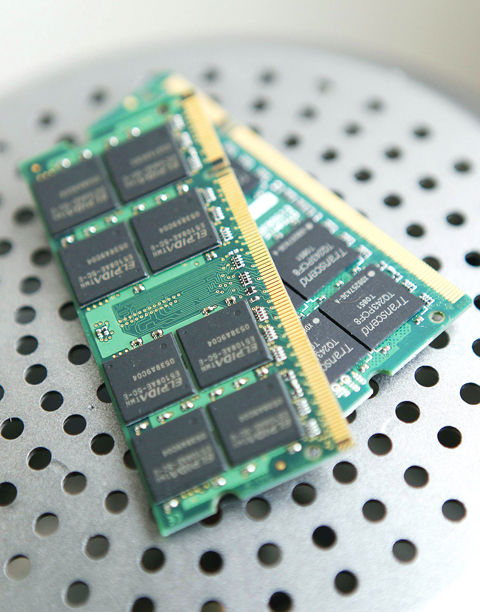 Dram chips are displayed at a computer mall in Taipei yesterday, which was the deadline for local DRAM companies to submit requests for government funding as part of a program to help the sector recover from its worst-ever downturn.
PHOTO: NICKY LOH, REUTERS
"We will meet the government's requirements. We are technologically independent [as the government requested.] We will make chips on technologies we have developed ourselves," Powerchip spokesman Eric Tang (譚仲民) said by telephone.
Without consolidating any capacities owned by existing memory chipmakers, Powerchip said it planned to allocate part of its DRAM capacity for flash memory chips, which should be seen as a kind of consolidation, Tang said.
The nation's biggest computer memory chipmaker Nanya Technology Corp (南亞科技) and its joint venture with Micron Technology Inc, Inotera Memories Inc (華亞科技), however, have decided not to seek government funding.
"The DRAM industry is different from what it was a year ago. The best timing for DRAM reformation or consolidation under this scheme has passed. To consolidate partial capacity would not do much to help DRAM restructuring," the two companies said in a joint statement yesterday.
The Nanya-and-Micron camp was originally seen as a potential contender for the government funding. With full financial backing from fellow Formosa Plastic Group (台塑集團) companies, Nanya has never shown any eagerness for a capital infusion from outside the group.
The IDB said it has not set any timetable for reviewing funding applications. TMC has requested NT$5 billion (US$155 milion) instead of the NT$10 billion it originally planned.
Meanwhile, Nanya and Inotera said they are converting their manufacturing process technology to 50-nanometer technology to lower substantially reduce manufacturing costs.
Mass production of 40-nanometer technology is expected to start in the second half of next year, in collaboration with Micron.
Comments will be moderated. Keep comments relevant to the article. Remarks containing abusive and obscene language, personal attacks of any kind or promotion will be removed and the user banned. Final decision will be at the discretion of the Taipei Times.