Feature: Nintendo Wii wins over fans before debut
MODERN MAHJONG The console is creating addicts of all ages, winning over entire families, and has even made a believer of Premier Su Tseng-chang
During the long Lunar New Year holiday last month, Mario Yang (楊士模) and his family found themselves absorbed in a new activity. His parents and grandparents were not playing mahjong this year, but rather were trying their hands at Nintendo Co's new Wii games.
"My grandma said now we can move around the house while playing games instead of just sitting in front of the computer," said 27-year-old Yang, who is an editor with an online news portal.
He rushed to a game shop on Feb. 15, two days before the holiday started, to purchase a Wii, which sports a motion sensor used to play virtual tennis, golf or baseball.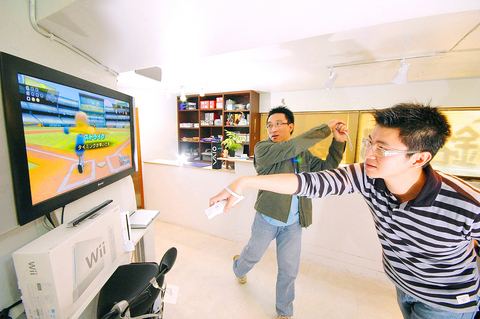 Two gaming fans play one of Nintendo's new games for its Wii console on Thursday. Although the Wii has not officially debuted in Taiwan, eager gamers have been purchasing consoles imported from Japan and the US or bidding for them on Internet auction sites.
PHOTO: CHEN CHUN-LIANG, TAIPEI TIMES
"This is a game console that the whole family can take part in," he said.
Like Yang, Liu Chi-chin (劉芷青), an office worker in Taipei, has also caught Wii-fever.
"It [the game] gives you a stronger feeling of reality than regular video games," she said. "Besides it is more like exercise, it can make you sweat quite a bit."
Liu said she and her husband had played games on Wii at least twice every day for some time, adding that her colleagues occasionally visited them and brought along an extra Wii Remote -- the console's wireless controller -- to join in on the fun.
The craze has even made its way into political circles. Premier Su Tseng-chang (蘇貞昌) is an avid Wii player and has called the console a "great invention that offers gamers a good workout."
The much lauded consoles, however, are not yet officially released in Taiwan.
Eager gamers have gotten their hands on Wii in advance by buying consoles imported from Japan or the US, where they have been available since November.
Yang, for example, shelled out NT$9,700 (US$293) to buy a Wii, the official price tag of which is US$250.
Local gamers have also been buying Wiis on auction Web sites or at major IT shops such as Nova.
Yahoo-Kimo Inc's (雅虎奇摩) online auction store has around 300 Wii units and 1,800 related peripherals for sale. Prices for the consoles range up to NT$14,000.
So far, the sole Wii distributor, Hakuyu Ltd (博優), has not set an official date for the console's debut on the Taiwanese market.
"Wii is coming soon and a large-scale debut party will be thrown for fans," one company official said.
Wii was the best-selling video game console in the US last month, with consumers buying 335,000 units, market research firm NPD said.
Microsoft Corp sold 228,000 units of Xbox 360 in the US last month, while 127,000 units of Sony Corp's PlayStation 3 (PS3) sold during the same period.
Industry watchers suspect that Nintendo is experiencing difficulties in constructing a localized version of Wii's online services for Taiwan, causing a delay in its official debut.
"Sony has branches in Taiwan to offer online support for the PS3, providing information about new game announcements and game testing," said Jessica Hsu (許桂芬), a multimedia consumer electronics analyst with the Taipei-based Market Intelligence Center (資訊市場情報中心).
But Nintendo has no local office, she said.
One analyst said on condition of anonymity that he suspected the delay of the launch could be a marketing trick to build anticipation in hopes of creating a buying frenzy when the Wii finally debuts.
"Having seen the results of delayed launches in Europe for Sony's PlayStation Portable (PSP), Nintendo was probably using the same trick," she said.
When PSP finally made its way to European stores in September 2005, it was already nine months after the console had reached Japanese stores and six months after it debuted in the US.
Wii does not boast sophistication in production or technology as compared with the Blu-ray feature of PS3, which means there shouldn't be any production shortages causing a delay, the analyst said.
Meanwhile, Wii made national headlines last week as the National Communications Commission, the nation's highest administrative authority monitoring the telecommunications industry, said that the government needed to check and certify imported Wii consoles to ensure that they would not interfere with the nation's telecommunications systems or pose health hazards to gamers.
The commission said it would not penalize consumers who bought Wii before its debut in Taiwan, but it urged gamers to be sure their units bore a legal certification label.
Nintendo coined the name Wii from the English word "we," to express the idea that console is for everyone.
Although Wii has become a sensation around the globe, some veteran gamers said that they would stay loyal to the Xbox or PS2 and to online games and would snub Wii.
Dennis Hsu (許定中), a home video game player, said that although Wii had the advantage of strong interactive functions, its resolution was poor.
He said it also did not satisfy those who are interested in role-playing games.
Max Lee (李俊毅), a college senior, said he thought the games Wii can offer are limited, given that the machine must be operated through the Wii Remote.
"I believe that all the hype will eventually go away once people get tired of it," he said.
Comments will be moderated. Keep comments relevant to the article. Remarks containing abusive and obscene language, personal attacks of any kind or promotion will be removed and the user banned. Final decision will be at the discretion of the Taipei Times.