Carrefour to take over Tesco's shops
MARKET FOCUS Tesco Plc and Carrefour SA announced that they will swap their superstore chains in Taiwan and Central Europe, in the first deal of its kind in the industry
Carrefour SA, the world's second-largest retailer, yesterday announced that it is taking over Tesco Stores (Taiwan) Co's six outlets and two development sites as part of an asset-swap deal with Tesco Plc in the UK valued at a total of 132 million euros (US$159 million).
In return, Carrefour will hand over its 11 outlets in the Czech Republic and 4 stores in Slovakia to the UK's biggest retailer at 189 million euros.
This is the first deal of its kind between two global retail groups. The swap reflects both companies' desire to focus on markets where they aim to become dominant players.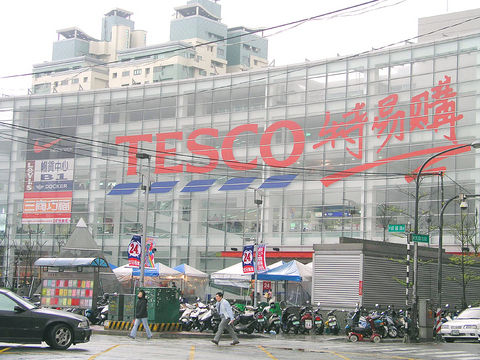 "It's hard to survive the fierce competition if you're not No. 1 or No. 2," Allan Tien (田中玉), spokesman for Carrefour Taiwan, said yesterday.
"If you find yourself struggling hard to make headway in certain countries, why keep doing it? We're late in breaking into the Czech Republic and Slovakia, and Tesco faces the same situation in Taiwan. I think this new breakthrough will facilitate these two groups' healthy operations," he said.
The deal, which is currently pending approval by the nation's Fair Trade Commission, will boost Carrefour's market presence from 33 percent with 36 outlets nationwide to a promising 40 percent with 42 outlets, he said.
This composite picture shows Taiwanese outlets of Carrefour SA and Tesco Stores (Taiwan) Co. Carrefour plans to take over Tesco's six outlets in Taiwan in an asset-swap deal. Tesco, which vowed to invest NT$25 billion and open 20 stores in Taiwan five years ago, will withdraw from the local market completely.
PHOTOS: YANG YA-MIN, TAIPEI TIMES
Tien promised that no job cuts will occur, as Carrefour Taiwan -- a joint venture between the company's Paris-based headquarters and Taiwan's Uni-President Enterprises Corp (統一企業) -- will accommodate all of its smaller rival's employees.
"As soon as the government approves the takeover, which might take around two months, we'll start replacing the store signs and product mix," which would mark the complete withdrawal of Tesco from the local market, he said.
Tesco chief financial officer Andrew Higginson said in an interview yesterday that the company's move into Taiwan was ill-timed, and its store openings were too slow.
The UK retailer entered the nation in 2000 with a relatively slow pace of store expansion compared with its stronger rivals, including Carrefour, which is still maintaining its policy of opening three to four stores in Taiwan every year.
"All the retailers have been spreading themselves too thinly abroad and now it's time for them to refocus on the areas where they're doing well," said Hilary Cook, director of investment strategy at Barclays Private Clients in London, which oversees the equivalent of about US$88 billion, including Tesco and Carrefour shares.
"Food retailing is all about economies of scale," he added.
Daisy Lee (李如秀), corporate affairs manager of Tesco Stores (Taiwan), gave local consumers the assurance that business will be conducted as usual for the foreseeable future.
"Our operations and services will remain unchanged until the takeover procedure commences in several months. Consumers can still use their gift vouchers.
Carrefour, with about half of its 73 billion euros in annual sales coming from outside France, exited Mexico and Japan this year. Tesco, which is the biggest hypermarket operator in Slovakia, is bolstering its position in the country and neighboring Czech Republic.
Tesco's international sales climbed 17 percent at constant exchange rates in the 24 weeks ended Aug. 13. to ?4.2 billion pounds (US$7.4 billion). It makes about 30 percent of its sales overseas.
Higginson said Tesco had no plans to leave any other countries, nor for any other store-swap deals.
Comments will be moderated. Keep comments relevant to the article. Remarks containing abusive and obscene language, personal attacks of any kind or promotion will be removed and the user banned. Final decision will be at the discretion of the Taipei Times.