McDonald's test drives two rice burgers in Taiwan
After 18 months of research and development, McDonald's Restaurants (Taiwan) Co officially unveiled a new menu yesterday, making Taiwan the first nation to offer rice burgers under the golden arches.
Dubbed a marriage between Eastern and Western culture, the company is offering two flavors of toasted rice burgers, with a choice of either chicken or beef, which is sandwiched between two rice cakes.
The fast-food giant has in recent years hosted a series of health campaigns amid growing public worries over the high fat content of its food.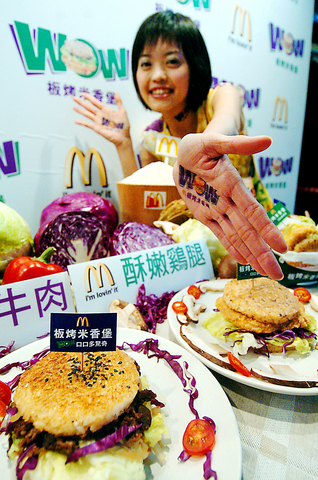 A woman presents new toasted rice burger products from McDonald's Restaurants (Taiwan) Co, Ltd at a press conference yesterday. The burgers come in two types: Kalubi Beef, left (individual order: NT$75, set meal: NT$119) and Crispy Chicken Filet, right (individual order:NT$79, set meal: NT$129).
PHOTO: SEAN CHAO, TAIPEI TIMES
Healthier Menu Items
Aiming to convince consumers of its healthy message, McDonald's Taiwan said its research included meeting with 41 focus groups and interviewing over 3,000 customers to dish out the new products.
Other additions to the firm's new menu include clam soup and salads, seemingly sending a clear message that the restaurant chain is attempting to reverse its notorious image through offering more localized dishes and healthier food.
Company executives brushed aside suggestions that this was the case, however.
Obesity among Taiwanese males aged over 19 has been growing in recent years, Chu Nien-feng (祝年豐), a physician at the department of public health of the Tri-Service General Hospital, said at a press conference in December last year. The number of women with a waist size bigger than 80cm has reached 40 percent of the female population over the past 20 years, far higher than the 20 percent for males, he added at the conference.
Rice Strategy
The company also hopes its efforts can help to boost its penetration rate in rice-loving societies, McDonald's Taiwan's chief executive officer Steven Lee (李明元) said at a launch ceremony yesterday.
Deemed an important step to expand its market share at a time when more people are preferring to eat out, the company will use 15 to 20 percent of its annual marketing budget -- which stand at hundreds of millions of NT dollars -- to promote the new products, said Viya Chen (陳薇雅), assistant vice president for marketing and communications.
Although not the first restaurant chain to offer rice burgers in Taiwan, McDonald's is confident the quality of its product can beat that of smaller competitors Mos Burger and 7-Eleven convenience stores, which started selling microwaved rice burgers in December 2003.
Giorgio Minardi, McDonald's vice president and chief marketing office for the Greater China region, said he expects to bring the products to other Chinese societies soon if the response here is encouraging.
Comments will be moderated. Keep comments relevant to the article. Remarks containing abusive and obscene language, personal attacks of any kind or promotion will be removed and the user banned. Final decision will be at the discretion of the Taipei Times.