China Airlines takes air safety to new levels
TURNAROUND From being an airliner with a safety record that scared away customers, China Airlines has turned the corner and is now getting international praise
Hearing flight crews talking about aviation safety sounds like a cliche. But it is undeniable that no one cares about safety issues more than they do -- because they make a living out of doing so. \nDean Young (楊定輝), chief pilot of China Airlines' (中華航空) Boeing 747-400 fleet with over 500 pilots under his command, is even more qualified to address the matter as he is, after all, an employee and not an airline manager who might be preoccupied with cost-effectiveness. \nThe 53-year-old aviation veteran retired from the Taiwan Air Force in 1990 before serving as chief pilot of the Airbus 320 fleet at Transasia Airways Corp (復興航空). A few years later, he moved to French aircraft maker Airbus SAS as a check pilot. In that capacity, he helped airlines set up standards on flight operations and pilot training. \nWith piloting experience of about 15,000 flight hours, Young joined China Airlines in 2000 and has since then been helping to monitor the airline's efforts to guarantee flight safety. \n"As people know, China Airlines employs a considerable number of retired military pilots, and it is very important to enhance their knowledge, language skills and discipline," Young told the Taipei Times after piloting a new Boeing 747-400 jet from Seattle to Taipei on Dec. 9. \nOver the past 45 years, China Airlines has given people a two-sided impression -- a symbol with the beautiful national flower painted on the tails of its airplanes, but also a poor safety record. \nThe carrier began to standardize and reform its flight procedures, the first step to improve flight safety, in 2000. In addition, the company has spent huge amounts on recruiting new blood and has adopted strict standards in training recruits, Young said. \nIn recent years, China Airlines has recruited outstanding pilots from well-known and reputable international airlines, such as Singapore Airlines, United Airlines, Cathay Pacific Airways and Belgian carrier Sabena Airlines. Foreign pilots currently account for about one-fourth of China Airlines' pilot personnel. \nThe airline has also spent large amounts on training cadet pilots since 1988. \nIt trains its pilots according to BAE Systems Flight Training, developed by an Australian flying school based in Adelaide, that provides the world's finest pilot training. The company upholds a stringent screening process that ensures the qualification of pilots. \nBut passing the entrance examination does not mean a pilot is secure in his job at China Airlines forever. Pilots in the company are tested every three months in a flight simulator and their handling of nonscheduled raids situations are also monitored, according to Young. \nIn the tests, besides standardized flight procedure, the pilots are given various emergency situations to overcome. An example of this is how to successfully land an aircraft when parts of the plane malfunction in bad weather, he said. \nPilots failing to pass the tests are required to enhance their skills until they can handle all kinds of critical situations without endangering a single life on board, he said. \nDiscipline is also an important issue to the carrier. \nIn October last year, China Airlines sacked a pilot who was found to be intoxicated shortly before a flight in the US. The airline meted out the most severe penalty to the pilot after tests showed he had a blood-alcohol level of 0.087 percent, more than twice the legal level of 0.04 percent, shortly ahead of his scheduled flight from Anchorage to New York on Sept. 25. \nPilots are prohibited from drinking any alcohol in the 12 hours before performing their duties, Young said. \nIf they break the rule, their assignment will be cancelled immediately, and, in the worst cases, they may also lose their jobs. While in the air, the pilot crew's performance is also recorded by a system that monitors any improper operations conduct during the flight, he said. \nChina Airlines' efforts have started to pay off. \nIn June this year, the carrier won the "Best Overall Airlines" and "Best Cargo Airlines" categories in the 2003 Skyliners Awards made by Manchester Airport. With no accident being reported since a crash on May 25, 2002, the airline received a rebate from its insurance company, which also lowered the company's premium for next year by 30 percent. \nIn terms of business, the carrier raised its pre-tax income forecast for the year to NT$4.05 billion, a 29 percent increase from the previous estimate of NT$3.15 billion. With more routes to be launched next year, China Airlines is looking forward to seeing its revenue grow by 5 percent in the passenger division, and registering double-digit growth in cargo next year. \n"We don't know how long it will take to restore people's confidence in us, but we will keep improving flight safety. We can't afford to let the tiniest mistake destroy our hard-won achievements," Young said.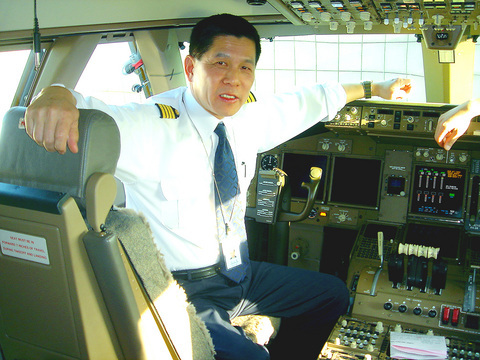 Dean Young, chief pilot of China Airlines' Boeing 747-400 fleet.
PHOTO: JESSIE HO, TAIPEI TIMES
Comments will be moderated. Keep comments relevant to the article. Remarks containing abusive and obscene language, personal attacks of any kind or promotion will be removed and the user banned. Final decision will be at the discretion of the Taipei Times.