Monster Ice owner looks to Japan
ICE,ICE, BABY Frank Lo hopes that his mixture of mango, condensed milk and shaved ice will prove as big a hit in Japan as it has with Japanese tourists here
Ice Monster (冰館), Taipei's popular vendor of shaved ice, hopes to export one of the nation's favorite summer snacks to Japan next year.
"I have confidence in the franchise project since Japanese tourists constitute 40 percent of our customer base," Frank Lo (羅同邑), owner of Ice Monster, told the Taipei Times yesterday.
The first overseas Ice Monster branch may open in spring next year in Tokyo's Shibuya district depending on how quick the Japanese authorities approve of the food-safety of his recipe, Lo said.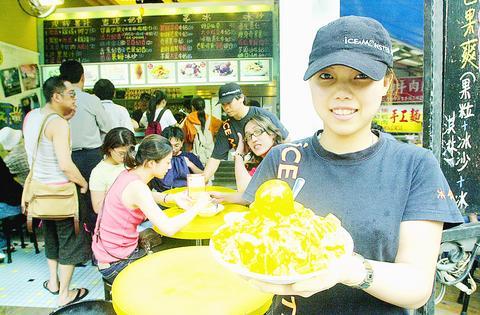 Ice Monster employee Chen tzu-hwa serves a plate of mango ice to a customer at the company's Taipei outlet on Yungkang Street yesterday.
PHOTO: GEORGE TSORNG
One franchise owner yesterday said that breaking into the Japanese market would require tailoring products for the Japanese palate.
"Flavors that can be accepted by consumers in that country is a prerequisite," said Johnson Fu (傅信欽), general manager of Easy Way International Co (休閒小站), a pearl-milk-tea (珍珠奶茶) chain.
Fu has franchised out over 700 pearl-milk-tea shops to the US and Asia.
He said challenges may lie ahead for Ice Monster, adding, "A product that sells well in Taipei may not necessarily be successful in Japan."
While the innovative use of chopped mango stacked on shaved ice may have been the latest snack craze five years ago when it first hit the domestic market, Lo said he has been mixing mango and condensed milk into the traditional ice concoction as a summer snack since he was a child.
However, he never expected that his homemade ice recipe could be a marketable franchise.
One customer standing in line in 32?C heat yesterday waiting to munch down a mango ice said she came to Ice Monster -- as opposed to five others in the vicinity -- for two reasons.
"Ice Monster tastes better and, besides, they have the reputation," said Yvonne Fang (方幼瑩), a?Taipei housewife.
Lo opened his ice stand in its current location in 1995 on Yungkang Street, but came close to shutting it after three years due to poor sales.
His financial woes drove Lo to develop a new flavor -- mango -- at NT$100 per plate.
"The new product soon boosted my business as queues of customers flocked to my door after being told by word-of-mouth by guests who had tried it," Lo said.
In addition to the streams of ice gluttons that consume on average 1,500 plates of shaved ice per day, Lo's mango ice also brought media exposure such as the Japanese food show TV Champion, which put him on the Japanese tourist map, Lo said.
Lo sparked a host of copycats also selling shaved mango ice.
The basic product is quite simple: sliced mango, condensed milk and his homemade syrup.
Lo admits his mango ice has nothing different in it from other ice shops.
"When people ask me about the secret to my success, I always tell them that it was an accident," he said. "Freshness is the key."
Unlike other ice shops that have developed into chain stores nationwide, Lo said he would not mass produce his product until the quality is assured.
Lo has until recently put off a two-year old plan to start the franchise project.
If his mango ice business flies in Japan, however, Lo said he will try to bring the sweet fruit taste to Hawaii and southern California's sizeable Japanese population.
Comments will be moderated. Keep comments relevant to the article. Remarks containing abusive and obscene language, personal attacks of any kind or promotion will be removed and the user banned. Final decision will be at the discretion of the Taipei Times.