Personality, pizzazz mixes with pizza
Entrepreneur and goofy frontman for Domino's Pizza in Taiwan, managing director Scott Oelkers talked with 'Taipei Times' staff reporter Joyce Huang last week about the company's business strategies and his unique experience as the star of the pizza company's well-known, pun-filled commercials
Taipei Times: Most TV viewers in Taiwan know you best from the variety of humorous characters you portray in Domino's TV commercials. What motivated you to do the commercials yourself? \nScott Oelkers: When we first decided to begin television advertising, our ad agency presented a creative strategy that was largely based on Chinese puns, such as "KuaiLeSung vs. KuaiReSung", [or in English] The Happy Chorus vs Fast Hot Delivery. [Another was playing with the pronunciation of our phone number] "E-Ba-Ba-E-Wo-E-Wo-E," [or in English] Daddy's Hungry, I'm Hungry, I'm Hungry, or of course the [rhyme] "DaMeiLe, DaLeMei" [or in English] Domino's, have you called? \nThey suggested that these plays on words would be more effective if presented by a foreigner. \nOnly after agreeing to this concept -- and to a storyboard for the first commercial -- they asked if I would be willing to act in the commercial, and I agreed. \nI enjoyed [doing] some of them more than others. Some were actually very difficult to film. \nFor instance, the Crouching Tiger commercial was a very difficult one to film while others were pretty easy and fun. \nTT: What kind of customer response have you had to the ad strategy? \nOelkers: Despite a budget of about one-third of our major competitor, our brand awareness jumped from just 3 percent in early 1995 to 15 percent within six months of airing the ads. \nThis trend has continued and we now have the highest brand awareness in the industry, a solid 45 percent or more today. \nWhen people think "delivery pizza," they think Domino's. Despite our competitors' efforts, people are more likely to know our phone number. \nAnd, of course, the pun "DaMeiLe, DaLeMei" is one of the best know slogans in Taiwan. \nTT: What kind of reactions do get you from people on the street in Taipei? \nOelkers: I can't walk down the street in Taiwan without hearing the words "DaMeiLe, DaLeMei" being spoken by someone I pass by. \nI have had the songs from our commercials sung to me. Once when we aired a new commercial, just two days into the campaign, I was greeted with the theme song by the clerk at a convenience store. \nPeople request autographs, and occasionally ask to have their picture taken with me. It is all in good fun, and typical of the friendly people of Taiwan. \nTT: How did you get started as an entrepreneur in Taiwan? \nOelkers: I was the vice president of Domino's Pizza International, responsible for the Pacific Basin. One of my jobs was selling franchises. \nAfter selling the rights for Taiwan to private equity firm ChinaVest, they asked me to come to Taipei to run the business on their behalf [in 1992]. Currently, Domino's has roughly 110 stores in Taiwan. \nWe're all over the island and in all major cities and counties. About half of our stores are in the Greater Taipei area. \nI think, in the delivery segment, we've probably taken up about 55 to 60 percent of market share. In the carry-out segment, it's about 40 percent. \nWe're not in the dining segment, so we don't have any market share there. We'll probably grow by five to 10 stores per year over the next few years. \nWe are in a situation where customer demand needs to be increased before we're able to rapidly increase our store growth. Right now, about 75 percent of all Taiwanese can either carry out or order pizza delivery from one of our stores. \nSo, our product is readily available to everyone in Taiwan. \nTT: What is Domino's position in the Taiwan market, and how has your local customer base grown over the years? \nOelkers: We are solidly positioned as the delivery leader. While the competition delivers also, people know they can depend on us to be there in 30 minutes or less. We also share about one half of the carry-out market. \nWe made a big move into this part of the pizza business by moving our stores out of smaller alleys and on to the main streets of Taiwan. \nWe are able to offer a higher value with carry out, and the Taiwan consumer has responded well. The customer base grew rapidly during the 90s, as we expanded across Taiwan. \nBy my estimates, pizza is now about a US$200 million business [in Taiwan per year]. Fifteen years ago, it was only about US$10 or US$15 million business, so it has had tremendous growth over the years. \nOur challenge now is frequency, as the average customer in Taiwan eats pizza just a few times a year. For example, the average American eats pizza once a week while, based on our internal analysis, the average Taiwanese probably eats pizza three times a year. \nIf we can get the average Taiwanese to eat pizza four times a year, we just increase the total market by 33 percent. \nTo achieve that goal we introduce new pizza and non-pizza products. For instance, we introduced chicken drum sticks to help entice customers to order more often. \nWe also launch two to three new pizza lines a year to create product interest. \nTaiwanese like to have multi-dish meals, they are not used to sitting down with just one dish for the entire meal. \nSo, we feel that by having multiple side items we can appeal to the normal Taiwanese style of eating. \nTT: Who is your main competitor and what strategies has Domino's come up with to better compete with them? \nOelkers: I'm not the kind of manager that focuses a lot on competitors. I try to focus internally and make sure we're providing good products and good service. \nIf we do that, we don't need to worry about competition because our customers will be happy and keep coming back. \nWe work very hard at recruiting the right people, training them in their jobs, and retaining them. People are the hardest piece of the puzzle, so we spend many hours on building esprit de corps. \nWe just had our annual three-man basketball tournament, we offer 12 scholarships a semester to deserving part-time team members, we sponsor softball and bowling tournaments, and there is our annual managers' outing, which is alway a blast. \nTT: Recently, Domino's has sought strategic alliances with Blockbuster movie rentals and others to promote your products. How well has that strategy worked to boost sales? \nOelkers: We work with numerous other business in cross-promotion efforts. These efforts are great sales builders, as our conventional marketing channels may not reach the same consumers. \nWe also believe that we have the ability to reach customers that our cross-promoting partners wouldn't normally reach. \nWe also have a very interesting Internet marketing program, which I believe is very progressive in nature. This is another channel that hits consumers that we normally do not reach with our more conventional methods. \nTT: While Domino's has already entered the Chinese market on a small scale, what are your long-term investment plans there in the near future? \nOelkers: We currently operate five stores in Beijing. We are operating on a slightly different business model, both as a QSR (quick serve restaurant) and as a delivery company. \nThe market is very competitive as far as our non-pizza competitors, but we believe the future is bright there. \nOur experience in Taiwan has helped us in the area of leadership. We can leverage our management in Taiwan to lead the effort in China. \nHowever, you can not parachute your business model into that market. It must be adjusted to meet the needs of the consumers there.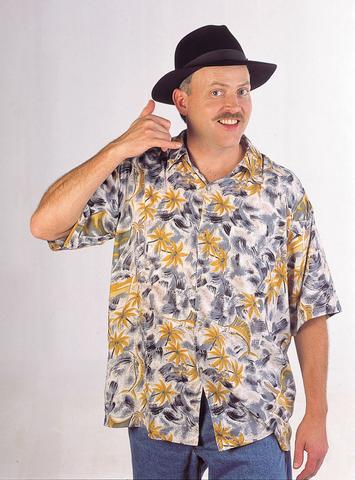 Scott Oelkers, managing director of Taiwan's Domino's Pizza, mimes a phone conversation as he talks about the company's success in gaining market share and some of the ways Domino's is trying to appeal to Taiwanese dining styles.
PHOTO: COURTESY OF DOMINOS
Comments will be moderated. Keep comments relevant to the article. Remarks containing abusive and obscene language, personal attacks of any kind or promotion will be removed and the user banned. Final decision will be at the discretion of the Taipei Times.