US$20-bill `conspiracy' exposed
SUPERSTITION The latest currency trick indicates that Americans have too much free time available
Jeffrey Tobasky isn't into conspiracy theories. He doesn't care about the grassy knoll. Thinks people who claim they were abducted by UFOs are full of it and doesn't ever scan the horizon looking for the four horsemen of the Apocalypse. \nBut waiting in line at Dunkin' Donuts in Dorchester this week, he raised an eyebrow when handed a US$20 bill folded to show a bizarrely accurate image of the burning World Trade Center towers. Tobasky pursed his lips: "Damn, that's weird. I mean, that really is weird." \nThe US$20 bill trick -- if that's the right word for it -- is also being done, to a lesser extent, with US$10 and US$50 bills, and has been spreading by word of mouth and over the Internet for at least a month. Whether coincidence or conspiracy, it's become something of a comment on the American psyche since the Sept. 11 attacks. \nThe trick goes back at least as far as a party in Melbourne, Florida, last month. Warren Dodd, who designs commercial Web sites, got together with about 20 friends on a Saturday to watch a NASCAR race on television. After a few laps, the race was rained out and Dodd walked out to the porch with a few friends. One of them pulled out a twenty, folded it lengthwise to hide the face of Andrew Jackson. Then, she folded the bill diagonally from the center point on the crease so it looked like an arrow -- or an airplane -- and there, clear as day, were the smoking Trade Center towers. Dodd turned the folded bill over and there was an image resembling the blown up Pentagon. \n"I was really amazed," said Dodd, 47. "I mean, what are the odds?" \nHe showed a few friends and they were equally intrigued, so he decided to put it on a commercial Web site (www.allbrevard.net) to show friends out of state. After he posted it, he mentioned it on a computer user group. The next day, his site had 35,000 hits. The day after that it doubled to 70,000 and then doubled again and again, until it was getting about 250,000 hits a day. Since the posting about a month ago, the site has received more than 2 million hits, some from as far away as China and Israel. "It's gotten about the same exposure as a Super Bowl ad," Dodd said. \nThe responses on the site break down into three basic categories of roughly equal proportions: The people who, like Dodd and Tobasky, think the image is just a weird coincidence; those who think it's a sign that the government -- or God -- knew the attacks were coming; and those who think posting the image is sacreligious, wrong or at the very least, in bad taste. Tens of thousands also ask the question: "Who figured this out?" And thousands more have answered: "Someone with too much time on their hands." \nApocolypse now \nChip Berlet, a senior analyst at Political Research Associates in Somerville, Massachusetts and an expert on conspiracy theories, isn't at all surprised the image has spread so far so fast. \nThe roots of apocalyptic thinking in America, he said, go back to the 17th century. Whenever fear mixes with uncertainty, huge numbers of Americans fall back on simple stories of good versus evil. Unrelated objects and dates -- like Y2K or the fall of the Soviet Union -- are transposed into powerful end-of-the-world symbols. \nThe World Trade Center image is just the latest incarnation of this phenomena, Berlet says. Secret messages have been "discovered" in US currency for decades. When the Treasury Department redesigned paper money six years ago, "The 700 Club," a cable show led by televangelist Pat Robertson, reported that the government secretly implanted bills with the numbers 666, the so-called mark of the beast, Berlet said. \nThe US$20 can also be folded (like an accordion) to show the word "OSAMA" or (twice over Andrew Jackson's eyes) an erupting volcano. And the words "Novus Ordo Seclorum" under the pyramid on a US$1 bill are believed by some to translate into the words "New World Order." \nJim Hagdorn at the Bureau of Printing and Engraving has heard them all and fields questions with a voice hovering between fatigue and exasperation. \n"People at the Bureau take great pride in their work and are very proud of the way the White House looks on the US$20 bill," Hagedorn said last week. "We feel really bad that this is being used to highlight the tragedy." \nFor Berlet its mostly amusing. \n"Give me enough beer and I'll show you Donald Duck being sworn in as president on the dollar," he said. \n"The point is you can do this all day and you can take any denomination and come up with pretty much whatever you want." \nBut for every self-styled realist who perceives the image as silly, there is someone else who isn't quite sure. Just ask Darrell Andersen, who bought lunch at D'Angelo's this week, about the same time Tobasky was patronizing the Dunkin Donuts next door. \n"I think the government knew the attacks were coming, no doubt," Andersen said after he was shown the bill. "I think they know a lot things they don't tell us."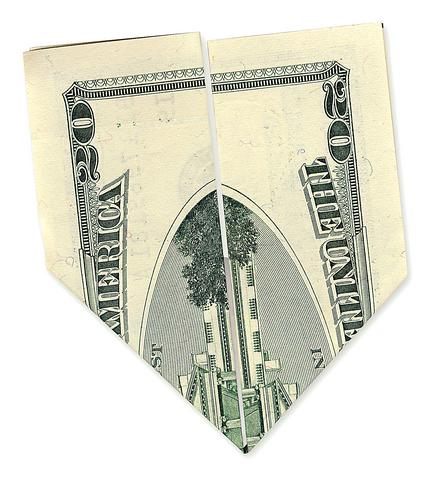 The image of the White House on the back of the new US$20 bill, folded horizontally once to hide the face of Andrew Jackson and then both ends folded up as if they were wings, resembles the burning twin towers of the World Trade Center.
PHOTO: NY TIMES
Comments will be moderated. Keep comments relevant to the article. Remarks containing abusive and obscene language, personal attacks of any kind or promotion will be removed and the user banned. Final decision will be at the discretion of the Taipei Times.