Barnes & Noble may sell chain to investor group
Book retailer Barnes & Noble Inc said its shares have slumped so low it may put itself on the block — possibly selling the chain to an investment group that would include its founder and biggest shareholder, Leonard Riggio.
The world's largest bookseller said late on Tuesday that its board was evaluating several options to boost shareholder value in the face of a depressed stock price, including selling the company. Riggio, who holds about 28 percent of the company, said he was considering joining an investor group to buy the retailer.
Shares soared on the news in after-hours trading on Tuesday, rising US$3.31, or nearly 26 percent, to US$16.15. The stock has been in free fall since late June, when the company reported a steep fourth-quarter loss and issued forecasts for first-quarter and full-year net income below expectations.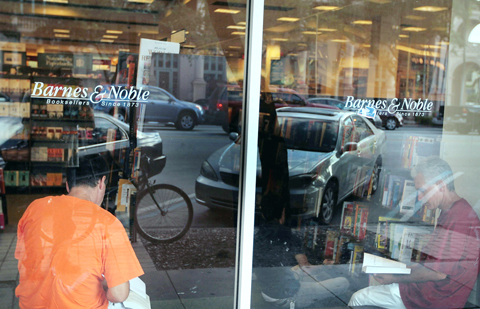 People sit and read near the window of a Barnes & Noble Booksellers store on Tuesday in Coral Gables, Florida.
PHOTO: AFP
Barnes & Noble has been hurting, along with other book retailers, as people focus on essentials in the down economy and limit their book purchases. Shoppers are also shifting away from paper books toward electronic books.
Barnes & Noble has been bullish on the future of digital books and introduced its Nook e-reader and its online e-bookstore in October, well ahead of rival Borders Group Inc. It has been engaged in price wars with Borders and Amazon.com to attract readers to this new market.
Borders, the nation's second-largest book retailer, has also been struggling with falling demand and increasing competition from discounters such as Wal-Mart Stores Inc and online book sellers. It has been hoping to reinvigorate itself with a US$25 million investment from financier Bennett LeBow — who became the company's largest shareholder and chairman and later was named CEO.
Barnes & Noble said a committee of four directors would evaluate its options. The committee has selected Lazard as its financial adviser and Morris, Nichols, Arsht & Tunnell to serve as its legal adviser.
Riggio said no matter what happens he was "eager to remain with the company and see it through the challenging years ahead."
The New York-based company operates 720 stores in 50 states. The board said there was no specific timeline for the review.
Comments will be moderated. Keep comments relevant to the article. Remarks containing abusive and obscene language, personal attacks of any kind or promotion will be removed and the user banned. Final decision will be at the discretion of the Taipei Times.