PRC may appeal WTO ruling on media imports
China said yesterday it might appeal a WTO ruling that told Beijing to ease restrictions on imported movies, music and books in its latest trade dispute with Washington.
The Commerce Ministry insisted Beijing does not hamper imports of media products, despite Wednesday's decision by a WTO panel of experts that it violates free-trade rules by forcing products to be routed through Chinese state-owned companies.
"The Chinese side will conscientiously assess the expert group's ruling and does not rule out the possibility of an appeal," ministry spokesman Yao Jian (姚堅) said in a written statement. "The channels for China's import market for published materials, movies and music are completely unimpeded," the statement said.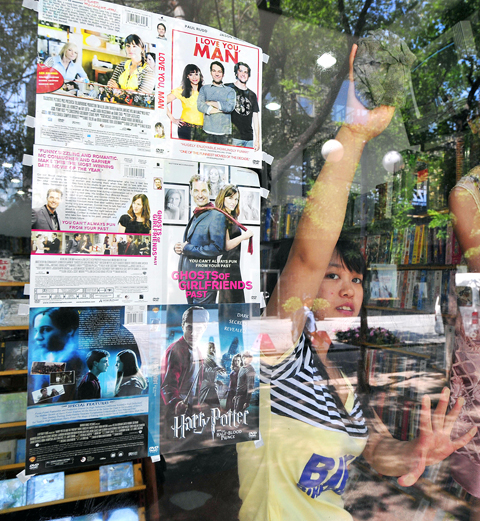 Foreign films are advertised as an employee cleans the window of a Beijing DVD shop yesterday. China said it "regretted" a WTO decision ordering it to ease curbs on foreign films, music and print, and said it might appeal the decision.
PHOTO: AFP
The case is sensitive for Beijing because the government sees its control over content of movies, music, books and other media as a tool to protect its political power. The government is trying to build up China's state-owned film studios and other media to promote the Chinese Communist Party's views at home and abroad.
The dispute is one of a series between the US and China, the world's largest and third-largest economies, over access to each other's markets for goods ranging from tires to poultry. The US is the world's biggest exporter of movies, pop music and other cultural goods and sees increased sales as a way to narrow its multibillion-dollar trade deficit with China.
Beijing agreed when it joined the WTO in 2001 to treat foreign and domestic companies equally. But foreign companies in a range of industries complain that they face barriers to imports and investment.
The implications for China's regulatory system if the WTO ruling is upheld were not immediately clear. The panel said Beijing may continue to require imported films to go through one of two government-designated distributors — a condition that does not apply to Chinese titles. The ruling also rejected Washington's argument that Chinese censorship of music hampered sales.
Foreign movies, music and other cultural products are popular in China's fast-growing media market. Suppliers face intense competition from a thriving black market in unlicensed copies and some complain that Beijing is boosting demand for pirated products by limiting access to legitimate goods.
Some film companies have tried to combat piracy by selling legitimate DVDs of new Hollywood movies for as little as 22 yuan (US$3.20). But that is well above the price of pirated DVDs, which sell for 8 yuan or less.
China defended its media controls as needed to ensure removal of offensive content and protect public morals.
The WTO ruling said Beijing should allow foreign companies to distribute master copies of books, magazines and newspapers to customers in China; wholesale electronic publications and receive the same conditions and charges as Chinese companies for distributing reading materials.
Washington and Beijing also are arguing over rising imports of Chinese-made tires into the US.
US President Barack Obama is deciding whether to impose higher tariffs or other controls after the US International Trade Commission ruled in June that imports of Chinese tires were harming American tire producers.
Deputy Chinese Commerce Minister Fu Ziying (傅自應) complained on Wednesday that the tire case violated WTO principles and "looks like trade protectionism."
Comments will be moderated. Keep comments relevant to the article. Remarks containing abusive and obscene language, personal attacks of any kind or promotion will be removed and the user banned. Final decision will be at the discretion of the Taipei Times.