Oil stays above US$132 on supply fears
OUTLOOK Investors are watching for US economic data releases this week and their implications for the greenback and oil prices worldwide, an analyst said
Oil was supported above US$132 a barrel yesterday in Asia by ongoing worries about global petroleum supplies and the outlook this week for the US dollar.
The dollar has weakened over the last week after a modest recovery, and investors will be watching economic data out of the US to be released over the next few days for further clues about the health of the world's biggest economy.
"The dollar's been swinging down again," said Mark Pervan, senior commodity strategist at Australia & New Zealand Bank in Melbourne, and that's "going to sway sentiment."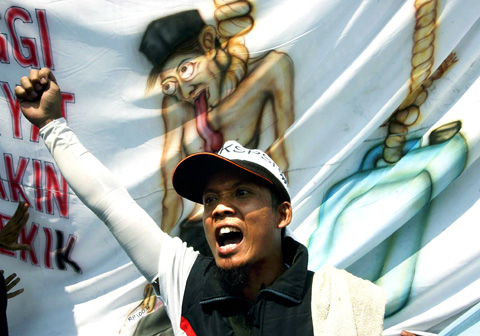 An Indonesian worker shouts slogans during a protest against fuel price hikes in front of the presidential office in Jakarta, Indonesia, yesterday.
PHOTO: EPA
Oil and other hard commodities are seen as hedges against a weakening greenback and inflation. A weak dollar — the currency of international oil trade — also makes petroleum products less expensive to Asian and European buyers.
This week, investors will be watching for what implications US consumer confidence, new home sales, GDP and other economic data might have for the dollar and oil prices, he said.
"It's a pretty price sensitive week for economic data," Pervan said. "The data we're seeing out of the US at the moment looks pretty weak. You'd expect that trend to continue, pushing further down on the dollar."
The dollar, one of the factors that has fed oil's rally from about US$65 a year ago, was weaker against the yen and the euro in Asian trading early afternoon in Tokyo.
Midday in Singapore, light, sweet crude for July delivery was up US$0.46 at US$132.65 a barrel in electronic trade on the New York Mercantile Exchange. The contract rose US$1.38 to settle at US$132.19 a barrel on Friday.
Last week, a series of supply warnings rattled composures, and on Thursday a report that the International Energy Agency was in the process of lowering its forecast for long-term global oil supply, sent crude futures rocketing to an all-time high of US$135.09 a barrel.
Investors are also worried about a growing squeeze on global diesel supplies as demand in China surges, sparking a massive runup in prices.
Over the weekend, China's top economic planning agency again urged oil and power firms to make sure there are enough supplies for earthquake-hit areas and for the Beijing Olympic Games in August.
"It's an upside down market. Weak economic data out of the US is positive for oil and commodity prices," because of its effect on the dollar, Pervan said.
Normally, poor economic data out of the US, the world's largest oil consumer by far, implies that demand and prices will fall.
Now, "it's really the non-US market that's the fundamental driver, whereas it's the currency out of the US that's dictating the prices," Pervan said.
Comments will be moderated. Keep comments relevant to the article. Remarks containing abusive and obscene language, personal attacks of any kind or promotion will be removed and the user banned. Final decision will be at the discretion of the Taipei Times.