Secretive Cerberus quietly building financial empire
SILENT INFLUENCE Although it avoids media attention, the investment firm has a hand in some of the world's best-known companies and hires political heavyweights
On the upper floors of a soaring Midtown Manhattan skyscraper, behind heavy glass doors that do not bear his name, sits Stephen Feinberg, one of the country's most powerful -- and anonymous -- financiers.
Over the last few years, Feinberg's US$24 billion investment fund, Cerberus Capital Management, named after the mythological three-headed dog that guards the gates of Hades, has quietly acquired some of the world's best-known companies. The car rental chains National and Alamo, as well as parts of Air Canada and the retailers Mervyn's and Albertson's, are now all within the Feinberg empire.
Last month Feinberg secured a majority stake in General Motors' financing arm, GMAC, thus gaining control of the seventh-largest financial institution in the US.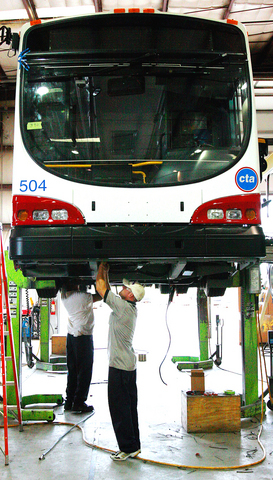 Coy Wyatt, foreground, clamps electrical lines under a bus being built for the Chicago Transit Authority in a North American Bus Industries factory in Wichita, Kansas on Aug. 21. North American Bus Industries, Inc of Anniston, Alabama, was acquired by Cerberus Capital Management, LLP in February and now manages funds and accounts with capital in excess of US$16 billion.
PHOTO: AP
Army contractor
Through another company it controls, IAP Worldwide Services, Cerberus is poised to become one of the US Army's largest contractors in Iraq. Earlier this month, Cerberus and other funds offered to invest up to US$3.4 billion in Delphi Corp, the auto parts giant.
All told, Cerberus has a controlling interest in more than 45 companies that employ more than 250,000 people and generate US$50 billion in revenue each year, more than the sales of Microsoft, Motorola or PepsiCo. The fund has earned an average annual return of about 22 percent over the last seven years, according to its marketing materials, and Institutional Investor magazine estimated that Feinberg took home a US$75 million paycheck in 2004.
The executive ranks of Cerberus include former treasury secretary John Snow and former vice president Dan Quayle.
For all of that, however, very little is known about Cerberus beyond its intimidating name -- a reflection of how greatly Wall Street players like Feinberg value secrecy, and the pivotal role stealth plays in amassing and deploying the vast pools of capital that private equity investors control.
"Secrecy is very important to how takeover deals get done," said Henry Hu, a professor of corporate and securities law at the University of Texas at Austin.
"Secrecy gives you access to private information. It lets you bid on companies before the competition is aware they are for sale. Secrecy is part of how this industry works," he said.
THE DOWNSIDE
But secrecy also has its downside. Although many backers of Cerberus say Feinberg, 46, is known for his loyalty to investors and partners, his analytical savvy and creative takeover strategies -- the fund's tactics in the bare-knuckled and risky arena of debt investing -- have given Cerberus its share of bruises.
Court documents detail legal brawls in which investors accuse Cerberus of orchestrating secretive deals that transgressed legal and ethical boundaries, accusations the firm denies.
"These guys come from a different background than other buyout firms," said Joel Simon, a principal at XRoads, a financial advisory firm, when asked to describe how Cerberus operates. "When you play in the distressed arena, you develop sharp elbows. They have a reputation as tough negotiators who avoid public attention."
Cerberus has lost out on deals because of its secretive image, and it risks attracting the kind of regulatory scrutiny the takeover industry as a whole is trying to avoid.
So Cerberus is trying to change. In the spirit of greater openness, it recently built a Web site to give the public a sliver-sized glimpse of the firm. Along with high-profile hires of political heavyweights, Cerberus has become a major political donor. It has distanced itself from its roughneck roots by hiring dozens of image-improving blue-chip executives and, during the GMAC announcement, went so far as to let a senior manager appear at a press conference for the first time in the fund's history.
CAMERA SHY?
But don't ask for a photo of Feinberg, an interview with him or even a visit to the company's Park Avenue headquarters -- there are only so many shifts that Cerberus is willing to embrace. And the changes that Cerberus refuses to adopt speak to the struggles that many takeover groups confront as they try to establish an image as good corporate citizens rather than opportunists looking for a fast buck.
"The public wants to know who is buying up corporate America," said Felix Rohatyn, a well-regarded dean of Wall Street's investment banking industry. "It will be interesting to see how far those at the top are willing to pull back the veil."
The son of a World War II veteran, Feinberg founded Cerberus in 1992 with US$10 million, a plan to speculate in the debt of troubled public companies and a reputation for honest and tough negotiations. Distressed-debt investors get paid by shouldering aside other stakeholders and gambling that faltering companies can be rehabilitated.
Over the years, analysts and investors say, Cerberus excelled by gaining control of companies in bankruptcy smackdowns and developing restructuring plans that helped them become profitable.
The shift to takeover deals required Cerberus to develop a friendlier image that was more attractive to the boards of companies the firm hoped to acquire.
"When you sit down with a company's board, you want them to know who you are," said Brett Barth of BBR Partners, a money management firm that has invested with Cerberus. "Distressed debt is all about having a small piece of the pie and making it bigger at everyone else's expense. In private equity, you own the whole pie. You have to convince people you're focused on different things."
The investment fund began hiring well-known executives to introduce the firm to corporate boards. Today, it employs 140 nonfinancial professionals, including the former chairman of the Rite Aid Corp, a onetime special adviser to Ford Motor and dozens of other blue-chip executives.
"Preserving our reputation is vitally important to us," said Timothy Price, the senior operations manager of Cerberus. "We don't want anyone from a company we've bought calling another board and saying, `Stay away from these guys."'
To add a higher-profile sheen, Cerberus hired Snow and spent more than US$2.5 million with lobbying firms from 2003 to this year, according to federal records.
Those dollars were spent in part to discourage politicians from regulating private investment pools like Cerberus.
Feinberg personally donated more than US$100,000 to primarily Republican causes in the last three electoral cycles, according to federal filings.
Yet Cerberus still keeps a relatively tight lock on its doors.
transparency trend
While firms like Cerberus continue to eschew openness, some people say that greater transparency in the takeover world is not so easily avoided. They say it is crucial.
"When you take control of a major company, you have a real responsibility to the employees, to the customers, to the communities they live in, to the public," Rohatyn said. "The people who run enormous funds understand that responsibility. They understand if they don't introduce themselves, suspicion will grow."
But Feinberg's friends say he is a deeply private man who wants to avoid public fame.
"Why does someone have to become a public figure just because he's successful?" Price asked. "It's hard for any of us to take time away from our day-to-day jobs to talk to outsiders, and Steve is the last guy who can afford to spend time away from our portfolio companies. Why do we have to give up our privacy for everyone else?"
Comments will be moderated. Keep comments relevant to the article. Remarks containing abusive and obscene language, personal attacks of any kind or promotion will be removed and the user banned. Final decision will be at the discretion of the Taipei Times.