New Airbus A380 lands in Japan during test run
An Airbus A380 landed in Japan yesterday, as part of a final series of test flights intended to lead to the superjumbo's air-worthiness certification by the end of the year.
The plane, which is on an Asian tour and flew from Hong Kong, arrived safely in Narita International Airport near Tokyo, airport spokesman Masaharu Watanabe said.
The final four flights in the test schedule, ending Nov. 30, are designed to put the 555-seater A380 through 150 hours of flights under the kind of operating conditions it will experience with airlines. Yesterday's arrival is part of the second of the four trips.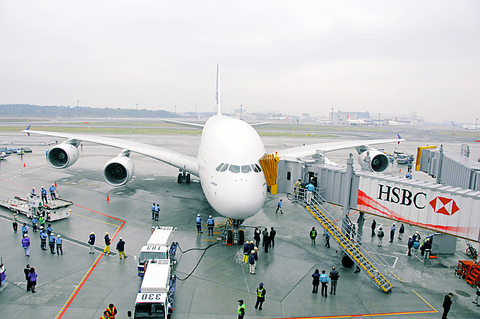 The double-decker superjumbo Airbus A380 jet parks at the gate at Narita Airport in Japan yesterday.
PHOTO: AFP
During its Narita stopover, aviation officials will make sure the huge aircraft can fit the facility and equipment at the airport, while going through a series of routine work such as maintenance, fueling and attaching a boarding bridge, Watanabe said.
"It's the first time for Narita to accommodate such a big plane," Watanabe said. "We have to make sure if the plane fits the facility."
The airport's observation balcony was crowded with many Japanese aviation enthusiasts who were taking pictures of the A380, he said.
"I'm hoping to go down to the spot later and take a look," he said.
The superjumbo will return to France on Monday, before taking off again for Chinese airports in Beijing, Shanghai and Guangdong next week, Airbus said in a statement. It will then fly to South Africa, Australia and Canada in the coming weeks.
The company has said the A380 is on track for certification by the middle of next month.
Airbus has received orders for 166 superjumbo jets. Singapore Airlines will be the first carrier to fly the superjumbo after it receives its first plane next October.
Comments will be moderated. Keep comments relevant to the article. Remarks containing abusive and obscene language, personal attacks of any kind or promotion will be removed and the user banned. Final decision will be at the discretion of the Taipei Times.