US to push trade liberalization
MONEY TALKS In Vietnam to talk shop with APEC, US Treasury Secretary Henry Paulson said that he believed trade liberalization held the key to the global economy
Reviving international trade talks and correcting global imbalances would be priorities at talks among Pacific Rim finance ministers that started yesterday, US Treasury Secretary Henry Paulson said.
"I can't think of anything that is in the control of the collective governments of the world that can have a more positive impact on the global economy than trade liberalization," he told reporters ahead of meetings with fellow senior finance officials at the Asia Economic Co-operation forum.
Paulson, making his first trip to Asia since assuming his new post in July, also said the two-day meeting would address how to effectively combat illicit financing of weapons of mass destruction.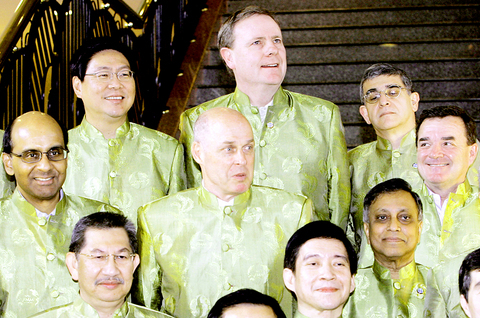 US Treasury Secretary Henry Paulson, center, poses for a photograph with finance ministers attending the 13th APEC Finance Ministers' Meeting after the Ministerial Meeting at a hotel in Hanoi, Vietnam, yesterday.
PHOTO: AP
While Paulson acknowledged that he didn't see any "immediate solutions" to these issues, he hoped for a consensus within the 21-member APEC that they need to be tackled.
Participants in morning meetings said restarting the WTO's Doha round of talks, which collapsed in July largely over differences in how to cut barriers to agricultural trade, was cited as a key topic to be addressed.
"We didn't get into a detailed discussion at this meeting on Doha, but there was a general sense from several people around the table that that should be a priority," said Tharman Shanmugaratnam, Singapore's 2nd Minister for Finance.
Taxation also topped the early talks, said Australian Treasurer Peter Costello, wearing a traditional Vietnamese silk jacket given to the delegates.
"We were mainly looking this morning at tax systems and tax expenditures," Costello said.
The APEC finance ministers meeting is meant to set the agenda for the leaders' summit here in November.
Paulson said he would push for discussion on rectifying global trade and investment imbalances -- a key issue for the US.
Seven of the US' top 10 trading partners are part of APEC. It is also the region of the world where the US is running the largest trade deficits, including a record US$202 billion deficit last year with China.
The Bush administration, facing election-year pressure to narrow the trade gap and protect US jobs, has been pushing China to let its currency, the yuan, appreciate against the US dollar. But there was no discussion of China's currency in the opening meeting, Costello said. And Paulson had no meetings scheduled with the Chinese delegation.
Comments will be moderated. Keep comments relevant to the article. Remarks containing abusive and obscene language, personal attacks of any kind or promotion will be removed and the user banned. Final decision will be at the discretion of the Taipei Times.