New violence pushes oil prices up
Oil prices hovered above US$78 per barrel yesterday, near record highs, as intensifying violence in the Middle East raised concerns of a possible disruption of oil supply.
"We are certainly in uncharted territory," said Victor Shum, an energy analyst with Purvin & Gertz in Singapore.
"I wouldn't be surprised if US$80 is attained soon with this slew of geopolitical events in a tight market," he said.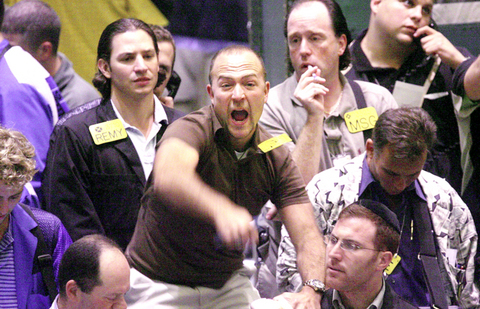 Traders work in the oil futures pit at the New York Mercantile Exchange on Thursday. Crude prices have passed US$76 for the first time as Israel blockaded Lebanese ports and attacked Beirut's airport.
PHOTO: AFP
Oil prices are being pushed higher by rising global demand and worries that the world's limited supply cushion would not be adequate to offset a lengthy disruption to output in major producing countries, such as Iran or Nigeria. There are also concerns about the risks hurricanes pose to US production.
"We haven't even taken into account a potential hurricane in the United States, so getting to US$80 and beyond this summer seems quite inevitable," Shum said.
"But if these Middle East events somehow get resolved, prices could also drop sharply," he said.
While Israel and Lebanon are not involved in the Middle East oil market, the fear is that the conflict could spill into other corner of the region, which produces nearly a third the world's oil and contains almost two-thirds of its untapped reserves.
Light sweet crude for delivery next month was up US$1.35 to US$78.05 a barrel in midafternoon Asian trading on the New York Mercantile Exchange. The price closed on Thursday at a new high of US$76.70 a barrel, then continued climbing in after-hours electronic trading, when volumes are significantly lower, to US$78.40.
The Brent contract for next month at London's ICE Futures exchange, which expired at the close of trading yesterday, jumped US$1.16 to US$77.85 per barrel.
The rally came as fighting between Israel and Lebanon intensified, explosions hit Nigerian oil installations and a diplomatic standoff dragged on between the West and Iran over its nuclear program.
The surge in oil prices rattled global financial markets, with Japan's Nikkei 225 index falling 1.7 percent yesterday, while the Dow Jones industrial average dropped 1.5 percent on Thursday.
The previous Nymex settlement record of US$75.19 was set on July 5. The previous intraday record of US$75.78 was posted two days later.
In other trading, gasoline futures climbed US$0.0352 to US$2.3365 a gallon, heating oil futures rose more than US$0.04 to US$2.1238 a gallon and natural gas futures advanced US$0.099 to US$6.228 per 1,000 cubic feet.
Meanwhile, Iran has threatened on more than one occasion to use oil as a weapon if the UN uses economic sanctions or some other punishment in its dispute with Tehran over its nuclear program.
While OPEC's No. 2 supplier has not raised the issue of withholding oil from the market in a sign of solidarity with Hezbollah, the possibility is no doubt influencing oil traders' actions.
Comments will be moderated. Keep comments relevant to the article. Remarks containing abusive and obscene language, personal attacks of any kind or promotion will be removed and the user banned. Final decision will be at the discretion of the Taipei Times.