Japan is No. 1 Beaujolais importer
As the first glasses of Beaujolais Nouveau were poured after midnight struck yesterday, producers of the youthful French wine had every reason to toast Japan, which has overtaken Germany as the world's biggest importer of the purple plonk.
"This year, for the first time, Japan has become the largest importer of Beaujolais Nouveau, ahead of Germany," said top Beaujolais merchant Georges Duboeuf at a midnight reception in Tokyo to promote his wine to 200 invited guests.
It is a worthwhile effort, as Duboeuf's wines account for 30 percent of the highly lucrative Japanese Beaujolais Nouveau market.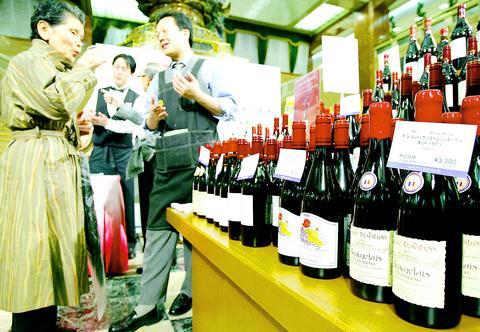 A Japanese customer tastes the 2003 vintage Beaujolais Nouveau wine at a Tokyo department store yesterday as the embargo of the wine was removed at midnight. A total of 7.2 million bottles of Beaujolais Nouveau wine are expected to be imported to Japan this year.
PHOTO: AFP
"Total imports of Beaujolais Nouveau to Japan this year are a record 600,000 cases, or 7.2 million bottles, as each case holds 12 bottles," Tamon Koshino, a spokesman for Japanese drinks giant Suntory told reporters at an earlier event.
That represents a 3.5 percent increase from last year, when Japan imported 580,000 cases, he said.
An exact figure for German imports was not immediately available.
A spokesman for Japan Airlines said it needed about 60 special charter flights to bring all the wine in ready for yesterday's release, most of them arriving over last weekend.
"I love Beaujolais Nouveau. I first discovered it 10 years ago, and I've drunk it every year since," said one of Duboeuf's guests, Yoshuko Tetsuya.
"I used to drink quite a lot of sake, but now I prefer wine, especially red. It goes well with Japanese food and more shops are selling it," said the 30-year-old.
Even though consumption of Beaujolais Nouveau -- and wine in general -- is growing in Japan, it still lags far behind sake, often described as a rice wine, but technically a brewed alcoholic beverage.
"In 2001, the annual consumption of sake was estimated at about 8.4 liters a person, while for wine, both imported and domestic, it was only 2.7 liters a head," a spokeswoman for the French trade commission in Tokyo told reporters.
Beaujolais Nouveau is in such demand that it appears to have defied the deflationary trend which has plagued Japan's economy for more than four years, although the strength of the euro has also contributed to higher prices than last year.
Koshino of Suntory, which exclusively imports 215,000 cases of Duboeuf's wines, said the retail price of a bottle was in the range of ¥2,000 to ¥2,300 (US$18.35 dollars to US$21.10).
"We've already received a lot of orders and we could run out ... about 50 percent of our bottles will be sold between now and Sunday," he said.
Despite the huge marketing hype surrounding Beaujolais Nouveau, it cannot lay claim to being the first drinkable wine of the new vintage.
The wine's Italian counterpart "Novello" went on sale in Japan more than two weeks earlier on Nov. 6, according to Reiko Osumi, from Italian food importing company Ellevi.
Comments will be moderated. Keep comments relevant to the article. Remarks containing abusive and obscene language, personal attacks of any kind or promotion will be removed and the user banned. Final decision will be at the discretion of the Taipei Times.